Obama's Marketing Disasters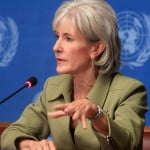 So far, the good news about Obamacare is that very few people can actually get it.
Yesterday, millions of people watched (or re-watched) The Daily Show's brutal attack on both Obamacare and to a lesser extent the President himself. Indeed, given the Obama administration's fawning indulgence of that show as a barometer of how core Obama voters and supporters feel, the administration probably could not get more upset by it.
If you asked the Czar—who loathes Obamacare—whether Sebelius needed to go bye-bye or Eric Holder, ten out of ten times the Czar would not pick Secretary Sebelius.
Yeah, well, but then. Seems that yesterday, in the afternoon, town crybaby Jay Carney rang his bell in the hamlet square only to be pelted with rotting garbage.
As events played out upon the ground, Jay Carney—whose real name is James, by the way, but he goes by Jay because of the negative popular connotations with the last name of "Carney"*—was giving one of his usual press conferences wherein he refers you to someone totally unavailable, or explains the President's ambiguous or inane comments by reminding you the President has always been clear about whatever you just asked about. Anyway, Tuesday's conference was clearly the worst he had ever held.
During the session, reporters—notably one from CNN refused to accept Carney's usual pull-the-egg-from-the-mouth-and-it-vanishes-in-the-squishing-hand routine and demanded straightforward answers.
Carney is not used to actually, you know, answering anything and became quickly frustrated. When a still-unidentified reporter asked Jay Carney if someone better informed could hold the briefing, Carney walked off the stage and refused to answer additional questions.
Okay, this is enjoyable from a purely political bent—Jay Carney has been mocking reporters since his first day, and finally proved he isn't up to the job. But there are additional elements that make this interesting.
From a press relations perspective, what a disaster. First, the President feels forced to defend his signature legislation in front of millions of Americans which, second, he does so very badly. Third, his Daily Show attack dogs turn on him and ridicule how pathetic the whole thing was. Now this: the press secretary himself storms off in a disgusted pout because he is sick of lying to his former colleagues.
From a media perspective, oh boy. Very little gives the White House press corps greater pleasure than stuffing something vertically into a press secretary's thorax, and Carney's unprofessionally dramatic teenage storm-off is going to do more than give the media its first decisive win over the Obama administration: it will fuel their fire. CNN is getting close; Fox is already there—the next press conference will be more stressful for him. If Carney is smart, he will forego any conferences for at least a week to give everyone a chance to calm down, but smart isn't in his curriculum vitae (he worked for Time, don't forget). Journalists, or whatever these yapdogs call themselves these days, know there is something being concealed from them.**
But, as therapy, the White House fired a national security expert because he questioned the value of Valerie Jarrett. Hmm. Wonder who made that decision?
Still not enough? Well, perhaps we can distract ourselves with Secretary Kathleen Sebelius. In the first 48 hours of Obamacare's launch, Wolf Blitzer wondered aloud, on air, if the Republicans were right and that she needed to resign. Since then there has been a growing call from both parties for either this, or some unspecified "heads" that needed to "roll." The Czar is an expert at rolling heads, and has three thoughts.
Primarily, this originated in the White House. Wolf Blitzer's comment was no mere idle musing—it has all the earmarks of a planted question. Blitzer may not have been called directly, but someone at CNN was who suggested Blitzer ask the question. This is what you call a "trial balloon" in media containment circles. Also, the comment was made at a very convenient time—it was almost a suggestion to Republicans that they were right about Obamacare, and her resignation could be something over which the President and Congress could discuss as a secret negotiating point over funding. Since then, the chorus has dramatically grown.
Secondarily, a Sebelius termination or resignation would be a serious blow to the White House credibility. Look, no one got fired over Benghazi, for crying out loud. The President doesn't do dramatic resignations or terminations because he hand-picks his people. Nothing says you screwed up bad than a secretary resigning in disgrace. The Czar is not saying Secretary Sebelius won't go quietly into that good night, but if she does, this will be the biggest admission of failure by this President ever. If it happens, we should all be astonished.
Finally, please refrain from joining the Sebelius-must-go chorus. It really distracts from the more urgent Holder-must-go chorus. Secretary Sebelius doesn't need to resign: she was hired on, given a steaming pile of party excess, and is now being told she screwed up. What did she screw up, exactly? The dysfunctional website, the out-of-control costs, the acrimony from all sides—all this was predicted in 2008-2009, long before she got into that office. This mess is not her problem—it's her boss who is at fault.
Who apparently is Valerie Jarrett. And that is someone else who should leave Washington sooner rather than any later.
*Yes, you read that right. Think it through.
**The Czar may finally have topped our own Dr. J. for the most mixed metaphors crammed into a paragraph.

Божію Поспѣшествующею Милостію Мы, Дима Грозный Императоръ и Самодержецъ Всероссiйскiй, цѣсарь Московскiй. The Czar was born in the steppes of Russia in 1267, and was cheated out of total control of all Russia upon the death of Boris Mikhailovich, who replaced Alexander Yaroslav Nevsky in 1263. However, in 1283, our Czar was passed over due to a clerical error and the rule of all Russia went to his second cousin Daniil (Даниил Александрович), whom Czar still resents. As a half-hearted apology, the Czar was awarded control over Muscovy, inconveniently located 5,000 miles away just outside Chicago. He now spends his time seething about this and writing about other stuff that bothers him.