ObamaCare: It's Not What It Does To America, It's What It Says About America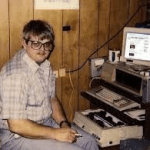 America is now a nation full of people willing to
be the 36 year old "kid" living in their parents'
basement, eating their food and paying for nothing.*
Sure, Healthcare.gov blows chunks. And sure, anyone with a brain in their head would've thought better about letting people responsible for (1) government "technology" and (2) Medicare oversee a complex IT project. But it's not the website that's the problem, it's the legislation itself.
'Puter could drone on for days about the flaws inherent in the economics, the years of lies told by President Obama and the partisan ferocity (currently vanished down the memory hole) with which Democrats crammed down ObamaCare on an unwilling nation. But, shockingly, 'Puter's not going to do so.
'Puter's less concerned about what ObamaCare's doing to America than he is about what ObamaCare says about America.
ObamaCare is indication that a large percentage of this country is, despite vociferous protestations to the contrary, not a reality based community. ObamaCare's math doesn't work. It never has. It never will. It's math. There's only one correct answer, and that answer is ObamaCare isn't self-sustaining as Obama promised.
We've become a nation where facts are no longer facts.
ObamaCare vividly illustrates that politicians generally and Democrats specifically (and with unabashed vigor) will lie to achieve cherished policy goals. 'Puter's not talking about the usual, quotidian political lies like "I have no idea why my car would be submerged in Chappaquiddick Bay, officer." 'Puter's talking about massive, untrue-from-the-start lies specifically calculated to dupe America into supporting a program Democrats knew Americans wouldn't support if told the truth. 'Puter's talking Obama's now infamous "if you like your plan, you can keep it" whopper.
We've become a nation governed by unrepentant liars.
ObamaCare indicates that many Americans don't understand basic economic concepts, concepts as easy as "there's no such thing as a free lunch." Just witness the people discovering just now that someone actually has to pay for increased benefits and tax subsidies. Too bad it took these morons actually being handed the bill to snap them out of their pipe dreams.
We've become nation that's less a democrat republic and more an idiocracy run by kleptocrats.
ObamaCare shows us that a large segment of America wants government to control the lives of others. 'Puter's not talking about telling government grant recipients what they can and can't spend their EBT funds on. 'Puter's talking about government forcing Americans to get health insurance, whether they want it or not, at increased price with fewer options.
We've become a nation of petty tyrants, Hell-bent on getting our way at all costs.
ObamaCare shows us that many Obama voters are perfectly comfortable with a subservient, substandard life, so long as they don't have to work and so long as government takes care of them. America used to have a word for these people. We called them "children." Or "dependents." 'Puter frequently calls them "freeloaders."
We've become a nation of Peter Pans, comfortably drifting through life in a never ending state of dependent adolescence.
ObamaCare proves that politicians are so far detached from the realities of most Americans' lives that they may as well live in a different galaxy than in Washington. America didn't like its health care delivery and payment system, that's true. But instead of listening to Americans and instituting incremental change, Democrats decided America really wanted a giant, new, unfunded entitlement program crammed through without a single Republican vote in a tactic worthy of Hugo Chavez.
We've become a nation ruled by a political class every bit as corrupt and detached as that presiding over Rome in its final days.
If it survives, ObamaCare will damn existing Americans to reduced coverage at greater cost while sticking our children with the bill.
ObamaCare has already, however, damned Americans by showing us what we have become, a nation of people happy to trade our freedoms and oppress others' freedoms so long as Uncle Sugar pays our way.
*Actual picture of GorT before his time-traveling future shiny metal robotic self returned to whisk him away to a world with way cooler computers than his Atari 800.

Always right, unless he isn't, the infallible Ghettoputer F. X. Gormogons claims to be an in-law of the Volgi, although no one really believes this.
'Puter carefully follows economic and financial trends, legal affairs, and serves as the Gormogons' financial and legal advisor. He successfully defended us against a lawsuit from a liquor distributor worth hundreds of thousands of dollars in unpaid deliveries of bootleg shandies.
The Geep has an IQ so high it is untestable and attempts to measure it have resulted in dangerously unstable results as well as injuries to researchers. Coincidentally, he publishes intelligence tests as a side gig.
His sarcasm is so highly developed it borders on the psychic, and he is often able to insult a person even before meeting them. 'Puter enjoys hunting small game with 000 slugs and punt guns, correcting homilies in real time at Mass, and undermining unions. 'Puter likes to wear a hockey mask and carry an axe into public campgrounds, where he bursts into people's tents and screams. As you might expect, he has been shot several times but remains completely undeterred.
He assures us that his obsessive fawning over news stories involving women teachers sleeping with young students is not Freudian in any way, although he admits something similar once happened to him. Uniquely, 'Puter is unable to speak, read, or write Russian, but he is able to sing it fluently.
Geep joined the order in the mid-1980s. He arrived at the Castle door with dozens of steamer trunks and an inarticulate hissing creature of astonishingly low intelligence he calls "Sleestak." Ghettoputer appears to make his wishes known to Sleestak, although no one is sure whether this is the result of complex sign language, expert body posture reading, or simply beating Sleestak with a rubber mallet.
'Puter suggests the Czar suck it.