Nobel Laureate Economist Paul Krugman Displays His Idiocy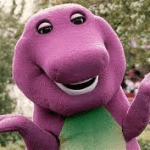 Barney the Purple Dinosaur, a survivor of a
frontal lobotomy and unrelated massive head
trauma, can spot the logical flaws in
Nobel Laureate Paul Krugman's
blog post. Can you, boys and girls?
Intrepid New York Times opinion columnist and self-proclaimed smartest economist EVAH has great news! He's found someone in New Jersey who managed to sign up for ObamaCare using the biggest rollout failure since New Coke, healthcare.gov.
From this single fact, Mr. Krugman deduces that not only is ObamaCare a smashing success, but that ObamaCare will be irrelevant to the 2014 elections.
Self-important, self-congratulatory laudatory fantasies intended solely to shore up President Obama are nothing new for Mr. Krugman. What is relatively new (though becoming increasingly more frequent) for Mr. Krugman are massive, howler-level logical errors.
Mr. Krugman, after citing his example of the one young women who managed to sign up for ObamaCare, states the following:

Since New Jersey is one of the states that defaulted to a fed-run exchange, this shows that people are starting to trickle through. I know, one example — but the plural of anecdote is data.
This notion is a bit head-scratching to 'Puter.
In a gracious grant of undeserved mercy, 'Puter will assume for the sake of argument that Mr. Krugman is being cutesy turning the adage "the plural of anecdote is not data" on its head in a vain attempt to poke fun at his own wishful thinking. After all, Mr. Krugman is really, really smart. Just ask him. He'll tell you.
Here's 'Puter's real point. Let's grant Mr. Krugman's premise that his extrapolation from a single anecdote is sufficient proof of his underlying hypothesis. What, then, is the impact of this logical construct on the inverse of Mr. Krugman's hypothesis?
Isn't it more plausible and indeed more reality based to conclude based on the millions of anecdotes (i.e., visitors to healthcare.gov who were unable to sign up) dramatically illustrating the utter failure of the citizen's interface with ObamaCare that ObamaCare is a failure?
After all, according to Mr. Krugman each single anecdote equals reliable data. Multiply each data set by millions, and we have irrefutable proof that ObamaCare's yet another massive, government run failure among the many cratered remnants of horrible liberal ideas.
Don't take 'Puter's word for it. He's just applying Mr. Krugman's logical rules. Mr. Krugman seems hoist with his own petard.
But then 'Puter's certain that Mr. Krugman (who is far, far smarter than 'Puter (just ask Mr. Krugman)) would tell 'Puter he has it all wrong.
For Mr. Krugman, when overwhelming facts stand contrary to his preferred policy, his logical construct morphs to "the singular of millions of anecdotes that don't support liberal ideas is STFU, YOU RETHUGLIKKAN BUSHITLERBURTON CHILD KILLING BASTID!!1!one!!!"
Mr. Krugman's a partisan hack, a shill for the Obama Administration, and nothing more.
Never forget it.

Always right, unless he isn't, the infallible Ghettoputer F. X. Gormogons claims to be an in-law of the Volgi, although no one really believes this.
'Puter carefully follows economic and financial trends, legal affairs, and serves as the Gormogons' financial and legal advisor. He successfully defended us against a lawsuit from a liquor distributor worth hundreds of thousands of dollars in unpaid deliveries of bootleg shandies.
The Geep has an IQ so high it is untestable and attempts to measure it have resulted in dangerously unstable results as well as injuries to researchers. Coincidentally, he publishes intelligence tests as a side gig.
His sarcasm is so highly developed it borders on the psychic, and he is often able to insult a person even before meeting them. 'Puter enjoys hunting small game with 000 slugs and punt guns, correcting homilies in real time at Mass, and undermining unions. 'Puter likes to wear a hockey mask and carry an axe into public campgrounds, where he bursts into people's tents and screams. As you might expect, he has been shot several times but remains completely undeterred.
He assures us that his obsessive fawning over news stories involving women teachers sleeping with young students is not Freudian in any way, although he admits something similar once happened to him. Uniquely, 'Puter is unable to speak, read, or write Russian, but he is able to sing it fluently.
Geep joined the order in the mid-1980s. He arrived at the Castle door with dozens of steamer trunks and an inarticulate hissing creature of astonishingly low intelligence he calls "Sleestak." Ghettoputer appears to make his wishes known to Sleestak, although no one is sure whether this is the result of complex sign language, expert body posture reading, or simply beating Sleestak with a rubber mallet.
'Puter suggests the Czar suck it.