More Male Bag! 'Puter Does The Debt Limit Feedback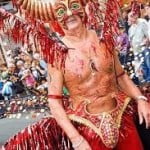 'Puter's not certain if this is a Pride
Parade or the Gayest Mardi Gras
EverTM

, bu

t he likes the color

scheme and the horns. Mostly the
Operative BG writes in apropos 'Puter's piquant five-part series on the nation's debt limit (with extra bonus track trashing National Journal!).
Operative BG raises some wonderful points 'Puter overlooked in his haste to publish his series before it became stale.*

I've gotten through Lesson II of your essays on the debt limit, and while they are so clear that even my cat could understand it, (though perhaps a little too abstract for a liberal), you keep repeating an error that many people make.
You explain how Congress has the right to raise revenue and the right to spend it.
In fact, Congress has almost no rights at all; the only rights it has are mentioned in the 12

th

and 20

th

amendments, which speak of the right of the House of Representatives to choose the president when such right devolves on them. Congress (and the president) has powers, powers which come from and are granted to them by the people. Those powers are specified in the Constitution, and the people can take those powers back at any time.
Only people have rights. If you believe that rights come from God, then to say that Congress has rights is to suggest that government is God's creation. And from there, it's only a tiny step to say that whatever government does, it does by Divine Right.
Which I'm sure our current president would love.
Well put, loyal Operative. Congress has powers, not rights. Forgive 'Puter's hasty shorthand. 'Puter does his best to be accurate and correct (and scathing) at all times, but sometimes he falls short of his own high standards.
Thanks for writing in.
As always, if you have comments or questions, feel free to write us at the email addresses below. And no, we will not turn on comments because they're a pain to manage and they attract trolls. So don't ask or Volgi will disappear you.
*As a memo to Operative BG, 'Puter would've gotten to your missive sooner if you hadn't rubbed coca leaves all over it and hidden it in a shipment of coffee. Narcs really hate it when they're expecting a multi-million dollar drug bust and they're left with a coded letter carved into a National Park Service badge, charmingly illumined with what appears to be panda blood.

Always right, unless he isn't, the infallible Ghettoputer F. X. Gormogons claims to be an in-law of the Volgi, although no one really believes this.
'Puter carefully follows economic and financial trends, legal affairs, and serves as the Gormogons' financial and legal advisor. He successfully defended us against a lawsuit from a liquor distributor worth hundreds of thousands of dollars in unpaid deliveries of bootleg shandies.
The Geep has an IQ so high it is untestable and attempts to measure it have resulted in dangerously unstable results as well as injuries to researchers. Coincidentally, he publishes intelligence tests as a side gig.
His sarcasm is so highly developed it borders on the psychic, and he is often able to insult a person even before meeting them. 'Puter enjoys hunting small game with 000 slugs and punt guns, correcting homilies in real time at Mass, and undermining unions. 'Puter likes to wear a hockey mask and carry an axe into public campgrounds, where he bursts into people's tents and screams. As you might expect, he has been shot several times but remains completely undeterred.
He assures us that his obsessive fawning over news stories involving women teachers sleeping with young students is not Freudian in any way, although he admits something similar once happened to him. Uniquely, 'Puter is unable to speak, read, or write Russian, but he is able to sing it fluently.
Geep joined the order in the mid-1980s. He arrived at the Castle door with dozens of steamer trunks and an inarticulate hissing creature of astonishingly low intelligence he calls "Sleestak." Ghettoputer appears to make his wishes known to Sleestak, although no one is sure whether this is the result of complex sign language, expert body posture reading, or simply beating Sleestak with a rubber mallet.
'Puter suggests the Czar suck it.