Male Bag! Krugman's A Moronic Partisan Hack Edition (With Added E.J. Dionne!)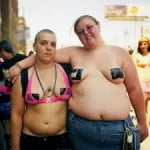 Paul Krugman (L) and E.J. Dionne pose for
a photo as they take in the sights at Climax
Springs, Missouri during Spring Break at
Lake of the Ozarks. Show me state, indeed.
It's been quite some time since Operative JAB wrote in from the Mid-South, land of farmers, feral hogs and kudzu. Also home to some of the best music and cuisine to be found anywhere in the country, but that's beside the point.
JAB's missive arrived with loud thunk and a shower of stone chips, as it embedded itself in the wall above 'Puter's 723 m2 plasma immersion television, a gift from the 24thcentury from GorT.*
JAB cleverly etched her submission on a restrictor plate she pried from Matt Kenseth's Toyota at Talladega, causing his car to get a bit loose and costing him the race. It appears JAB used a disk harrow blade off a John Deere double disk harrow, and from the smudges, the harrow appears to have been towed behind a Deere 7920 for two planting seasons without sharpening. As JAB will tell you, always keep your blade sharp. A sharp blade is a happy blade.
Anyway, on to the real stuff. Thus spake JAB:
Dear Mr. Puter:
As I read your post demolishing the, ahem, logic underpinning Krugman's conclusions, I thought of an op-ed I read in my local fish wrapper just yesterday. It was a syndicated column by E.J. Dionne, who I know to be one of your favorite targets for demolition. I think it was a perfect example of a "journalist" writing-while-stupid.*
E.J. goes on, and on, about the government shutdown being the means of self-immolation/destruction/annihilation of the Republicans, while pushing his own preferences for increased spending on infrastructure, Social Security & Medicare. Yes, really — he really wants to increase payouts to future retirees who "…will not enjoy the pensions their grandfathers had." 'Cause everybody needs to have equal access to front-row seats at the Tony Danza Dinner Theater in Boca Raton as soooooon as they turn 62.
He then cites recent NBC/WSJ polls and exhorts his fellows in the professional "commentariat" to
… stop pretending that the tea party speaks for the American "grass roots." Poll numbers can fluctuate over time, of course, but these dramatic findings illuminate the overall message of this affair: After both seeing and experiencing the costs of anti-government radicalism, the American majority has said it wants a government that cares more about making things better than making itself smaller.
Talk about logical flaws—poll numbers can fluctuate, but not these polls. No, sir, not these. 'Cause theses polls, they like, prove what I already think, you know? As your lobotomized-pal-Barney might say: I like you, you like me, we're a happy family…..Me likey these polls.
E.J. then proceeds to reveal a belief that I found profoundly disturbing.
If he [Obama] allows his opponents to regroup and act as if this huge reversal never happened, he will lose the chance to push his [emphasis added] priorities to the fore: universal pre-kindergarten education, immigration reform, rebuilding our transportation and communications systems…speeding growth and sharing its dividends fairly.
This betrays a complete lack of regard for our Constitutional system of checks and balances. Is he ignorant of the Founders' warnings and fears of an unchecked majority ruling a minority and instituting laws to benefit themselves? Or does he merely pretend to believe that Obama's "priorities" are so good and holy that, were they implemented, the land would immediately overflow with milk and honey? Could this writing-while-stupid* be only a temporary affliction, which will reverse itself should the Democratic party lose the Senate and/or White House? If that were to happen, I wonder how EJ would view the rights of the majority to rule unchecked?
Yours from the Doublewide, JAB
* Yeah, I made that up so I could use an asterisk footnote!
Those of you who know 'Puter know 'Puter enjoys nothing more than skewering him for his left-wing lunacy. 'Puter got so good at it that he actually got the Washington Post correct factual errors Mr. Dionne made in a piece on gun control. 'Puter hasn't had time of late to tear into Mr. Dionne, so he's glad JAB took the time to write in with a knowledgeable, humorous and thorough dismantling of Mr. Dionne's liberal fantasies.
Well done, loyal operative! You shall have an extra ration of sweet tea in your next care package.
As always, please take time to write any or all of us. Our email addresses are to the left, and we generally respond when we are able. You may even become the subject of a Male Bag!
*Wait until you see FIFA 2371 for the Xbox p. It's like actually being at a Barclay's Premier League match at New Old Trafford, complete with English soccer hooligans to curb stomp when your Red Devils lose. It's good to see the reanimated Sir Alex Ferguson, CBE back at the helm.

Always right, unless he isn't, the infallible Ghettoputer F. X. Gormogons claims to be an in-law of the Volgi, although no one really believes this.
'Puter carefully follows economic and financial trends, legal affairs, and serves as the Gormogons' financial and legal advisor. He successfully defended us against a lawsuit from a liquor distributor worth hundreds of thousands of dollars in unpaid deliveries of bootleg shandies.
The Geep has an IQ so high it is untestable and attempts to measure it have resulted in dangerously unstable results as well as injuries to researchers. Coincidentally, he publishes intelligence tests as a side gig.
His sarcasm is so highly developed it borders on the psychic, and he is often able to insult a person even before meeting them. 'Puter enjoys hunting small game with 000 slugs and punt guns, correcting homilies in real time at Mass, and undermining unions. 'Puter likes to wear a hockey mask and carry an axe into public campgrounds, where he bursts into people's tents and screams. As you might expect, he has been shot several times but remains completely undeterred.
He assures us that his obsessive fawning over news stories involving women teachers sleeping with young students is not Freudian in any way, although he admits something similar once happened to him. Uniquely, 'Puter is unable to speak, read, or write Russian, but he is able to sing it fluently.
Geep joined the order in the mid-1980s. He arrived at the Castle door with dozens of steamer trunks and an inarticulate hissing creature of astonishingly low intelligence he calls "Sleestak." Ghettoputer appears to make his wishes known to Sleestak, although no one is sure whether this is the result of complex sign language, expert body posture reading, or simply beating Sleestak with a rubber mallet.
'Puter suggests the Czar suck it.