Mailbag – Silver Standard Edition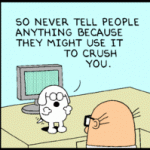 Operative, Minion, Follower and Friend of the Gormogons, ScottO writes:
Most Excellent Doctor,
Operative BG's missive of the 24th (I am a bit behind in my reading) had the following statement of philosophy regarding data sharing between work centers: "Share OUR data? Are you MAD???"
That reminded me of one of my favorite Dilbert cartoons.
Humblest regards,
ScottO
ScottO,
Ha!
Thank you for the 'toon. It brightened our rainy New Atlantis day.
Dr. J.