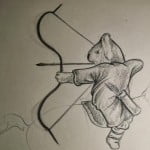 The most recent acquisition of the Gallerie Gormogòne at the Castle, commissioned by the Œcumenical Volgi from the Countess von Cséfavlay's atelier at Withywindles. It is a highly encoded representation of a spell or alchemical process, the details of which one does not openly reveal but which are immediately apparent to our more illuminated minions allowed to view it in person. Come visit the Castle! Many—maybe even most—guests leave!
Koala Keshik, or Fasqöl-Arqtüüs Nöyön
C. v. Cséfavlay
2013
Derwent pencil on rag paper infused with demonic ichor and iron.

Don't ask impertinent questions like that jackass Adept Lu.