Don't Do What Donny Don't Does: 'Puter Rants on Takers v. Makers, ObamaCare Style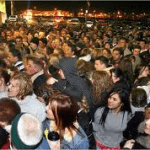 Don'ters line up at the front door of America's very
last Doer, looking for all that free crap Uncle Sugar
and President Obama promised them. Don'ters are about
to be extremely disappointed. Liberal politicians who've
preyed on Don'ters fantasies for generations had better
hide, because they're coming for you when your
entitlement Ponzi scheme collapses, as it surely will.
'Puter's had it. Like GorT,* he's had it with Democrats. He's had it with Republicans. Hell, 'Puter's had it with the entire stinking, festering malarial swamp that is the District of Columbia.
The Shutdown That Isn't is simply stupid politics for Republicans. 'Puter's had the fight with countless conservatives, explaining again and again (and again) that shutting down the government plays into the Democrats' hands, permitting Democrats to paint Republicans as evil Wall Street One Percenters bent on stealing Granny's pin money to spend on an upgrade to their Hamptons manse's salt water swimming pool's heating system. Stupid politics by stupid, small men. And it is mostly men on the Republican side.
But what's really got 'Puter fired up isn't Republican stupidity or the lying retarded Hobbits than inhabit the Democrat party. It's Americans.
You've changed, America. 'Puter barely recognizes you any more. You used to be self reliant. You used to build things. You used to dream big dreams. Now you're a shadow of your former self, but fatter. And dumber. And greedier.
America is now a one-party nation, the party of "Give Me Free Shit And Treat Me Like An Infant." Democrats have happily inhabited this territory for years. Democrats enjoy the soothing knowledge that they never have to think for themselves because Mommy Gubbamint is always around to tell them what to do.
Far too many nominal conservatives are content to let this cancer devouring the nation's character continue unabated simply to retain power. Hell, some Republicans even encourage the behavior, doling out buckets of money to
The only difference between politicians on the Left and politicians on the Right is on whom they choose to bestow vote-buying payoffs and graft tax benefits and entitlement programs.
The one similarity among all politicians is they're all douchebarges.
Yes, even Sen. Ted. Cruz, darling-of-the-moment for conservatives. Do you seriously believe Sen. Cruz (1) thought through the consequences of this actions on the nation and (2) engaged in his feel-good puppet show for any reason other than to buy his way into more power? If so, it must be difficult to see with all that wool over your eyes.
Americans aren't divided into Democrats and Republicans. We're not divided into liberals and conservatives. We're not even divided into Red States and Blue States. Americans are divided between those who do and those who don't do. 'Puter likes to call them the Doers and the Don'ters respectively.
There's been a showdown coming between the Doers and the Don'ters for years, just like the showdown portrayed so wonderfully by our Patron Saint and thirteenth Imam Val Kilmer (p.b.u.h.) in the best movie of all time, Tombstone. It's not a question of if the showdown was going it happen, it's only a question of when.
ObamaCare answered the question "when." Don'ters successfully strong armed a poorly thought out, hastily drafted, incomplete and confiscatory law through Congress intended ultimately to nationalize one-seventh of the United States economy as a sop to its Don'ter voters. Doers predictably reacted with understandable outrage, sanely arguing that a country as broke as America can't afford the so-called entitlement programs we have, so we sure as heck can't afford a big, flashy new one.
Unfortunately for the Doers, they're quickly being outnumbered and outbred by the Don'ters. even more unfortunately for Doers, Don'ters get to vote.
The fight over ObamaCare isn't a fight to keep people uninsured. It's a fight about America's fundamental nature. Are we makers or takers, Doers or Don'ters? That's why this fight is important. It's also why the fight is so vicious. At end, it's a fight between two opposing and incompatible ideologies over America's future.
And it's a fight Doers better win, because living in a country run by and filled with Don'ters is the dystopian future Orwell and Huxley wrote about.
'Puter is justifiably concerned that the Don'ters may get the better of the argument, partly because Republicans have positioned the argument so horribly, fighting over window dressing and the shape of the negotiation table rather than the elephant in the room.
In some ways, 'Puter doesn't blame the Don'ters. It's easy to live life as a Don'ter. The world is a big, scary place, full of mean nasty people, like bosses who expect you to show up on time, clean, ready to work and sober.
Here's a typical Millennial Dont'er 'Puter surreptitiously recorded on Xbox Live playing Madden NFL 25**:
My boss totally sucks. She's all up in my face with crap like, "Why are you late again? It's 10:30 and work starts at 9:00." Damn. It's like, I totally went to college, and I'm not starting my career as head of a Fortune 500 company? Do they know who I am? I AM PRECIOUS Q. SNOWFLAKE, BITCHES! NOW WORSHIP ME LIKE MOMMY AND DADDY DID!!1!! No? Then I'll just quit, live in my parents' basement, play Xbox all day, taking occasional breaks to masturbate to internet porn until the world recognizes my true genius and gives me the job I truly deserve. Like President of the United States, though I might settle for Pope. Do I have to be Catholic to be Pope?
Frikkin' morons.
Boomers are the worst people in history, ever. Yes, worse than the Nazis. They're smiley-faced fascists, to steal a turn of phrase from Friend of the Gormogons Jonah Goldberg. And the Millennials – the Boomers' spoiled rotten, self-entitled, wastes of genetic material – may be even worse, like Josef Stalin bad, just nicer and more ironic.
F*ckbuckets.
And here's the thing about Don'ters. They're greedy, lazy, stupid bastards who will vote for anyone who promises to keep the gushing flow of free crap from Uncle Sugar coming. Most of them would vote twice for anyone who promises them even more free crap than they're getting, someone like, fr'instance, President and Volksmarschall*** Barack Obama.
Don'ters are people like this lady, convinced that Obama was going to pay her mortgage and give her free gas when he was president.
Dont'ers are like every self-proclaimed do-gooder who decided to leave Mom and Dad's basement couch to join Occupy Wall Street, which as predictably as the sun rising the East, quickly descended into Lord of the Flies**** territory, punctuated by drum circles and periodic rapes.
Don'ters are like some of 'Puter's Twitter correspondents who just can't grok basic economic concepts like "there's no such thing as free crap for all, someone, somewhere is paying" and "stealing from your neighbors isn't cool."
Many Don'ters like to think of themselves (wrongly) as exceptionally bright, socially conscious and above base politics. These are your classic White, college educated liberals. Frequently, these Don'ters proclaim themselves "libertarian" or "socially liberal but fiscally conservative." Bullshit. To a person, when push comes to shove on any matter involving spending less or restricting benefits, they emit a piercing wail combining economic falsehoods, ad homiem***** arguments, straw man tactics, a general besmirching of the proponents' lineage and demonstrably false claims concerning the proposal's impact always involving the Holy Liberal Trinity of Victimhood, women, children and minorities.
Other Don'ters are the people who have over the years succumbed to the warm embrace of heroin the welfare state. These people are predominantly poor and un(der)educated, most through really crappy life choices they've made along the way. Pick from the menu: dropped out of/flunked out of high school; refuse to work in unskilled labor jobs, the only ones they have skills for; have a kid or multiple kids out of wedlock; have a substance abuse problem; etc.
Don'ters are uneducated, stupid, delusional or some combination of the three.
Don'ters believe as an article of faith that they are entitled to free crap that droppeth as the gentle rain from heaven upon the place beneath courtesy of government simply by virtue of their existence. They are the ne plus ultra of the Precious Q. Snowflake mindset. "I exist, therefore, you owe me free stuff."
Don'ters believe despite overwhelming evidence to the contrary that government provided benefits are free. They have no concept of finance, or economics, or monetary policy, or science, or reality in general. All they know is stuff is free, and they should have all the stuffs, just like those evil Doers.
Some Don'ters realize that stuff doled out by the government isn't free. They know it has to be paid for with tax money taken from someone. This subset of Don'ters just doesn't give a damn. Like the majority of Don'ters, they want their free stuff from Uncle Sugar, and they want it now. Costs and burdens be damned.
Don'ters are selfish bastards. We're surrounded by them.
Take for example old people who refuse to give up any portion of their Medicare or even discuss reform because "we paid for it" Garbage. The first coronary artery bypass you had at 65 (after which you didn't quit smoking, watch your diet or exercise) ate up every penny you ever paid into Medicare and them some, if you even paid in anything to Medicare at all. You're a Don'ter.
Retirees who think Social Security is a pension to which they have a God given right, even if it means impoverishing their children and their children's children. If you live longer than five or ten years after you've retired, you've taken out way more than you ever paid in, even after compounding at a generous rate of return. Newsflash: there is no Social Security lockbox full of your contributions anyway. Congress spent your hard-earned dough. Every penny you get in every check comes from a currently working American like your neighbors or your children. Your refusal to acknowledge reality coupled with your grim determination to bankrupt the nation makes you a Don'ter.
People on traditional welfare programs are Don'ters. 'Puter'd read them the riot act as well, but it'd feel like inappropriate piling on. If anyone has a legitimate claim to free crap from government, it's this group. But with rights (like your alleged right to free crap stolen by government at the point of a gun from your fellow citizens) come responsibilities. Try finishing high school. Try keeping your knees together or keeping it in your pants until you at least get a good, steady job. Try getting married before having kids. Trust 'Puter. It works, and you'll be happier.
Don'ters are content to take your money to finance their lifestyle, no matter how poor or lavish that lifestyle may be. Green energy advocates are an example of the latter, while welfare mothers are an example of the former. Don'ters will happily confiscate Doers livelihood (think ObamaCare and medical professionals) to get more free crap. Don'ters will happily confiscate more and more of Doers income and wealth (think millionaire taxes, ever increasing marginal rates and government fees) to get more free crap.
Don'ters don't view any of this government wealth confiscation and redistribution as morally reprehensible theft and evidence of their personal sloth. Don'ters view it as Doers obligation because Don'ters allow us to live in their totally awesome country where all crap is free for everyone! How can anyone be against free crap for everyone? Stupid Doers.
So there we are. America's fight isn't over ObamaCare. Our fight is over what kind of nation we will be. Will we be a nation of Don'ters, marked by ever increasing debts and deficits, overshadowed by the inevitable financial collapse caused by spiraling entitlement program costs? Or will we be a nation where all work hard, keep what we make and provide for the truly needy among us, freeloaders be damned?
It's up to you now, America. Choose.
*It's nice to see other Gormogons adopting some of 'Puter's innovations, such as the asterisked footnote. Yes, 'Puter invented the asterisked footnote. 'Puter also invented ketchup. And no, you don't need to Google that. If you can't trust 'Puter, whom can you trust?

**'Puter is always amused that the guys that are most into Madden are usually the kids picked last for any team because they were total spazzes living in their parents' basement not because they have to do so as they have a really good job as a Wall Street quant, but because they want to do so. Think Howard Wallowitz. Either that, or they're dumb-as-a-post lunkheads trying to relive their high school glory days to distract from the fact that they're in a dead end job (if they're lucky) and married to the former head cheerleader who's a now zaftig, shrill harpy who bangs anyone who shows her the slightest attention. But 'Puter digresses.

***Yeah, it's a Nazi SS reference. But it's meant solely to connote the unrepentant and in-your-face fascism and denial of democracy displayed by The One at all times during his presidency. So if you don't like it, suck it. 'Puter's rolling.

****For 'Puter's ironically slacking Millennial readers, he's helpfully included a link to SparkNote's synopsis and explication of Lord of the Flies by William Golding. You know, it wouldn't hurt you lazy, sentient colonies of fecal coliform bacteria to pick up a book every now and again. You may even find you enjoy classic dystopian novels, you generation of mama's boys (and girls).

*****'Puter knows it's ad hominem, but GorT's typo and Volgi's brilliant Tweet****** has made this variant mandatory in Gormogons posts.

******Quoth Volgi's Tweet: Greatest typo ever: "ad homiem." Either "you'd say that, he's your boy" or "HOMEY DON'T PLAY THAT! [wham]"


Always right, unless he isn't, the infallible Ghettoputer F. X. Gormogons claims to be an in-law of the Volgi, although no one really believes this.
'Puter carefully follows economic and financial trends, legal affairs, and serves as the Gormogons' financial and legal advisor. He successfully defended us against a lawsuit from a liquor distributor worth hundreds of thousands of dollars in unpaid deliveries of bootleg shandies.
The Geep has an IQ so high it is untestable and attempts to measure it have resulted in dangerously unstable results as well as injuries to researchers. Coincidentally, he publishes intelligence tests as a side gig.
His sarcasm is so highly developed it borders on the psychic, and he is often able to insult a person even before meeting them. 'Puter enjoys hunting small game with 000 slugs and punt guns, correcting homilies in real time at Mass, and undermining unions. 'Puter likes to wear a hockey mask and carry an axe into public campgrounds, where he bursts into people's tents and screams. As you might expect, he has been shot several times but remains completely undeterred.
He assures us that his obsessive fawning over news stories involving women teachers sleeping with young students is not Freudian in any way, although he admits something similar once happened to him. Uniquely, 'Puter is unable to speak, read, or write Russian, but he is able to sing it fluently.
Geep joined the order in the mid-1980s. He arrived at the Castle door with dozens of steamer trunks and an inarticulate hissing creature of astonishingly low intelligence he calls "Sleestak." Ghettoputer appears to make his wishes known to Sleestak, although no one is sure whether this is the result of complex sign language, expert body posture reading, or simply beating Sleestak with a rubber mallet.
'Puter suggests the Czar suck it.