A Day In The Life Of 'Puter: Trolling Liberals on Facebook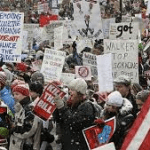 Gov. Scott Walker masterfully trolled Wisconsin's hyper-
sensitive Dane County liberal denizens, enraging these
economically illiterate "educators," and benefiting the state's
taxpayers simultaneously. Masterfully done, Gov. Walker.
To be fair to 'Puter's self, he really didn't set out to troll his liberal friends. 'Puter simply intended to point out to some of his more left-of-center friends there is such a thing as nuance. And truth, as that concept seems to escape many of them.
Anyhoo, 'Puter posted this on Facebook,* related to Pope Francis' statement regarding newlyweds.

Pope Francis is rapidly becoming my favorite Pope ever, even better than John Paul II (Electric Boogaloo), who was phenomenally gifted as well. Francis is great because he's made conservative Catholics and liberal Catholics uncomfortable, staying true to the Church's rules, but insisting that Christianity and Catholicism in particular place the person ahead of the rules.

Then today Catholic News Service informs me Francis said this: "I tell newlyweds, 'Fight as much as you want. If plates fly, fine. But don't go to bed angry.'"

Awesome.
Then 'Puter posted this on Facebook regarding the government shutdown, using the esteemed Charles Krauthammer's Washington Post opinion column as a springboard.

Shocking as it must be to those who know me, I'm with Krauthammer on this one. Republicans were morons (Sen. Cruz, mostly) to get into a fight that was going to be tough to win in the first place, then make a non-starter demand, and best yet, have no plan as to how to get out of the mess they'd made.

But Democrats are not blameless here, either. Further, many of their contentions ("it's the law," "this has never, ever happened before," "it's not normal legislative process to attach defunding items to bills") are factually inaccurate, historically inaccurate, outright lies, some of the above or all of the above.

Worse, the Democrats seem to rejoice in the shutdown, taking it as an opportunity to score political points. (Yes, both sides are doing so). But shutting down *outdoor, open air* national memorials? Heck, even Bill Clinton didn't do so in 1995. And yes, Rep. Randy Neubarger (R-TX) was beyond the pale for chewing out a Park Service Ranger about the WWII Memorial shutdown.

What about Senator Reid's now infamous "why would we want to [help one kid with cancer]" quote? Sure, the quote was *barely* taken out of context. But those supporting Sen. Reid here were almost assuredly beating up Mitt Romney for his "binders full of women" or President G.W. Bush's "internets."

And sure, Republicans tried to score points by funding NIH, Parks and VA programs immediately after, but really? No one can budge on funding something everyone agrees ought to be funded?

Here's my personal last straw.

Today, the Wall Street Journal reports the following: "Said a senior administration official: "We are winning…It doesn't really matter to us" how long the shutdown lasts "because what matters is the end result."

And that's all it is to them, the Republicans and the Democrats allegedly representing us in Washington: winning.

Not the American people winning. But inbred, dysfunctional, megalomaniacal politicians out to grab power for all the wrong reasons winning. Neither side has covered itself in glory. Neither side has evidenced a care in the world about Americans who pay their bills. And worst, neither side shows any sign it understands the damage they are doing to our country.

Nobody wins unless America wins.

A pox on both their houses.
To date, very few of 'Puter's friends have responded. Maybe 'Puter'll have more luck trolling GorT's relatives in his Facebook status feed.

*N.B., 'Puter doesn't refer to himself as 'Puter on Facebook. Ask @mbernadettee, she'll tell you. She actually knows 'Puter's secret identity, and has met him in person. If 'Puter can't trust a librarian** to keep quiet, whom can he trust?

**Say, wasn't Barbara Gordon a/k/a Batgirl also a librarian? Hmm. Perhaps @mbernadettee has a super hero alter ego as well.



Always right, unless he isn't, the infallible Ghettoputer F. X. Gormogons claims to be an in-law of the Volgi, although no one really believes this.
'Puter carefully follows economic and financial trends, legal affairs, and serves as the Gormogons' financial and legal advisor. He successfully defended us against a lawsuit from a liquor distributor worth hundreds of thousands of dollars in unpaid deliveries of bootleg shandies.
The Geep has an IQ so high it is untestable and attempts to measure it have resulted in dangerously unstable results as well as injuries to researchers. Coincidentally, he publishes intelligence tests as a side gig.
His sarcasm is so highly developed it borders on the psychic, and he is often able to insult a person even before meeting them. 'Puter enjoys hunting small game with 000 slugs and punt guns, correcting homilies in real time at Mass, and undermining unions. 'Puter likes to wear a hockey mask and carry an axe into public campgrounds, where he bursts into people's tents and screams. As you might expect, he has been shot several times but remains completely undeterred.
He assures us that his obsessive fawning over news stories involving women teachers sleeping with young students is not Freudian in any way, although he admits something similar once happened to him. Uniquely, 'Puter is unable to speak, read, or write Russian, but he is able to sing it fluently.
Geep joined the order in the mid-1980s. He arrived at the Castle door with dozens of steamer trunks and an inarticulate hissing creature of astonishingly low intelligence he calls "Sleestak." Ghettoputer appears to make his wishes known to Sleestak, although no one is sure whether this is the result of complex sign language, expert body posture reading, or simply beating Sleestak with a rubber mallet.
'Puter suggests the Czar suck it.