The Other Pro-Choice OR Unequal Pay for Unequal Work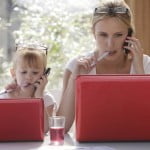 Mrs. Dr. J. and the Lil Resident mind-map operational work flow together…
Dr. J. was trolling teh interwebz for something to talk about other than the President's feckless Syria speech, a speech he couldn't even tune into because the sound of President Obama's voice raises his diastolic blood pressure about 10 mmHg.
A number of Dr. J.'s Ivy U. classmates have been active of late with regard to posting interesting articles on Facebook (rather than the typical liberal pablum that is ripe for fact-check 'slut shaming' by Dr. J., or if the math is really hard, GorT on Dr. J.'s behalf).
Today's article came from National Public Radio of all places.
The thrust of the article is that women engage in rational economic decision making as they navigate the tightrope balancing career and family. This rational economic decision making begins in college where many choose majors that do not have lucrative job prospects. Even the women who choose majors which present better job prospects after college, many women still choose to enter lower paying fields using those degrees (e.g. a math major becoming a math teacher). Women are making choices understanding full well the opportunity costs.
They are not alone. At New Atlantis Ivory Tower Academic Medical center, three of Dr. J.'s female colleagues work part time. Two are 0.8 full time equivalents while a third is 0.25. A fourth whom he trained with went home to the wilds of Indiana and started off part time in an office based practice with no call (after very aggressive protracted negotiations), only to quit within 3 months to stay at home.
Indeed, many residents, male and female, are choosing fields in medicine that offer a good life balance. That's one of the trends with the millennial generation. Fortunately they have Generation X there to grudgingly pick up the slack as is our lot in life.
Indeed, the author writes:
Working on this story, I started seeing versions of myself all around me. Rhea Faniel, a college career counselor, told me she had a degree in accounting and started her career in the corporate world. She was making good money, moving up in her company. One day, her boss came to her and said he wanted to groom her to be a director.
"I knew what that entailed," she says. "Taking up more responsibility, taking up other classes and training, and here i was, I was five months pregnant. He didn't even know it."
Faniel thanked her boss but told him she was more focused on having a baby. Her focus on her family eventually led her to leave the corporate world. Other women, she says, are put off by companies with male-dominated cultures.
But I choose a lower-paying field before marriage or kids. I never felt excluded in a male-dominated workplace. So what's my excuse? I love my job. [ed. emphasis added]
As a consequence, the so-called pay-gap between men and women is largely a consequence of women choosing equally fulfilling but lower paying careers as they desire to balance hearth and home, or alternatively, in true Disney Princess fashion, they simply 'follow their heart' rather than follow the carrot. So when anyone brings up the pay-gap between men and women, this is one more bit of evidence that the left is full of horsepucky on the issue.
These women are choosing the job that fits their lifestyle desire, and as best Dr. J. can interpret from the NPR article, they are happy with their choices. Consequently, we should be happy for them with regard to their decision making, as for them, it is rational economic decision making. This is the sort of pro-choice that Dr. J. can get behind.