That's the last time we let Volgi tip…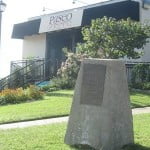 Nothing says good tipper like a monolith dedicated to an ancient evil…
Operative RKB wrote again to Dr. J. and Borepatch.
It seems someone has claimed part of Oklahoma for the Old Gods:
Yes, yes, that was us. You see, when your Gormogons passed through Oklahoma City as part of our summer vacation that GorT will be updating y'all on throughout the last summer and early fall, we had dinner at the Paseo Grill. They make a Chilean Sea Bass that is to die for. Anyway, it was Volgi's turn to pay, so instead of tipping the requisite 18% service charge (as we are a party of 6 or greater), he summoned a monolith dedicated to Azathoth for the owners, hoping that the eldrich artifact's magic's will bring great fortune to the restaurant at the expense of her rivals whose souls will be devoured like an order of the Paseo Grill's Southwest Spinach Dip.
Such is our ways…
Borepatch, Dr. J.'s got nuttin' for you on this one other than the Czar let Dr. J. squeeze off a few rounds with his Glock after dinner…