UPDATED – Syrian Shortcomings…OR The Differences Between Syria and Iraq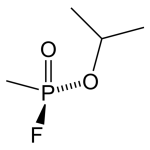 Gentle Readers,
Dr. J. falls into the camp of those against President Obama using force in Syria. Dr. J. has an open-mind, and would not mind if the president persuaded him otherwise. The president however has yet to do so, compellingly. Indeed, these are the areas where the President clearly done his job with regard to this issue:
Sarin, a simple molecule. Simple, but deadly…
Why are we attacking Syria? – Assad used chemical weapons on rebels, killing 1,400 people. He crossed a red line we drew in the sand. That's the official reason.
Hitler stuck Chamberlain with the check at Ratskeller, perhaps something similar is afoot?
Sure there were chemical weapons deployed and about 300-1400 died as a result but the president has not made a compelling case that the case that the Assad regime are the ones doing the chemical weaponing. Indeed President Putin says otherwise…and not only him, one reporter on the ground in Syria, Yahya Ababneh whose story hasn't really gotten much traction with the mainstream media but was fleshed out by AP contributor Dale Gavlak suggested that the chemical weapons were provided by Saudi Arabia to Al-Qaida backed rebels, and the weapons were deployed by accident.
UPDATED: Rush Limbaugh discussed this report from Global Research on his show today that also puts together a scenario where rebels deployed chemical weapons, albeit deliberately and with some White House complicity.
Before you say, "Dr. J., America would never gin up a false premise for joining a war. That's not our way!" Dr. J. has three words…Gulf of Tonkin.
END UPDATE
Put this together with an article on a recent summit between Prince Bandar and President Putin that reads:
Bandar discussed the Syrian issue at length. He explained how the kingdom's position had evolved on the Syrian crisis since the Daraa incident all the way to what is happening today. He said, "The Syrian regime is finished as far as we and the majority of the Syrian people are concerned. [The Syrian people] will not allow President Bashar al-Assad to remain at the helm. The key to the relations between our two countries starts by understanding our approach to the Syrian issue. So you have to stop giving [the Syrian regime] political support, especially at the UN Security Council, as well as military and economic support. And we guarantee you that Russia's interests in Syria and on the Mediterranean coast will not be affected one bit. In the future, Syria will be ruled by a moderate and democratic regime that will be directly sponsored by us and that will have an interest in understanding Russia's interests and role in the region."
In other words the Saudis clearly want regime change and they are happy to assure Putin that Russian's will continue to have a friend in Saudi friendly Syria. Dr. J. would not be surprised if the Mint Press News report is closer to the truth, especially given the lack of publicly reported intelligence from the White House. Dr. J. would also not be surprised, given the Syrian motivation on regime change in Syria that it would not be unreasonable that a Saudi WMD found its way to Syria.
What are our goals for an attack on the Syrians? – That's not so clear. The president claims that the response will be brief and limited. Now Victor David Hanson over at the NRO lays out 4 strategic scenarios for goals of an attack on another nation such as Syria. We will sum up and editorialize.
The Shot Across the Bow – Given that this is the most telegraphed shot in history, and Obama is doing it more to save face than to enforce some crossed red line, Dr. J. thinks it will cost a bunch of money but still won't impress the chicks.
Leading From Behind – This would be a weeks to months long sustained bombing effort with the home of encouraging regime change, a la Libya. This probably goes against the scope of what Obama wants to do, and given that we will have to take out Russian manned radar stations in order to bring in anything other than stealth planes and Tomahawks would turn a limited strike into a conflagration. Really bad idea…really.
The Serbian Solution – This is no different than 'Leading from Behind, other than we did the same thing but ran the show rather than in Libya where the EU wore the man-pants and we flew some sorties on their behalf. This is bad idea number two becoming much, much worse…
The whole-hog Afganistan/Iraq – Neither VDH nor Dr. J. needs to give you, Gentle Reader the rationale why this would be not only a disaster but the start of another world war, all to save face for President Obama.
There is not a legitimate strategic goal for any attack on Syria at present, especially given that it will potentially kill Russian soldiers. An action that President Putin will not exactly overlook.
What is the compelling national interest? – The only national interest at stake, if you can even call it a true national interest is that when we draw a line in the stand, we mean it. In other words, this is, unless proven otherwise an exercise in face saving, rather than taking a moral stand against the criminal use of chemical weapons. Were these 1,400 folks killed with bombs and bullets, we wouldn't be having this conversation.
President Obama is 'resolute' as he talks on the phone 'Captain Morgan Style'.
Vice President Biden thinks about whether to go to Zaytinya or CityZen with Dr. Jill.
But chemical weapons were used and we really, really don't want folks using WMDs. That being said, the proof hasn't been demonstrated at the U.N., or before the U.S. Congress, or even
a select secret bunch of guys and gals from Team Congress
that it was Assad. Indeed, Dr. J. really feels that a compelling case needs to be made that the Assad regime
used
chemical weapons in the conflict. So long as the president doesn't make that case effectively, our moral high ground becomes shaky and from that everything will spin out of control.
Once it's been demonstrated convincingly that WMDs have been used by the Assad regime, then it must be clarified as to what is the compelling interest in punishing Assad for the use of WMDs? Other than, "he crossed the line we told him not to cross" we have nothing. Indeed there are a lot of downsides to attacking from a national interest standpoint that do not outweigh the upside. That's not to say one must always to the 'popular thing.' But a compelling case as to why it is the right thing for a moral nation to do, morally hasn't even been made.
Does the tactics help our strategic end? In other words is what we intend to do (lobbing a few cruise missiles, full borne grown invasion, vs. something in between) help us to achieve our goal? As the first three questions haven't been answered, this fourth one hasn't been answered yet. Medical treatments have benefits and side effects. Given that Assad is at war with Al-Qaida among other folks, do we really want to be helping Assad's enemies. In this case, the enemy of my enemy is still my enemy!
The President has a lot of work to do ahead of him. Consequently he is taking his sweet time, making it appear even more that we do not have a compelling interest at stake, which makes it appear that the job ahead for him is even harder.
Dr. J. is not a constitutional scholar, but he is under the impression that the president needs congressional approval. If he doesn't, there's something wrong with the war powers the executive branch currently enjoys as he has been given as he has admitted that there is no critical time frame involved.
Dr. J. isn't a hand-ringing moddly-coddling consensus builder, but due diligence needs to be done, and the president has not done it yet. Some of it is going on in the background as we speak. Dr. J. will be tuning into the senate hearings after he sends this off.
President Bush thought things were going to go the way of Eastern Europe c. 1990 at this point.
But Dr. J. hasn't gotten to the draft title of this post which is, "The Differences Between Syria and Iraq."
Here are, as Dr. J. sees them, some of the big differences:
The U.S. fought a war against Iraq to liberate Kuwait, and created an expensive and distracting No-Fly-Zone over Iraq as part of the cease fire agreement. Saddam Hussein, who was no favorite of W. for attempting to have Poppy assassinated, was following the terms of the cease fire, including providing adequate assurances that he wasn't hiding and developing WMDs. He was acting shady, we didn't like him to start with, and we were just attacked on American soil and feeling a might twitchy, and enforcing the no-fly-zone was a royal pain in the ass when we potentially needed those forces elsewhere (long term). The reality was that he was acting shady to make his enemies think he had WMDs, rather than he actually had them (though some think he shuttled the off to Syria), something about alpha-wolf behavior in the Middle East. As a consequence, we said, enough's enough and decided it was finally time for regime change.
Iraq was in violation of its cease fire agreement and with two UN resolutions.
The U.S. convinced the U.N. and won bipartisan support in the Congress that it was appropriate to act, and created a coalition of 49 nations.
We had a clear cut goal, we had a plan to implement that goal and by and winning the war was a slam dunk. Winning the peace was hard, as, as soon as the statue of Saddam was pulled down, the Democrats bolted. Similarly, the sectarian violence began. President Bush found winning the peace was much harder than liberating Iraq, especially as the oppressed majority wanted a piece of Sunni flesh, and Iran wanted us to look like failures in the face of victory.
Ultimately U.S. and the Iraqis pretty much won the day, but found that the WMDs were nowhere to be found. While the D's called President Bush a liar, Dr. J. believes that Team Bush was foxed like the rest of the world because Saddam wanted everyone to think he had WMDs. It was an honest intelligence failure.
This is what bipartisan support looks like.
In Syria, we have a country where we don't have a cease fire agreement that is in violation, we aren't enforcing an expensive no-fly zone, while he has had WMDs for a very long time and we've not felt the need to preemptively attack, we have not yet had the case laid out clearly why we think Assad's regime used chemical weapons. Obama has yet to go before Congress. Our staunchest ally the UK isn't with us. The UN probably isn't going to be with us, and Congress will either for or against action in a bipartisan manner. In other words, it is, at present, nothing like Iraq.
Dr. J. prays that the White House navigates these waters safely for all involved. While no one likes that there is pain, suffering and war in the world and we especially don't like despots, terrorists, or WMDs, we still need to have our facts straight, our motives pure, and our plans in place before we move forward; doubly so if we move forward alone. Otherwise, it can and will have dire consequences for us and the world.