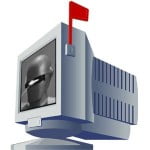 It looks like the whole thread of Catholic Mass and singing has struck a chord (Dat Ho is working on the rim shot). I was glad to see some other Gormos join in on it.
First up is from ScottO who took a break from affixing laser beams to the megalodons in castle's moat to pen this and pray in made it across the murky water:
Dear GorT,

As a non-Catholic, I read your post about the sung mass for edification and enjoyment. One bit raised a question, though. You mention the Kyrie and write about it being sung in Latin. But aren't the words "Kyrie Eleison" Greek? I was taught they were, and they mean "Give them peace." Latin for "give them" is "Dona eis", isn't it?

With warmest regard,

ScottO
Scott, keep up the evilgood work and thanks for the note. Yes, those words are Greek. The early Church, up to the middle of the third century, used Greek as the language of worship. In the sixth century, the Kyrie was incorporated into the Latin Mass (Canon 3 of the Synod of Vaison in 529 A.D. – The Volgi was there, you can ask him).
Then, the archivist amidst selecting the perfect color scheme for her upcoming nuptials, took the time to write the big, metal robot with the following:
Yes, most of it is awful. Often, it's not the music's fault. It's usually the fault of your organist/cantor/choir. Sadly, since most parishes can't afford to pay these people, they're left with whoever wants to volunteer for the job. [Spoken like a former member of music ministry, eh?]

Fortunately my new parish excels with the "play the piano so that it can lead the congregation"; "use your microphone well so everyone can hear and feel like they know what's going on" things. Also, we use solid hymns that aren't written like a 1980's pop song so the melody and rhythm actually seem intuitive to most people.

If you're stuck with the good ol', folksy, hippie songs, usually accompanied by a guitar, let's just jump all over the place completely outside the normal range of a generic untrained singer… well. There ain't nothin' you can do to fix that. [GorT: Hippie music director? Check. Favors guitar? Check. Sings songs like, "Day by Day" at Communion Reflection while GorT tries not to think of Meet the Parents? Check.]

And for what it's worth, I think I've heard at least 6 settings of the new translation of the Mass parts. The best ones are the ones that didn't keep the same music and just try to squeeze a bunch of new words into the old melody. Liturgical laziness, that.
And finally, the Ecumenical Volgi, Confucius himself penned a note to GorT. After running it through a few translation services, giving up and finally just sitting down with the man in the castle kitchen, we get the following:
G-Money, I'm sure you know—though it is pretty prolix—the "enter under my roof…my soul shall be healed" bit is a very close paraphrase of the centurion-with-a-paralyzed-servant's words to Jesus in Matthew 8:8. Still, yeah, I forget it probably every third Mass if not more often. I wish we'd had this version when we were kids. We'll probably have the crappy E-Z Mass® [GorT is still looking for the big red E-Z Mass button to press to get past some of the horrendous musical selections] in our heads until we die.

Catholic NSRV:

5 When he entered Capernaum, a centurion came to him, appealing to him 6 and saying, "Lord, my servant is lying at home paralyzed, in terrible distress." 7 And he said to him, "I will come and cure him." 8 The centurion answered, "Lord, I am not worthy to have you come under my roof; but only speak the word, and my servant will be healed. 9 For I also am a man under authority, with soldiers under me; and I say to one, 'Go,' and he goes, and to another, 'Come,' and he comes, and to my slave, 'Do this,' and the slave does it." 10 When Jesus heard him, he was amazed and said to those who followed him, "Truly I tell you, in no one[d] in Israel have I found such faith. 11 I tell you, many will come from east and west and will eat with Abraham and Isaac and Jacob in the kingdom of heaven, 12 while the heirs of the kingdom will be thrown into the outer darkness, where there will be weeping and gnashing of teeth." 13 And to the centurion Jesus said, "Go; let it be done for you according to your faith." And the servant was healed in that hour.
All good stuff. I love me some mail. Keep it coming. I'll get back to recounting parts of the Gormogon Summer Roadtrip. Maybe with some pictures now that those have been developed ('Puter loves rocking the Polaroid and I can't get the Mandarin to stop using the flash-cube camera).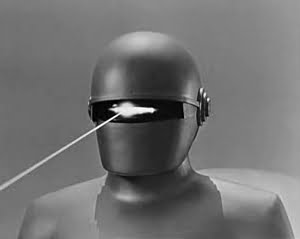 GorT is an eight-foot-tall robot from the 51ˢᵗ Century who routinely time-travels to steal expensive technology from the future and return it to the past for retroinvention. The profits from this pay all the Gormogons' bills, including subsidizing this website. Some of the products he has introduced from the future include oven mitts, the Guinness widget, Oxy-Clean, and Dr. Pepper. Due to his immense cybernetic brain, GorT is able to produce a post in 0.023 seconds and research it in even less time. Only 'Puter spends less time on research. GorT speaks entirely in zeros and ones, but occasionally throws in a ڭ to annoy the Volgi. He is a massive proponent of science, technology, and energy development, and enjoys nothing more than taking the Czar's more interesting scientific theories, going into the past, publishing them as his own, and then returning to take credit for them. He is the only Gormogon who is capable of doing math. Possessed of incredible strength, he understands the awesome responsibility that follows and only uses it to hurt people.