Mrs. 'Puter's Birthday Weekend: Dinner, Show, Oktoberfest, Yinzers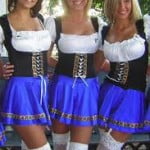 Mrs. 'Puter, Big Red and Mrs. The
Czar model the latest in Oktoberfest
fashion. Not really, but in 'Puter's
demented mind, this is how he
pictures it.
'Puter spent Mrs. 'Puter's birthday weekend thusly.
Friday evening, 'Puter squired The Missus to dinner at Fraiche, a newly opened Rochester restaurant. In attendance were two other couples. After a lovely meal ('Puter had the seared sea scallops over mint pesto risotto), the three couples adjourned to see Pump Boys and Dinettes at the local theater ("theatre," if you're a Brit or pretentious academe asshat; "building where the people to pretend to be someone they're not to make 'Puter happy or sad," if you're 'Puter).
Saturday evening, 'Puter and Mrs. 'Puter attended Big Red (Mrs. 'Puter's sister) 40th birthday party, which was interesting. First, the party was a three hour cruise (tour) held aboard the Colonial Belle on the world-famous Erie Canal. No mules were in attendance, much to @gscottoliver's chagrin. Second, Big Red determined an Oktoberfest theme would be just the thing to get this party started, inviting guests to come in lederhosen or dressed in dirndls as beer wenches. 'Puter very much enjoyed the lack of foundation garments on many of the female attendees. Mrs. 'Puter, being a teacher in a local school district, wisely (disappointingly to 'Puter) determined that as pictures would likely be taken, it would probably not be a good idea for her to be seen hoisting beer dressed as above, but with more cleavage.
Sunday evening Clan 'Puter trekked crosstown to Chez Big Red for a wonderful birthday meal prepared by Big Red's husband Black Mike (long story on the origin of his nickname). Big Red and Black Mike have three year old twins, whom 'Puter calls the Yinzer Twinzers since Black Mike is Pittsburgh born and bred. Helpful tip for those who are unfamiliar with Pittsburghers: Never, ever, under any circumstances including the interrupter's or interruptee's imminent death interrupt a Steelers fan during a game.
All in all, it was quite a fun weekend. Mrs. 'Puter enjoyed herself, and 'Puter wasn't even hung over, not in the least.

Always right, unless he isn't, the infallible Ghettoputer F. X. Gormogons claims to be an in-law of the Volgi, although no one really believes this.
'Puter carefully follows economic and financial trends, legal affairs, and serves as the Gormogons' financial and legal advisor. He successfully defended us against a lawsuit from a liquor distributor worth hundreds of thousands of dollars in unpaid deliveries of bootleg shandies.
The Geep has an IQ so high it is untestable and attempts to measure it have resulted in dangerously unstable results as well as injuries to researchers. Coincidentally, he publishes intelligence tests as a side gig.
His sarcasm is so highly developed it borders on the psychic, and he is often able to insult a person even before meeting them. 'Puter enjoys hunting small game with 000 slugs and punt guns, correcting homilies in real time at Mass, and undermining unions. 'Puter likes to wear a hockey mask and carry an axe into public campgrounds, where he bursts into people's tents and screams. As you might expect, he has been shot several times but remains completely undeterred.
He assures us that his obsessive fawning over news stories involving women teachers sleeping with young students is not Freudian in any way, although he admits something similar once happened to him. Uniquely, 'Puter is unable to speak, read, or write Russian, but he is able to sing it fluently.
Geep joined the order in the mid-1980s. He arrived at the Castle door with dozens of steamer trunks and an inarticulate hissing creature of astonishingly low intelligence he calls "Sleestak." Ghettoputer appears to make his wishes known to Sleestak, although no one is sure whether this is the result of complex sign language, expert body posture reading, or simply beating Sleestak with a rubber mallet.
'Puter suggests the Czar suck it.