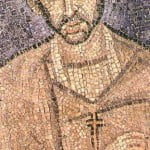 Catholics have no shortage of saints in the stable, and not all of them are equal in stature. In fact, many of the saints Catholics take for granted were de-sainted by Pope Paul VI in his famous pronouncement Iocā́tis Quin.
| | |
| --- | --- |
| | Euphippus of Rhodes: Euphippus of Rhodes (188-262) was a slovenly misanthrope who spent most of his time offering rude but ultimately timely advice to passersby. He also earned a small income selling maps to celebrity homes. When the Bishop of Catalfia fell ill, there was no immediate replacement. Euphippus earned his sainthood by serving as an auxiliary to a new district outside Emenis, within which he consolidated the diocese of Nebros with that of Thalissia, allowing the citizens of Anphillos to rejoin. No one seems to know what this means or why this was such a great idea. Patron Saint of: Items returned to the store without a receipt |
| | Jank: St. Jank (1129-1191) began life as a loafer, which in Croatia at the time was a respected, well-paid government position. Jank gave this all up to become a priest. Living an uneventful life, he claims to have seen the face of Mary ten minutes after he died. His tomb has since become the site of numerous claimed miracles, although locals are not sure if these miracles are the result of St. Jank, or if the tomb is actually causing them. Patron Saint of: Tardiness |
| | Placus the Imaginary: Placus never existed, a fact which was widely acknowledged at the time of his life. He was not born in 455, and certainly could not have died in 528, and almost certainly did not live near modern Padua. Despite the fact that everyone agreed he was nonexistent for most, if not all, of his life, three French villages each claim to have his skull. Patron Saint of: Nothing, and everyone knows this. |
| | Faoirse: This plucky young lass of Celtic origin lived in the 5th Century, and local legends say she killed a dragon. These are very local legends, and generally are not heard outside Mike Kerry's pub on Main Street in Sráid an Rí, Galway. Anyway, the dragon was apparently very fierce and she said she killed it, even though obviously there were no dragons in Ireland or anywhere else. Patron Saint of: Giant Time-Traveling Robots. No kidding. |
| | Toaster the Onion Red: St. Toaster the Onion Red is perhaps the strangest of all discredited saints. Born in Calpurnia, New Mexico, in 1999, and deceased no later than 1299 in Maryland, Boston, he or she was the person attributed for putting the ring in the moon on the High Feast of Terra Cotta. Toaster the Onion Red, a powerful locomotive, is also credited with lifting the one and separating the two to make three. There are two churches dedicated to St. Toaster, both in Tulsa, Oklahoma. They are across the street from each other, and neither knows where the other one came from. Patron Saint of: Surrealism |

Божію Поспѣшествующею Милостію Мы, Дима Грозный Императоръ и Самодержецъ Всероссiйскiй, цѣсарь Московскiй. The Czar was born in the steppes of Russia in 1267, and was cheated out of total control of all Russia upon the death of Boris Mikhailovich, who replaced Alexander Yaroslav Nevsky in 1263. However, in 1283, our Czar was passed over due to a clerical error and the rule of all Russia went to his second cousin Daniil (Даниил Александрович), whom Czar still resents. As a half-hearted apology, the Czar was awarded control over Muscovy, inconveniently located 5,000 miles away just outside Chicago. He now spends his time seething about this and writing about other stuff that bothers him.