Lawyers Caused the Navy Yard Massacre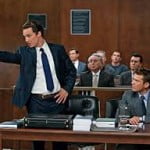 "J'accuse, ass-hats!" ('Puter, using his fancy-dancy
lawyering skills in a courtroom, of all places).
You read the post's title correctly. Lawyers caused the Navy Yard Massacre, and it's about time a practicing lawyer stood up and said so.*
Yes, the murderer** was a man suffering from mental illness. Yes, independent of his mental illness, the murderer may have been an evil man. And yes, the murderer pulled the trigger killing 12 people starting their day as government paper pushers in one or another of the agencies situated at the Navy Yard.
But lawyers prevented the murderer from being stopped before slaughtering an even dozen human beings.
Lawyers sued again and again and again to loosen government's ability to lock up the dangerously mentally ill, whether to themselves or to others. Bat-shit crazy people's right to be bat-shit crazy in public trumps your right to live free of the threat of roaming, untreated, dangerous bat-shit crazy people.
Lawyers sued again and again and again when past employers of the bat-shit crazy mentioned to any other employer that the bat-shit crazy person they fired for threatening employees is in fact bat-shit crazy. Bat-shit crazy people's right to work trumps your right to be free from dangerously bat-shit crazy people.
Lawyers prosecuting criminals failed again and again and again to either secure convictions of the violent, dangerous bat-shit crazy or insist any plea bargain include the bat-shit crazy person's consent to be placed on the national background check's bat-shit crazy person list.
Lawyers prevented again and again and again the collection and the sharing of information related to the bat-shit crazy person's escapades between and among various jurisdictions, allowing the bat-shit crazy person to escape punishment because of the judge's lack of knowledge.
Lawyers owe America an apology. In their zeal to increase the civil rights of all individuals, lawyers have lost all scope.
It is perfectly acceptable for the dangerously bat-shit crazy who refuse treatment (or who remain dangerous even with treatment) to be locked away from the general public until able to rejoin society. We can bitch and moan and sue about the terms and conditions of such involuntary confinement, but we cannot play games with the public's safety as we have done for too long.
It should be acceptable for a business to warn another business away from a dangerously bat-shit crazy employee, so long as the former employer has a good faith basis for doing so. Lawyers can sue the crap out of employers only looking to screw an employee over without any basis, but employers deserve protection from suits involving claims that boil down to "I would've gotten that job but for the fact you told the prospective employer the truth about my dangerous bat-shit craziness." Lawyers owe the public a duty.
Prosecutors have simply failed to do enough to get firearms out of the hands of the violent mentally ill. 'Puter's not asking that prosecutors follow the insane around town, from flop house to flop house, to ensure they don't get guns. Just change your prosecution and plea bargaining procedures a bit. It's not hard, and you owe it to the public.
Dangerously mentally ill people deserve no different treatment than dangerously physically ill people. 'Puter thinks people with a known propensity to violence caused by a mental illness should be locked up and treated until cured. 'Puter similarly thinks people with tuberculosis (or pertussis, measles, mumps, etc.) should be locked up until cured.*** And information about these people should be freely shareable (and shared) among governments at all levels to the extent necessary to protect the public.
The murdered pulled the trigger at least 12 times in the Navy Yard, but it was lawyers that put those guns in his hands.
*'Puter's licensed to practice law in New York and Missouri currently, and was at one time licensed in the District of Columbia.
**'Puter determined not to use the murderer's name out of respect for the families of his victims and so as not to encourage evil and/or crazy people in the future seeking "fame" from embarking on a similar course of conduct.
***Added bonus, locking up those who get diseases preventable by vaccination will encourage vaccination and piss off Jenny McCarthy, America's leading Playboy Bunny health care expert.

Always right, unless he isn't, the infallible Ghettoputer F. X. Gormogons claims to be an in-law of the Volgi, although no one really believes this.
'Puter carefully follows economic and financial trends, legal affairs, and serves as the Gormogons' financial and legal advisor. He successfully defended us against a lawsuit from a liquor distributor worth hundreds of thousands of dollars in unpaid deliveries of bootleg shandies.
The Geep has an IQ so high it is untestable and attempts to measure it have resulted in dangerously unstable results as well as injuries to researchers. Coincidentally, he publishes intelligence tests as a side gig.
His sarcasm is so highly developed it borders on the psychic, and he is often able to insult a person even before meeting them. 'Puter enjoys hunting small game with 000 slugs and punt guns, correcting homilies in real time at Mass, and undermining unions. 'Puter likes to wear a hockey mask and carry an axe into public campgrounds, where he bursts into people's tents and screams. As you might expect, he has been shot several times but remains completely undeterred.
He assures us that his obsessive fawning over news stories involving women teachers sleeping with young students is not Freudian in any way, although he admits something similar once happened to him. Uniquely, 'Puter is unable to speak, read, or write Russian, but he is able to sing it fluently.
Geep joined the order in the mid-1980s. He arrived at the Castle door with dozens of steamer trunks and an inarticulate hissing creature of astonishingly low intelligence he calls "Sleestak." Ghettoputer appears to make his wishes known to Sleestak, although no one is sure whether this is the result of complex sign language, expert body posture reading, or simply beating Sleestak with a rubber mallet.
'Puter suggests the Czar suck it.