John Kerry: The Last Man to Die (Politically) For Obama's Syria Mistake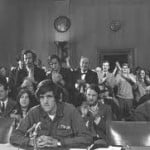 Hey, this anti-war veteran posturing against
baseless American military interventions
in far-flung lands to shore up a failing
president looks kind of familiar, doesn't he,
Secretary Kerry?
'Puter's not fond of open-ended American military interventions in foreign countries, unless the interventions result from a direct threat to national security and the goal of any such intervention is the complete and unconditional surrender of the enemy achieved through the unrestrained use of all military assets at our disposal. Short of that, 'Puter's a stay-at-home kind of guy.
But Secretary of State John F. Kerry not a 'Puter kind of man. Sec. Kerry made an impassioned plea in support of President Obama's proposed military action in Syria to the Senate Foreign Relations Committee yesterday.
My, how the years have changed Kerry's position on American military interventions in foreign lands where America's national security is not directly at issue. Perhaps Kerry's excessive drug use during the 1970s accounts for his failed memory. Thankfully, 'Puter's here to remind him of his words.
'Puter recalls a much younger John F. Kerry testifying before the very same Senate Foreign Relations Committee on April 22, 1971. Kerry then was leader of Vietnam Veterans Against the War and delivered his (in)famous "Winter Soldier" speech.
Thus spake Mr. Kerry:
In our opinion, and from our experience, there is nothing in South Vietnam, nothing which could happen that realistically threatens the United States of America. And to attempt to justify the loss of one American life in Vietnam, Cambodia, or Laos by linking such loss to the preservation of freedom, which those misfits supposedly abuse, is to us the height of criminal hypocrisy, and it is that kind of hypocrisy which we feel has torn this country apart.
We found that not only was it a civil war, an effort by a people who had for years been seeking their liberation from any colonial influence whatsoever, but also we found that the Vietnamese whom we had enthusiastically molded after our own image were hard put to take up the fight against the threat we were supposedly saving them from.
We found most people didn't even know the difference between communism and democracy. They only wanted to work in rice paddies without helicopters strafing them and bombs with napalm burning their villages and tearing their country apart. They wanted everything to do with the war, particularly with this foreign presence of the United States of America, to leave them alone on peace, and they practiced the art of survival by siding with whichever military force was present at a particular time, be it Vietcong, North Vietnamese, or American.
We found also that all too often American men were dying in those rice paddies for want of support from their allies. We saw first hand how money from American taxes was used for a corrupt dictatorial regime. We saw that many people in this country had a one-sided idea of who was kept free by our flag, as blacks provided the highest percentage of casualties. We saw Vietnam ravaged equally by American bombs as well as by search and destroy missions, as well as by Vietcong terrorism, and yet we listened while this country tried to blame all of the havoc on the Viet Cong.
We rationalized destroying villages in order to save them. We saw America lose her sense of morality as she accepted very coolly a My Lai and refused to give up the image of American soldiers who hand out chocolate bars and chewing gum.
We learned the meaning of free fire zones, shooting anything that moves, and we watched while America placed a cheapness on the lives of orientals.
We watched the U.S. falsification of body counts, in fact the glorification of body counts. We listened while month after month we were told the back of the enemy was about to break. We fought using weapons against "oriental human beings," with quotation marks around that. We fought using weapons against those people which I do not believe this country would dream of using were we fighting in the European theater or let us say a non-third-world people theater, and so we watched while men charged up hills because a general said that hill has to be taken, and after losing one platoon or two platoons they marched away to leave the high for the reoccupation by the North Vietnamese because we watched pride allow the most unimportant of battles to be blown into extravaganzas, because we couldn't lose, and we couldn't retreat, and because it didn't matter how many American bodies were lost to prove that point. And so there were Hamburger Hills and Khe Sanhs and Hill 881's and Fire Base 6's and so many others
…
We are asking here in Washington for some action, action from the Congress of the United States of America which as the power to raise and maintain armies, and which by the Constitution also has the power to declare war.
We have come here, not to the President, because we believe that this body can be responsive to the will of the people, and we believe that the will of the people says that we should be out of Vietnam now.
Now we are told that the men who fought there must watch quietly while American lives are lost so that we can exercise the incredible arrogance of Vietnamizing the Vietnamese.
Each day to facilitate the process by which the United States washes her hands of Vietnam someone has to give up his life so that the United States doesn't have to admit something that the entire world already knows, so that we can't say they we have made a mistake. Someone has to die so that President Nixon won't be, and these are his words, "the first President to lose a war."
We are asking Americans to think about that because how do you ask a man to be the last man to die in Vietnam? How do you ask a man to be the last man to die for a mistake? But we are trying to do that, and we are doing it with thousands of rationalizations, and if you read carefully the President's last speech to the people of this country, you can see that he says and says clearly:
But the issue, gentlemen, the issue is communism, and the question is whether or not we will leave that country to the Communists or whether or not we will try to give it hope to be a free people.
But the point is they are not a free people now under us. They are not a free people, and we cannot fight communism all over the world, and I think we should have learned that lesson by now.
Secretary Kerry may not remember his words that April day over forty years ago, but 'Puter does. So, too, do many of the men still fighting and dying in Vietnam remember Kerry's words.
So, 'Puter puts this simple question to Secretary Kerry.
Mr. Secretary, forty-two years ago you stated unequivocally that America should not engage in military interventions in foreign lands without Congressional consent, against the will of the people, fought solely to shore up the reputation of a failing presidency.
Mr. Secretary, were you lying then or are you lying now?

Always right, unless he isn't, the infallible Ghettoputer F. X. Gormogons claims to be an in-law of the Volgi, although no one really believes this.
'Puter carefully follows economic and financial trends, legal affairs, and serves as the Gormogons' financial and legal advisor. He successfully defended us against a lawsuit from a liquor distributor worth hundreds of thousands of dollars in unpaid deliveries of bootleg shandies.
The Geep has an IQ so high it is untestable and attempts to measure it have resulted in dangerously unstable results as well as injuries to researchers. Coincidentally, he publishes intelligence tests as a side gig.
His sarcasm is so highly developed it borders on the psychic, and he is often able to insult a person even before meeting them. 'Puter enjoys hunting small game with 000 slugs and punt guns, correcting homilies in real time at Mass, and undermining unions. 'Puter likes to wear a hockey mask and carry an axe into public campgrounds, where he bursts into people's tents and screams. As you might expect, he has been shot several times but remains completely undeterred.
He assures us that his obsessive fawning over news stories involving women teachers sleeping with young students is not Freudian in any way, although he admits something similar once happened to him. Uniquely, 'Puter is unable to speak, read, or write Russian, but he is able to sing it fluently.
Geep joined the order in the mid-1980s. He arrived at the Castle door with dozens of steamer trunks and an inarticulate hissing creature of astonishingly low intelligence he calls "Sleestak." Ghettoputer appears to make his wishes known to Sleestak, although no one is sure whether this is the result of complex sign language, expert body posture reading, or simply beating Sleestak with a rubber mallet.
'Puter suggests the Czar suck it.