Death of the American Dream…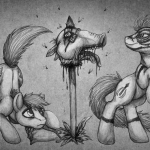 In 10th Grade, Dr. J. was tapped for Team Jack by his peers.
We still live in the greatest country on Earth. That being said, the progressive movement has for a century believed that they are smarter than the rest of us, and therefore could make the greatest country on Earth into Utopia.
For those of you who've read Utopia, Brave New World, Animal Farm and 1984, you should have gotten the take home message that utopias suck ass. Dr. J. who enjoyed a unit on utopias and dystopias back in 10th grade will tell you that being stuck on a deserted island with his 45 10th grade classmates, a la Lord of the Flies, or even wandering from migrant farm to migrant farm out west with his bestie, 'Knuckles,' having adventures like Lennie and George are far preferable choices, despite the negatives, than living in a pre-ordained Utopia, orgiastic Brave New World, or totalitarian Animal Farm because in both of the aforementioned dystopias, the tragic outcomes stemmed from bad choices freely made.
That is not to say that freedom inevitably results in society going to shit, but Lord of the Flies and Of Mice and Men offer a window into the progressive movement's perspective on freedom. In their eyes 'tea partiers,' 'libertarians' and conservatives are nothing but a bunch of boys in warpaint and loincloths killing each other and worshiping a pighead. If they only listened to Ralph or didn't pet the rabbit, doing what they were told, everything would have worked out just smashingly.
Dr. J. brings this up as he had a horrible case of insomnia last night and watched with great attention Ted Cruz's magnificent speech (or at least the 1:30-3:30 CDT portion) in which he described the American dream, and how Obamacare is a dream-killer by affecting upward mobility. Similarly, Marco Rubio expanded on this theme in his 'question to the speaker.'
The idea is this, Obamacare, like so many regulations that the Obama administration has inflicted on this nation hurt the poor disproportionally. Rather than rise up from a dishwasher to a small businessman like Rafael Cruz, economically negative policies (including raising the minimum wage) keep the dishwasher washing dishes rather than using it as a way to work his way through school before moving to the next job, or the waitress looking to become a hostess or assistant manager. They squelch upward mobility. As a corollary, they create dependence.
Senator Rubio made a brilliant point that the American dream is magnificent, but that there is not equality of outcome, and that's ok. Not every immigrant will become a millionaire, but historically, in our free market economy, hard working immigrants have, if not becoming tremendously successful themselves, have gotten their piece of the American dream and set the table for the next generation.
Case in point, Papa J.
Papa J.'s parents came over from Ireland. Grandpa J. ran the livery for a wealthy family in Philadelphia. Grandma J. ran the household. Grandpa J. also had other jobs as time permitted. Their hard work coupled with some appreciative generosity from the family allowed Papa J. to go to Catholic school, ultimately to a non-Jesuit Catholic prep-school and college in Philly. He held jobs during his HS and college years and paid for a chunk of college via the GI bill. Grandpa and Grandma J. set the stage for Papa J. to become a successful executive. His sister married and was a homemaker and part time sales person for a sporting goods store, living a comfortable life raising her sons to be successful student-athletes and successful family men themselves. Papa J.'s neer-do-well brother never left the nest and worked odd jobs, probably a testament to his Jesuit education (Dr. J. is joking, put down the guns, fellow Gormogons), but it was due to substance abuse issues and Lovecraftian madness rather than a want for lack of the tools needed to be a success.
Like Auntie J., Papa J. sent Dr. J. to a fine independent school, but, similar to his parents, he wanted to set the table for his children. He wanted Dr. J. to focus on school and college, and not have to work his way through either. He did teach Dr. J. a strong work ethic and expected him to toil in the fields during the summer, but his studies, came first. It was a matter of pride to Papa J. that he cover school and college for Dr. J.
What has happened since then, is that the progressive movement, especially in the Obama years, has made it harder for parents to set the table for their children to springboard into their own successes.
Dr. J. could recapitulate how HHS, the EPA, Big Skool and others have all done this, but if you read our blog you know the answers to all of this (economic stagnation and education costs rising out of proportion to GDP). Furthermore class warfare and envy play a role. When Marco Rubio was a kid, his parents would drive through the rich neighborhoods admiring the big houses, hoping to give their kids something to aspire to. Now, the left say that those big houses came at the expense of the little guy. Tacitly saying that one should do the opposite of what the 'swells' did to become successful.
Mrs. Dr. J.'s new politicrush…
What hit Dr. J. this morning during Marco Rubio's speech was not the how, but the why.
Progressives are intellectual totalitarians. They want to tell you what to do and how to live your life. What they hate the most are elements of unpredictability. That unpredictability is that basically the richest people in America 100 years ago aren't the same ones as 30, or 2 years ago. The American dream allows anyone to be tremendously successful. Take the Vanderbilts. Take Steve Jobs and Bill Gates. Take the Duck Dynasty guys. They. Make. Duck. Calls. The kids love them and they're doing great. Good on them! There will be future successes coming out of nowhere.
Most Vanderbilts are doing well currently, but they ain't the Commodore. What are Bill Gates kids doing? How will the Ducklings turn out? You get the point.
The progressives frickin' hate that. They want to be king of the hill and they want their kids to be kings of the hill, but they aren't going to do it using the economic engine, they do it by controlling the system. They've done so through a tireless and ceaseless drumbeat in the academy and in the government.
While the rest of us have far more interesting things to do than be in government, part time, let alone full time, it's allowed them to beat that drum, overreaching about once every 30 years (Wilson, FDR, Johnson and Obama, with Reagan throwing a major monkey wrench in that), in a way that gets them a little closer to their goals of running the show. They've gotten away with it through re-writing the American curriculum to push religion out of the public square, abolish civics and teach sex and self-loathing rather than the critical thinking, the 3 R's and the responsiblity of being an American Citizen.
If you don't believe Dr. J. look to
Os Guinness
, who is a scholar on the subject, as is
Jürgen Habermas
, a German atheist who valued religious diversity in the public square.
The American experiment and American dream with its upward and especially, downward mobility is anathemous to the progressive sagocracy's dream of total control. Order, their order, is their dream and the volatility of freedom is antithetical to it.