Ann Wilson is Earth 11's Robert Plant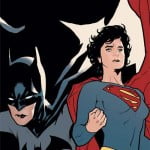 World-11's Finest
For those not in the know, DC Comics has a multiverse. Sure it's changed over the years, but the idea's stayed the same. Earth One is the main universe, Earth Two is the Golden/Silver Age, Earth 3, the good guys are bad and vice versa), etc…
What you don't know is that on Earth 11, the boys are girls and vice versa. Superwoman, Batwoman and Wonderman have replaced Superman, Batman and Wonder Woman. What you don't know is that Robert Plant's counterpart is Ann Wilson, who came to us, here on Earth Prime in a time-travel experiment of Mandy and GorT's gone awry. Trying to go back in time to see Led Zeppelin live, they went diagonally and well…the rest is history.
Well here is the proof. At the Kennedy Center Honors last winter, where Led Zeppelin was feted and Heart were asked to perform Stairway to Heaven.
Go ahead, listen to it. No, seriously. Generally speaking, there are a long list of songs that should NEVER be covered, the reason being is that the vocal performance is so distinctive that the original performance is as close to the Platonic form as it gets. Everything else falls short. When it comes to Robert Plant, his voice is unique. He makes any song he sings sound like it was being sung by Ole Scratch himself.
Make your list, but pretty much anything Robert Plant sings should only be sung by Robert Plant…or Ann Wilson.
She must be Plant's Earth 11 counterpart, as there is no other explanation.
This performance is the exception that proves the rule.
If you wanted more Ann Wilson (and we know you do) we've included some more below.
As part of a charity album, under the name the Lovemongers, they recorded the Battle of Evermore, also from Led Zeppelin IV, and have covered it in concert multiple times.
Black Dog:
Rock and Roll:

From Physical Graffiti, Kashmir:

That should about cover it….