A Serious Question For Liberals: Income Inequality Edition (Or, "Mika Has A Sad")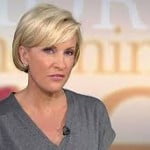 Mika has a sad because income inequality. Unfortunately,
Mika doesn't understand that despite her willful ignorance
of basic economic truths, pretending economic truths do not
exist does not, in fact, cause those truths to cease existing.
'Puter's been watching Morning Joe again, which is the only show worth watching on MSNBC if you believe accuracy and sanity are must-haves in punditry. 'Puter finds Morning Joe to be an important show for those of us who follow politics like many follow sports, and it is especially important for those of us who are of the conservative bent. After all, if we do not understand our opponents' arguments, how are we to defeat them?
Morning Joe (usually) has very, very bright liberal politicians and pundits on set to discuss the issues of the day. In fact, Morning Joe seems to be where liberal politicians test drive their spin before rolling it out to the general public. If the Morning Joe commentators aren't buying the progressive spin du jour, the spin quickly vanishes down the memory hole. 'Puter'd recommend you give Morning Joe a try. If you're anything like 'Puter, you'll find yourself yelling at the television, but learning about the madness that is modern American liberalism.
Over the past week or so, 'Puter's noted the following two memes trotted out ad nauseam by Morning Joe's regulars and guests, be they screaming leftie bomb throwers like Code Pink's resident idiots, brain damaged race baiters like "Rev." Al Sharpton, allegedly moderately left politicians like Sen. Redistributes Your Wampum (D-MA), various and sundry bleeding heart pundits and elite ivory tower deep thinkers:
Income inequality in America is a Very Bad Thing which is destroying America's middle class, and Congress must immediately do something about it.
Let's examine this proposition in depth. 'Puter finds the Socratic method soothing and helpful. As such, let's begin our inquiry with a question for liberals from 'Puter.
Assuming arguendo income inequality to be a Very Bad Thing, and further assuming Congress must immediately take action, what specific actions do you recommend Congress take and how will your recommended actions lead to a revitalized middle class?
America's once-burgeoning middle class is the exception rather than the rule throughout world and American history. 'Puter believes that America's extraordinary post-WWII industrial and manufacturing dominance which produced an enormous middle class was a once in a century, if not a once in a millennium, occurrence.
America's rapid world dominance in manufacturing and industry along with high wages and benefits for blue collar workers resulted from one thing and one thing only. World War II destroyed the world's modern manufacturing and industrial capacity for a generation or more, leaving the United States without competition.
In an environment without competitors (except domestic competitors) within a world that needs everything American manufacturers could produce and then some, American companies were free to pay high wages and benefits with little to no consequence on profits. Those days are over, and have been on their way out since the Japanese auto boom in the 1970s.
Manufacturing has globalized, driving down costs of production overseas even accounting for shipping costs and lower productivity.
Further, America's industrial states' belief the good times would never end for American manufacturing led to the adoption of liberal social welfare schemes, accompanying high taxes and byzantine labor laws. These factors conspire to keep liberal, manufacturing-reliant Blue States noncompetitive on the world markets (see, e.g., Michigan, New York, Illinois, California, etc.).
So here are the three undeniable facts that to 'Puter must be addressed to heal and to grow America's middle class: (1) America now faces global competition for manufacturing and industrial jobs for the first time in a generation; (2) American states retain laws and regulations that render then noncompetitive in the global market for manufacturing and industrial jobs; (3) liberal politicians are beholden to labor unions and government benefit recipients for their voting base, so anything proposed to remedy issues (1) and (2) will likely lead to their political end.
America cannot and will not regain a vast and broad middle class if it refuses to face facts. Liberals, whose grips on reality are tenuous at best on a good day, have taken advantage of this opportunity to yet again ignore reality.
Liberals applaud California for adopting a $10.00 per hour minimum wage.
Great. Nice work. Do you feel better? Good. Now you can go back to Trader Joe's in your Cadillac Escalade and pick up some Two Buck Chuck to share with your book club as you kibbitz about who in your neighborhood has had work done and which of you have the hottest pool boy.
Raising the minimum wage accomplishes two things. First, it forces employers who utilize low wage workers to cut jobs, since many of these employers operate on razor thin margins (supermarkets, fast food franchisees, gas stations, etc.). Second, because low wage employers pass through increased wages to consumers, prices go up causing the low wage (now no-wage because your dumb-assed idea caused them to lose their jobs) workers to have an even more difficult time making ends meet.
Sure, if the world were perfect, we'd just mandate an eleventy gajillion dollar minimum wage and everybody would be rich! But that's not the way the world works. It never has been, and it never will be. It never was and never will be because reality has a funny way of intruding on ignorant schemes and poorly reasoned policies, cratering them. Just ask America's most obnoxious ex-president, James Earl Carter.
Liberals applauded Washington, DC for attempting to ban non-unionized Wal-Mart from operating within the city limits unless it paid wages significantly in excess of those similarly situated employers utilizing union labor must pay.
Wonderful! Feel better? Glad to hear it. Now go back to your tony Georgetown neighborhood, put your feet up on the designer sofa in your multimillion dollar "town house," and tell all your neighbors how you stood up for the poor just like Gandhi or Mother Theresa. You truly are the Savior of the PoorTM, and all creation should rightly give you thanks and praise. Now shut up and go back to discussing that piquant little craft beer you discovered on your most recent trip to your chalet in Jackson Hole.
Poor people need to buy stuff. Lots of stuff. Like clothes and food. But not much else, because they have no money.
Retailers hate being in poor neighborhoods because as a general rule, crime is high and inventory loss is substantially above that of locations in the suburbs. Bluntly, poor people steal stuff from the stores. Also, poor people by definition have precious little money, so they're not going to be impulse buying jewelry for their wives or that organic, free range filet mignon. Poor people buy life's basics and not much else meaning there's not a huge upside in selling to the poor.
Liberals applauded Maryland and New York raising income taxes on the evil One Percenters to spend on the completely blameless and righteous Ninety-Nine Percent because It's Not FairTM, or some horseshit like that.
What a great idea! We'll rob from the rich and give to the poor, but we'll call it "economic fairness" or "social justice" or "redistribution!" Man, I feel warm and fuzzy inside just thinking about it. You know, just knowing that we did something permitting us to pretend we give two craps about the poor makes us feel better despite the completely foreseeable negative economic consequences to the poor. It's like a liberal Sacrament of Reconciliation and Yom Kippur, rolled into one, except without all that religion mumbo-jumbo which no smart people believe.
Facts are stubborn things, nearly as stubborn as liberals denying facts discrediting their preferred soak the rich policies.
Maryland imposed a millionaires tax in 2008 in order to fund the bluer than blue state's profligate spending. The very next tax season Maryland's liberal politicians were shocked to discover that Maryland had one-third fewer millionaires than it had the prior year. As the Wall Street Journal piece notes, millionaires fleeing high tax jurisdictions is nothing new, citing California, New York and New Jersey as prime examples of the consequences of fleecing "the rich" to finance feel-good-but-do-nothing liberal social policies.
Conclusion
It's irrelevant whether or not we consider income inequality a grave issue. Of primary relevance is Liberal Democrats' failure to fashion any policy recommendation whatsoever that has any chance of correcting the underlying causes of income quality.
Liberal schemes like those 'Puter notes above not only don't solve the long national nightmare of income inequality, the misbegotten schemes exacerbate the very problem Democrats attempt to solve. Even the earliest doctors knew it was better to do a patient no harm than to try out some cockamamie treatment of unknown effect. Here, liberals are advocating "solutions" that not only won't work, but might kill the patient. Liberal reasoning hasn't even advanced to the time of Hippocrates, to liberals' everlasting shame
Had a far Left loon advocated nuking Europe, India, Russia, China, Japan, much of Southeast Asia, as well as large swathes of South America back to the Stone Age, at least that policy would've solved one of the underpinning of the American middle class' current woes: getting rid of the competition.
Nothing – nothing – liberals propose has any hope of solving the alleged wrong of income inequality. Anyone who tells you otherwise is stupid or lying or both.
'Puter could go on for days. In fact, 'Puter already has gone on for days.
When 'Puter started writing this post, he was going to work in liberal self-delusion on Republican Congressional intransigence being (1) historically unprecedented, (2) racist, (3) irrational and (4) the sole cause of all Obama's and America's (but then 'Puter repeats himself) problems.
Maybe 'Puter will take a charge at that windmill tomorrow. Then again, maybe not. 'Puter's fickle like that, as mercurial as, well, mercury.

Always right, unless he isn't, the infallible Ghettoputer F. X. Gormogons claims to be an in-law of the Volgi, although no one really believes this.
'Puter carefully follows economic and financial trends, legal affairs, and serves as the Gormogons' financial and legal advisor. He successfully defended us against a lawsuit from a liquor distributor worth hundreds of thousands of dollars in unpaid deliveries of bootleg shandies.
The Geep has an IQ so high it is untestable and attempts to measure it have resulted in dangerously unstable results as well as injuries to researchers. Coincidentally, he publishes intelligence tests as a side gig.
His sarcasm is so highly developed it borders on the psychic, and he is often able to insult a person even before meeting them. 'Puter enjoys hunting small game with 000 slugs and punt guns, correcting homilies in real time at Mass, and undermining unions. 'Puter likes to wear a hockey mask and carry an axe into public campgrounds, where he bursts into people's tents and screams. As you might expect, he has been shot several times but remains completely undeterred.
He assures us that his obsessive fawning over news stories involving women teachers sleeping with young students is not Freudian in any way, although he admits something similar once happened to him. Uniquely, 'Puter is unable to speak, read, or write Russian, but he is able to sing it fluently.
Geep joined the order in the mid-1980s. He arrived at the Castle door with dozens of steamer trunks and an inarticulate hissing creature of astonishingly low intelligence he calls "Sleestak." Ghettoputer appears to make his wishes known to Sleestak, although no one is sure whether this is the result of complex sign language, expert body posture reading, or simply beating Sleestak with a rubber mallet.
'Puter suggests the Czar suck it.