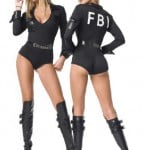 Your Mandarin was contacted today by the FBI. No, not this FBI:
Your Mandarin wonders where they hide their gun and badge in this type of uniform.
This one:
You would think that for what we pay in taxes, someone could have proof-read this document for spelling and grammar. It's almost as if the letter came from 'Puter.
Your Mandarin truly hopes that this has nothing to do with that previous incident with the Nigerian prince.
Your Mandarin does suspect that something foul may be afoot here seeing as how your Mandarin has no use for banks. Your Mandarin has since the early 1930's resorted to keeping all assets liquid in the form of goat's milk and a highly sticky elastic polymer based gel-like substance. Needless to say, your Mandarin will get to the bottom of this.
On another note, your Mandarin was unaware that a new constitution came out in 1991. That must be why everyone thinks Ted Cruz and Rand Paul are nuts for wanting to go back to the original when this new one from 1991 has to be far superior to the old out-dated one.

The Mandarin, whose real name is 吏恆, joined the order in 1309, and introduced the Gormogons into England during the 18th Century.
The Mandarin enjoys spending time with his pet manticore, Βάρἰκος, or Barry (who can be found in the Bestiary). When not in the Castle…well, frankly, nobody is quite sure where he goes.
The Mandarin popularized the fine art of "gut booting," by which he delivers a powerful kick to the stomach of anyone that annoys him. Although nearly universal today, the act of gut booting or threatening someone or something with a gut boot is solely due to him.