The Sandman, The Men, That Mission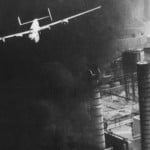 Okay, see, this should have been posted yesterday, but the Czar only got around to it today. Sorry, ID.
Most illustrious majesty:
"An iconic photograph of 'The Sandman' taken during the height of the attack that illustrates the conditions under which it was conducted and in which so many lost their lives. As a child my father told me I had to remember men like this had given me a wonderful place to live in and a chance to do my best at everything I tried to do, and to never let that stray far from my mind, and make what they lost worth it. I'm not perfect, but I'm hoping they're not too terribly disappointed."
—Island Dweller
I put pen to paper to call your attention to August 1, 2013 being the 70th anniversary of a bright and shining event in the illustrious history of the U.S. Air Force. On this day in 1943 the 9th Air Force in Libya threw 177 B-24 Liberator bombers against what Churchill called "the taproot of German might" – the oil refineries surrounding the Romanian city of Ploesti. The raid was conducted at altitudes varying from 100 feet to ground level (some got corn stalks tangled in their bomb bay doors) and was pressed home in the face of absolutely ferocious resistance. In determining whether an objective is worth too high a price, most military planners will counsel ceasing an operation when casualties approach 20 to 25%. In this case fully one-third of the attacking force was lost. The mission planner, Col Jacob Smart, deliberately chose the low-level approach in the hopes of surprising the German defenses, increasing the accuracy of the bombing, and minimizing Romanian civilian casualties. He succeeded in the latter two. There are some tremendously inspiring things about this event.
Almost all the 9th Air Force crews involved (some were on loan from the 8th Air Force in England) had completed their 25 missions and were eligible to be rotated home. When their group commanders explained to them at briefing how important this target was – and that they, despite also having completed their 25 missions, were flying against this target – virtually to a man the crews volunteered to accompany them. One group commander promised his men he would lead them right to the target even if his airplane fell apart around him. Just short of their assigned target his aircraft received fire in its cockpit that must have mortally wounded he and his copilot (there were no survivors from their aircraft). The B-24 burst into flame including the cockpit area. Witnesses reported it never wavered in its flight directly to its assigned target, where, after releasing its bombs, it climbed, then crashed back down into the inferno. The attacking bombers had to try to avoid guy wires from refinery stacks, bomb blasts, point-blank flak, and burning oil tanks rising into the air as they exploded – and all in thick smoke. Not all of them succeeded. The Commanding General of 9th Air Force Bomber Command, himself an ordained Lutheran minister, rode in the left seat of the lead bomber and took the same risks as his men, right into this cauldron. Many of the surviving aircraft took wounded men back to North Africa. The ingenuity and determination displayed by the crews in keeping the returning wrecks flying and caring for their badly wounded comrades is inspiring and humbling. As one survivor put it, they were indeed "dragged through the mouth of Hell."
What can we learn from this? People will voluntarily make the most extraordinary sacrifices for something they are motivated to do, in particular if they are led by example. Even being committed to a course of action that seems impossible to complete will not dissuade them given inspiring leadership. We are faced with a difficult situation in this country, and it's looking to get a lot more difficult. There is no leadership being displayed by the President, members of Congress, the Cabinet, or agency heads. Oh, there's lots of management. But no one's out front, leading by example, making genuine sacrifices to prove their determination, and setting a course for others to follow. Instead what we get are cabinet secretaries and managers within government engaging in unethical conduct, breaking or ignoring the law, or abandoning those they commit to extremely hazardous situations. In this battle, there was no microphone, government-assigned counsel or 5th Amendment to hide behind. If you were in charge you took the same chances as your men, and no evasiveness was tolerated. Leaders led. Would that we could learn from them.
ID
Echoed at National Review, except Island Dweller got there first.

Божію Поспѣшествующею Милостію Мы, Дима Грозный Императоръ и Самодержецъ Всероссiйскiй, цѣсарь Московскiй. The Czar was born in the steppes of Russia in 1267, and was cheated out of total control of all Russia upon the death of Boris Mikhailovich, who replaced Alexander Yaroslav Nevsky in 1263. However, in 1283, our Czar was passed over due to a clerical error and the rule of all Russia went to his second cousin Daniil (Даниил Александрович), whom Czar still resents. As a half-hearted apology, the Czar was awarded control over Muscovy, inconveniently located 5,000 miles away just outside Chicago. He now spends his time seething about this and writing about other stuff that bothers him.