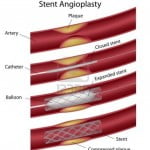 Dr. J. would like to wish President Bush a healthy and rapid recovery from his angioplasty and stenting today.
This is an example of primary stenting of a type A lesion, no pre-dilation with a balloon. Easy peasy apple squeezy.
Mr. Bush had his annual physical on Monday and underwent stress testing. It is not clear from the news that the stress test was for symptoms or an abnormal EKG*, or that his doctors just did it to do it because he's the former President and ordering tests is what people expect their doctors to do, after all the executive physical with an annual stress test is de rigeur on Mad Men, right?
Anywho, the blinkin' test was positive so today, he underwent cardiac catheterization. They found one of his three main coronary arteries (the left anterior descending, left circumflex, or right coronary artery) to have a narrowing corresponding to the ischemia generated by the stress test and he had a stent placed.
In this case, he didn't have a heart attack, but a narrowing of 70% or greater in one of his coronaries. Why didn't it bother him (assuming he was asymptomatic)? Because he is so active that as that one vessel was developing a narrowing ever so slowly, his other vessels probably grew tiny bypasses to feed that vessel's territory. Additionally, if he just developed symptoms over the last few weeks (we don't know) than the narrowing hit it's threshold to confer symptoms.
In addition to the stent, Mr. Bush will be placed on a mediation regimen that will include aspirin indefinitely, clopidogrel (Plavix) for a year, a statin such as simvastatin indefinitely, and possibly a beta blocker such as metoprolol for two years.
In his case, these medications, not the aforementioned stent** are the interventions that have been shown to reduce risk of future heart attacks and cardiovascular death in patients with coronary artery disease. Indeed, if he didn't get the stent, his risk of a future heart attack would be about the same. The stent makes any underlying chest pain symptoms go away faster than medicine to treat the chest pain symptoms. The 70% blockages don't cause heart attacks, the 0-30% narrowings can, should they rupture and a clot form. By the time they are more than 50%, they are less likely to rupture.
But how did this happen? President Bush is incredibly fit, doesn't smoke, lives a clean life. Was it the stress of the Presidency!??!?!
Before
There is a whole body of literature on stress, but at most, it's a non-traditional risk factor that's both tough to quantify and tough to see if there's an intervention that improves outcomes in that population. Back in the Mad Men era (well, the early 70s, anyway), Papa J. had his big heart attack and the 'Executive Type A personality' was medicated with oxazepam (Serax) a gentle sedative like Valium or Ativan. It didn't save lives or reduced events so they stopped doing it. It made him snooze for a little bit after dinner.
After, did he age eight years, or more?
Yes the presidency ages you, but Dr. J. thinks that Dubya weathered the storm a little better than President Obama has.
He's on the right, but even in five years he's a little more worn. If he was the guy on the left, then Newsmax'd be right for once.
So President Bush is 67 and his lifetime risk of a heart attack is, like the population average, around 40-50%. The older he gets, the more it goes up. Law of averages and all. He's higher risk because he has established coronary disease, but he's probably getting the best care available, mitigating much of that risk. Dr. J. suspects that this is simply a speed bump for Mr. Bush. In all likelihood, he will do really well, perhaps have a few more stents along the way and live to a ripe old age in his 80s or 90s like Poppy. That being said, anyone with coronary disease can have a heart attack at anytime and there is an 8% mortality for all comers.
Could anything have been done to prevent this? Probably not. If he had a hyperaggressive physician like
Dr. Rarity
who would order every test under the sun, he may have had an electron beam CT scan (Lifescan™, etc.) that would have detected calcium, suggesting mild atherosclerosis and he would have started a secondary prevention regimen early resulting in this positive stress test manifesting itself a few years later. He could very well have enjoyed a side effect from the same regimen (increased risk of malignancy from the
ionizing radiation
, myopathy from his statin, risks from the angiogram ordered because he had a positive EBCT and he's the former President, etc…), so a judicious and personalized approach is always the best strategy. This is also why we got away from 'annual stress tests' they had too many
false positives
, just ask
Darth Ponicus
. Indeed, Dr. Rarity and Darth Ponicus got into it today at a teaching conference. That was quite the hoot to watch.
Speedy recovery, Mr. President!
* Precordial pain, unspecified chest pain, nonspecific abnormal EKG, heart replaced by transplant, shortness of breath, unspecified congestive heart failure or unspecified abnormal function study of the cardiovascular system.
** This assumes he did not have a non-standard of care left main coronary artery stent placed in lieu of bypass surgery.