Stent-mania 2 – Overutilization Boogaloo or Dr. Rarity Strikes Back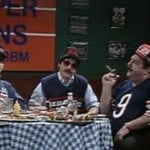 The Czar, Mandy and the Volgi enjoy the life prolonging balance of pork fat, beef fat and chicken fat at Portillo's.
Dr. J. hopes you've enjoyed your fill of smoked pork with The Czar, GorT and 'Puter. You can get back to your diet of bark and twigs now such that you don't go on and get obstructive coronary artery disease.
What Dr. J.'s having over at Gwyneth Paltrow's pad tonight.
We have more information regarding President Bush's recent angioplasty, and as a consequence, we can speak more intelligently with regard to his management.
From what we understand, Mr. Bush had no anginal symptoms at his annual check-up, but for whatever reason it was decided that this remarkably fit, asymptomatic 67 year old should undergo exercise treadmill testing (ETT) as part of his physical exam.
Back in the day, as Dr. J. said yesterday, ETT was part of the 'executive physical.' In recent years we've gotten away from routine exercise stress testing in asymptomatic individuals because the sensitivity and specificity are such that the positive predictive value (PPV) (the chance that a positive test is truly positive) is not much better than a coin toss.
To improve the PPV we routinely add imaging to our stress testing (SPECT imaging via Tc-99 Sestamibi or Tl-201 Thallium) or echo imaging. Dr. J. prefers echo imaging in that in a high quality lab, the false positive rate goes almost to zero, however the trade off is that not everyone is a good stress echo candidate due to poor echo windows resulting in a handful of nondiagnostic studies. Dr. J. believes it is better to say that a study is uninterpretable than to have a false positive given the consequences.
Furthermore, Bayesian analysis, that is, pre-stratification of risk improves sensitivity and specificity through careful subject selection. As the President is not symptomatic and low risk, with age, as far as we know, his only risk factor, the possibility that a positive test would be a false positive seemed the most likely scenario.
That's the long way of saying that if Dubya was Dr. J.'s patient, he probably would not have undergone ETT. The current guidelines are as follows:
Exercise Testing in Asymptomatic Persons Without Known CAD
Class I
None.
Class IIa
Evaluation of asymptomatic persons with diabetes mellitus who plan to start vigorous exercise (see page 39). (Level of Evidence: C)
Class IIb
1. Evaluation of persons with multiple risk factors as a guide to risk-reduction therapy.*
2. Evaluation of asymptomatic men older than 45 years and women older than 55 years:
• Who plan to start vigorous exercise (especially if sedentary) or
• Who are involved in occupations in which impairment might impact public safety or
• Who are at high risk for CAD due to other diseases (e.g., peripheral vascular disease and chronic renal failure)
Class III
Routine screening of asymptomatic men or women.
So, as best we can tell, the President is not starting an exercise plan, nor is he diabetic. He is also not involved in an occupation in which impairment might impact public safety (pilot, bus driver, even trucker). Lastly, he's not high risk. So, he has a Class III indication. Class III means 'There's no evidence to support this so don't do it!"
The President's EKG tracings probably went from 1 at rest to 4 with exercise. Two mm ST depressions in two contiguous leads is diagnostic.
The stress test was positive, so before sending the President to coronary angiography directly, his doctors decided that the best next step was to order an additional noninvasive test that could potentially rule in or out obstructive coronary disease. What was chosen was CT-Coronary Angiography. This test is a CT scan of the heart that can detect blockages in the large vessels of the heart, the Left Main, proximal and mid Left Anterior Descending, proximal and mid Left Circumflex and the Right Coronary Artery, including some of the Posterior Descending coronary artery.
The right and left coronary arteries (on the left and right) arising from the aorta. The heart was digitally subtracted like an ex-girlfriend. The Czar didn't cut it out.
The way the test is done, the patient is hooked up to an EKG monitor such that the image acquisition is gated to different parts of the EKG. They are given an IV beta blocker to slow the heart rate down to the 50s. The President might have skipped the BB administration as he has a low resting heart rate. Radioopaque IV contrast (dye) is injected and images are rapidly acquired during first pass of the contrast. Images of the coronaries are then reconstructed.
This is different than an EBCT which is a risk stratification tool that provides a risk score based on coronary calcium but is not as good as CTA for anatomic information.
The President's doctor surmised that the positive test was BS so rather than send the President straight to an invasive cardiac angiogram that might result in a complication, ruling out obstructive disease noninvasively might be the way to go.
This resulted in the President getting a dye load and being exposed to ionizing radiation to find that he had a blockage.
The good news is that it wasn't a Left Main or Three-Vessel Disease, so he doesn't need bypass surgery.
So, what are the options at this point.
The first option is to treat the President as a secondary prevention candidate. Put him on a statin with a goal LDL cholesterol of < 100 mg/dL (not 70 mg/dL Dr. Rarity! You still haven't showed your citations on that one yet!), or alternatively treat him empirically with a high potency statin (atorvastatin 80 mg, or rosuvastatin 20-40 mg), starting an aspirin at 81 mg daily, and if there's heart rate and blood pressure room adding a low dose beta blocker (Dr. J. would use bisoprolol 2.5 mg daily so that the President would have to take his pills once a day).
Option two is to do everything you are doing for the first option and send him to coronary angiography. For this, a ~2mm diameter (6 French) sheath (IV) is placed in the femoral or radial artery. Long tubes called catheters are threaded up the artery to the aorta and then selectively placed into the opening of the left and right coronary arteries. radioopaque dye is injected directly into the coronary arteries and pictures are taken. about 4-5 pictures of the left coronary artery and 2 pictures of the right are taken. The benefit of this test is that once that ETT was positive you were going to end up here anyway as it is the gold standard. The drawback is that you are putting a 2 mm hole in an artery and instrumenting the coronary arteries. While the test is pretty routine and quite safe, coronary dissection and death are two possible outcomes.
The right coronary artery with a 99% stenosis in the mid portion and a 99% stenosis in the distal portion after the PDA.
Again, once you've reassured yourself he only has single vessel disease, there are two options.
You can leave it the hell alone, and get out, or you can fix it.
If you stent the artery, you will reduce anginal symptoms but not improve survival, prolong life, etc…only if the patient is having a heart attack is that the case. Given that the President is asymptomatic, there's no added benefit to doing it. In addition with a drug coated stent, (Taxus, Cypher, etc…) he needs to be on a clopidogrel for a year in addition to aspirin, increasing his risk of bleeding, AND should he need emergent non-cardiac surgery (e.g. appendectomy), or non-emergent (knee replacement) clopidogrel creates a whole set of headaches, including delaying elective operations a year.
Theoretically, were you to leave it there, it would get narrower and narrower and either cause symptoms or not, before becoming 100% occluded. By the time that happens, they typical patient grows collaterals from the other side. Indeed, in a VA study, patients with single vessel disease did not benefit from angioplasty/stent placement before non-cardiac surgery with regard to post-op MI risk. One could argue that if the President had a GI bleed he'd be more likely to have a type II MI, the counter argument is that if he's not on clopidogrel for a stent he's less likely to bleed.
While the idea of an open artery 'feels good' in the mind of the patient and the physician, the science, as they say is fairly settled. That is, asymptomatic single vessel disease does not need to be revascularized.
Indeed, Papa J. had a big MI back in the 70s and had multivessel CAD. He only was revascularized (with bypass surgery, BTW) 14 years later when the risk/benefit finally shifted in his favor. Keep in mind that was before aspirin, statins and angioplasty. So, Dr. J. understands prognosis as he watched the natural history of CAD unfold before his very eyes as a youth.
Despite the body of literature proximal LAD lesions (if that is what it was) makes all of us nervous despite the literature. Even Dr. J.'d reflexively fix that one.
Dr. Rarity will order every test in the book if it will make you like her!
What Dr. J. would also do is have a discussion with the patient with the positive stress, laying the options out on the table and helping them to make the appropriate decision for them.
The biggest short-circuit in this process is the fact that the patient isn't on the hook for a bigger chunk of the procedure. Were that the case, patients would be more circumspect about getting that stent. Market based solutions would have an impact on overzealous testing by patients and their doctors (yes both play a role). One of Dr. J.'s buddies says a patient expects three things from their doctor. First, that they're treated kindly, second, that they're told things are going to be OK and third, that they're getting a test. Dr. J. believes that's not far from the mark, but that the expected test can be carefully replaced with listening and a little psychology. The same friend says that doctors also will order the test the patient wants because they'll go somewhere else for it.
Dr. J. doesn't believe that the President came in looking for a stress test, but the doctor got one because he's the ex-President and he didn't want to miss anything.
The media are having a field day with President Bush's stent, now that the other shoe dropped…Bloomberg has a nice article here. While Steve Nissen is the Chuck Schumer of Cardiology (don't stand between him and a mike), he, Chet Rihal, who is a great guy, and Paul Chan make the same points yours truly makes. Here is a poorly thought out Daily Beast polemic that blames the impending medical bubble about to burst on Republican austerity, forgetting that Obama is the one who plundered Medicare when the Ryan plan wanted to stablize things lowering costs through competition. Even Forbes brings up the issue of medical necessity.
While Dr. J. disagrees with the approach President Bush's doctors took with regard to his physical, he is very happy that the President is on the road to recovery. Dr. J.'s disagreement stems not from some clamoring for sinister death-panellicious rationed socialized medicine, but rather from a belief that often, less is more and that there is a risk and benefit to everything. Dr. J.'s seen things go wrong at every step along the way in other patients who received the same 'VIP' treatment that President Bush received. That is why Dr. J. is circumspect in the tests that he orders and that he is willing to take the time to explain his rationale to his patient every step of the way.