…speaking of classics…Karen Black RIP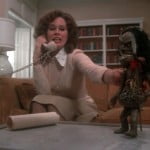 Yeah, everyone needs a Zuni Fetish doll.
Actress Karen Black passed away this week. While many of you don't remember her, and indeed, Dr. J. didn't even know her name.
One Saturday afternoon in the autumn when he was somewhere between 5-7th grade he tuned into the local UHF station to watch whatever movie was on. It would end a 4, leaving him enough time to get ready for 5PM mass where he was the altar boy. On one particular day it was the horror classic Trilogy of Terror. In that flick there were 3 short stories. In each, Karen Black was the protagonist(s).
Not who Dr. J. wants greeting him at the door…
In the final story, she receives an Zuni fetish doll that terrorizes her in her apartment. (SPOILERS) She thinks she defeats it, but its spirit possesses her and in the last scene she's crouched with a knife, waiting to stab the person entering her apartment, FADE TO BLACK.
The movie scared the crap out of Dr. J., and it was due to the terrific acting of this woman.
Trilogy of Terror totally needs to be redone My Little Pony style…
When Dr. J. saw that she passed and realized who she was, he felt she deserved to be eulogized in this forum.
Rest in peace, Mrs. Black.