Smoking Ribs, 'Puter Style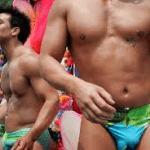 Not that kind of meat smoking, not
that there's anything wrong with that.
Since both Czar and GorT have shared their secrets for smoking ribs with you, our beloved readers, 'Puter thought he'd share his secrets as well.
Czar and GorT have both provided excellent tips on smoking meat (so to speak), and 'Puter has little to add to their assembled genius. Both gentleman are without peer when it comes to selecting and gently preparing meat until you just can't wait to pop it in your mouth.
As with most things, though, 'Puter likes to do things just a bit differently.
Selecting the Meat
As 'Puter's comrades note, smoking brings flavor and texture to even the toughest cuts of meat. 'Puter's smoked brisket, pork butt, ribs, chicken, fish and turkey. But 'Puter's favorite cut of meat to smoke has to be road kill. Smoking imparts such intense flavor to the meat that you hardly notice the meat is rancid at all!
This critter's just about perfect for harvesting. As 'Puter's
mom always said, "When it's waving hello, it's ready to go!"
When selecting your road kill, species is less important than condition. Avoid selecting an animal that has already burst, as the crows and other scavengers will have already eaten the best internal parts. 'Puter prefers an animal that's slightly bloated, but not quite to the bursting point.
'Puter knows good road kill when he sees it. Here's a free tip. Look for road kill that has a big, fat belly and four legs angled upwards to the sky. 'Puter's kids used to be disturbed when 'Puter would stop to pick up road kill until 'Puter assured them he was just finding the poor deer a better place to sunbathe than the shoulder of State Highway PP.
Preparing the Meat
This next step calls for a great deal of caution. Road kill can be treacherous if not handled properly. If you follow these few, simple steps, you can rest assured that you'll have the best prepared road kill on your block!
Scenic Clifton Springs Travel Plaza
·
Find a suitable place to prepare your next meal. 'Puter recommends a neighbor's lawn, as the sod soaks up much of the run off. If you, like 'Puter, are subject to restraining orders preventing you from entering all of your neighbors' property for any reason, including saving said neighbor's life, you'll need to find another place. 'Puter has taken to using the restroom at the Roy Rogers at the
New York State Thruway's Clifton Springs travel plaza
, conveniently located at mile marker 337 Eastbound between exits 43 Manchester and 42 Geneva.
Is there anything Capri Sun
can't do?
·
Plunge a gently used, not visibly soiled Capri Sun straw into the thinnest part of your road kill's belly.
The skin is usually thinnest where the belly's distention is greatest. Wait for the gases caused by your beast's ongoing decomposition to vent completely before proceeding.Congratulations! You've prevented a hideously gory explosion of animal entrails! 'Puter's saved you the sort of on the job learning he had to suffer. Did 'Puter mention you should make sure your abattoir is properly vented first? Dang. Open some windows, quickly, before you pass out!
Never, ever forget to put Meemaw
Czar's hand-knitted axe cozy back on
Czar's battle axe, Mr. Hacky.
·
Next, borrow Czar's favorite battle axe. Carefully hack through the sternum until the road kills liquefied entrails are visible. Turn the beast over, permitting the liquid, organ-y yumminess run onto your neighbor's lawn or into the restroom's filthy crapper. Remember to flush twice, please! Quickly return Czar's battle axe to its storage location, making sure you remember to put its axe cozy (a gift from Czar's grandmother) back on, or Czar'll notice you used his battle axe for sure. If you don't have a Czar hand, 'Puter recommends borrowing your wife's toenail clippers. Anything tough enough to plow through your wife's misshapen, thick-as-a-plank toe claws is certainly sharp enough to open up an animal's corpse.
·
Pull off a part or parts from your road kill that look most appetizing to you. Pulling tempting bits and pieces off your road kill should be easy if you selected your meat properly. The decay process, aided by heat, bacteria and scavengers is nature's most perfect tenderizer, rendering your meat fall-off-the bone delicious!
"Censer." Sure, Volgi, sure.
·
Using one or more of Volgi's incense censers, char off the critter's remaining flesh and fur. If your road kill is sufficiently cured, you can sometimes simply pull off its skin like taking a rubber glove off your hand, leaving the meat clean as a whistle and ready for the smoker. If you can do so, you won't need Volgi's incense censers after all. N.B, if you've used a noticeable amount of Volgi's favorite incense blend of opium, patchouli and FDA-banned Red Dye #40, top the censer off with red Sharpie ink. 'Puter's done it a million times and Volgi hasn't figure it out yet.
Selecting a Smoker
GorT and Czar do a masterful job of discussing their favorite smokers, but 'Puter's more the rustic type. He prefers to live off the land, using only his demented mind and the tools God places before him. Sure, you can have your fancy propane, electric or charcoal water smoker. They'll make a great finished product as Czar and GorT can attest.
It's a shame, people throwing away a
perfectly good white girl like that.
But in 'Puter's humble opinion, no smoker offers a better quality end product and the bang for your buck as the dumpster out behind the
House of Poon Chinese Restaurant
. Roust the bums and rats out
of the dumpster, but make sure you keep an eye on the bums. You'll need them later.
Empty the dumpster of its contents. Make sure to leave the liquid at the bottom, which will impart an inscrutable Asian flavor to your meal. As you are doing so, threaten the angry Chinese employees who are yelling at you with deportation. If that doesn't work, show them your Tong tattoo. If they still won't leave, offer to share your meal with them. It works every time.
Dude, you're homeless. Downsize already
It's now later. Did you remember to keep an eye on the bums? Good. Find one with a pronounced limp and a shopping cart. Run him to ground. Once you have subdued said bum, wrest his prosthetic limb from him and take his shopping cart.
Return to your dumpster, and punch a few holes in the top and low sides of the dumpster to increase airflow.
Now you're just about ready to get started. Just a few more steps.
Selecting a Fuel
'Puter's already mentioned the standard smoker fuels: charcoal, propane and electricity. Those are all for wusses. They're dirty, inefficient, bad for the ozone layer, make Obama has a sad and worst, take too long to get started.
Basaltic magma is cheap, plentiful and
'Puter's fuel of choice.
There's one fuel and one fuel only that 'Puter will use:
basaltic magma
. Using basaltic magma shows the world you're not messing around. It's always hot and ready to go, like Mandarin on a Friday night.
Better, basaltic magma is conveniently available at your local Wal-Mart at a great price. 'Puter usually buys it by the 5 ton insulated crucible. It pays to buy in bulk.
Selecting the Proper Wood
'Puter's tried all manner of woods. He's tried applewood, mesquite, hickory, hemp, kudzu and high density polyethylene. Sure, they're all great flavor imparting woods, but only one wood does magma justice: petrified wood.
Silly rabbit! You can't eat that wood.
It's petrified.
Yes sir, there's nothing like the acrid, caustic fumes that fill your lungs as petrified wood vaporizes on contact with basaltic magma. There's not too many woods that can hold up to the intensity of basaltic magma's 1,000-1,200 degrees Celsius, but petrified wood is one of them.
Trust 'Puter here. If you're using basaltic magma, you've got to use petrified wood. 'Puter usually helps himself to the Museum of Natural History's stockpile when no one's looking.
Cooking Instructions
You've got your beast. You've got your smoker. You've got your fuel and flavoring wood. Now you're ready to enter the wonderful world of smoking meat, so to speak. Hey, if you're already a meat smoker par excellence, who's 'Puter to judge?
Anyway, let's get back to smoking.
If you can manage to follow these simple instructions, you're about to experience the most tender, flavorful meat of your life.
·
Tape a mercury rectal thermometer you swiped from Dr. J's clinic to the bum's shopping cart. If the bum's still complaining about the loss of his prosthesis and his cart, give him his leg back and $3.50. You don't need his leg any more, and $3.50 should be enough to get him high on spray paint for the night.
·
Place your prepared beast in the shopping cart, taking care not to shatter the thermometer. The mercury fumes are just fine, it's just that some liberal do-gooder will report you to the EPA, and the cleanup and paperwork is a pain in the rear end.
·
Carefully pour your basaltic magma into the prepared House of Poon dumpster. When you smell the stanky Chinese food fumes, it's time to add the wood.
·
Gently place the petrified wood into the basaltic magma pooled on the dumpster's bottom using a unsuspecting passerby's hands to do so. Simply tell them there's a fifty in it for them, and most passers-by will do just about anything. Ignore the passerby's anguished screams and smoking stumps. You're almost done.
·
Suspend the shopping cart from the dumpster's lid, such that the cart won't touch the magma when you close the lid.
·
Close the dumpster's lid and count to two Mississippi.
·
Open the lid and remove your perfectly smoked meat.
If you've properly followed 'Puter's instructions, you should be looking at meat that looks similar to these ribs 'Puter whipped up this past weekend.
Pork spare ribs, prepared 'Puter style.
When you're asked (and you will be asked) what's your secret recipe for making such delectable smoked beast, just smile and tell them it's an old family secret. Only 'Puter and you will know the truth.

Always right, unless he isn't, the infallible Ghettoputer F. X. Gormogons claims to be an in-law of the Volgi, although no one really believes this.
'Puter carefully follows economic and financial trends, legal affairs, and serves as the Gormogons' financial and legal advisor. He successfully defended us against a lawsuit from a liquor distributor worth hundreds of thousands of dollars in unpaid deliveries of bootleg shandies.
The Geep has an IQ so high it is untestable and attempts to measure it have resulted in dangerously unstable results as well as injuries to researchers. Coincidentally, he publishes intelligence tests as a side gig.
His sarcasm is so highly developed it borders on the psychic, and he is often able to insult a person even before meeting them. 'Puter enjoys hunting small game with 000 slugs and punt guns, correcting homilies in real time at Mass, and undermining unions. 'Puter likes to wear a hockey mask and carry an axe into public campgrounds, where he bursts into people's tents and screams. As you might expect, he has been shot several times but remains completely undeterred.
He assures us that his obsessive fawning over news stories involving women teachers sleeping with young students is not Freudian in any way, although he admits something similar once happened to him. Uniquely, 'Puter is unable to speak, read, or write Russian, but he is able to sing it fluently.
Geep joined the order in the mid-1980s. He arrived at the Castle door with dozens of steamer trunks and an inarticulate hissing creature of astonishingly low intelligence he calls "Sleestak." Ghettoputer appears to make his wishes known to Sleestak, although no one is sure whether this is the result of complex sign language, expert body posture reading, or simply beating Sleestak with a rubber mallet.
'Puter suggests the Czar suck it.