Signing Your Language Away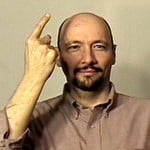 Mark Spahn, ersatz ruler of West Seneca, poses some questions to test the Czar's acuity this early Saturday morning.
The video is introduced by the irritating voice and now-jowly visage of sometime U.S. presidential candidate Pat Robertson, but stick with it for a few seconds and look at the clips from Egyptian(?) television. You will see, at 0:54 and1:04, in the lower-left corner of the screen, a man manipulating his arms and hands to give a narration in sign language.


In American sign language, this means "I do not understand you." Unfortunately, in Ukranian sign language, it means "Uzbeks hanged your mother today." Universal sign language is likely impossible.

Fingerspelling is a way to spell out English words, but sign language is a full-fledged language of its own, unrelated to English. Is sign language basically the same language worldwide, with regional accents? Or is sign language under the same Tower of Babel curse as the world's spoken languages are? Is a universal sign language feasible, as Western movies teach it was among the Indians on the American plains?

—Mark Spahn (West Seneca, NY)

P.S. When I play this clip, I see at the bottom of the screen, during the introduction, and at the end when thumbnail stills of other video clips are displayed, a banner ad reading MAKE A LASTING DIFFERENCE THIS RAMADAN: IRUSA.ORG .

Does everyone who views this video see this same banner ad? Or is this keyed specifically to me, as a generous zakat contributor during the festive Ramadan season. Maybe I'm "Marked as a Muslim" (that would make a good song title), and the advertising software cannot tell a jihadi from a counterjihadi. I'd consult with my A.I. guru, but his advice is always so Delphic.

http://www.irusa.org/ informs us that IRUSA stands for Islamic Relief USA, and a banner ad there reads IRUSA.ORG/HANGOUT | SUNDAY AUGUST 4, 2013 | 6 PM-7 PM EST

Why is the time for a midsummer event given in Eastern STANDARD Time? Is daylight saving time haram? Show me the fatwa. Here's the page.
Hello, Mark! We have not heard from you in a bit.
First, while sign language is recognized as a distinct language, no, sign language is not universal. In fact, what we see here in the States is typically American Sign Language, or ASL. This is a standardized vocabulary and gestural dictionary that all ASL folks use, and indeed there are apparently differences with British Sign Language. As an American, the Czar assumes BSL is largely the same as ASL, but all sorts of everyday words are inexplicably changed for no really good purpose except to snub Americans.
In fact, a Universal Sign Language is pretty much impossible based on vast differences in syntax and morphology of different languages. Chinese-language signers will need to have all sorts of number classifiers that we do not need in ASL. Koreans put the verb at the end of the sentence.
While true that many languages count in different ways—French uses a base 20 counting method, as do Celtic languages—the vocabulary does not matter: even ASL uses the same simple gesture for more complicated words. So the same gesture for 20 can be used in all languages. And ASL does not explicitly use articles, just all Slavic languages.
But a Japanese signer will sign "hot food," to which an American signer would ask "What about it?" The latter does not realize the former is telling him dinner is ready. You can imagine the confusion that would result if signers of different languages assumed universality: without formal inflection, ASL absolutely depends on subject-verb-object word order; a subject-object-verb speaker could communicate entirely different sentence (boy-look at-dog => boy-have-dog-face). And no: Indian (feather, not dot) sign language universality is a paleface myth to a high degree.
On your second question, YouTube specifically targets ads based on what other Google-indexed sites you have visited. Because you in particular focus on Islamic-American affairs, you and pretty much likely only you saw that ad.
Unfortunately, the Czar is required to bounce from site to site doing research for these pieces, and God only knows what ads will pop up on a YouTube video. When the Czar watched your link, for example, he saw an ad for video distribution systems. Who knows why.
And then, you asked why the ad you saw referenced EST instead of EDT. This is because people are idiots and cannot remember the difference, unlike the two of us. And probably GorT.

Божію Поспѣшествующею Милостію Мы, Дима Грозный Императоръ и Самодержецъ Всероссiйскiй, цѣсарь Московскiй. The Czar was born in the steppes of Russia in 1267, and was cheated out of total control of all Russia upon the death of Boris Mikhailovich, who replaced Alexander Yaroslav Nevsky in 1263. However, in 1283, our Czar was passed over due to a clerical error and the rule of all Russia went to his second cousin Daniil (Даниил Александрович), whom Czar still resents. As a half-hearted apology, the Czar was awarded control over Muscovy, inconveniently located 5,000 miles away just outside Chicago. He now spends his time seething about this and writing about other stuff that bothers him.