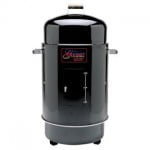 GorT enjoyed the Czar's post on smoking ribs but has a few differences in his own method that GorT thought to take a minute during his 2-week vacation to write about it (plus, the rest of the family is sleeping so GorT is peacefully enjoying the sunrise over a tropical island with a fair trade wind while typing this).
Smoking meat
GorT received a Brinkmann vertical water smoker (much like the Czar's model) about 6 years ago for Father's Day. Since then, GorT has smoked all sorts of food on it in every season – even with snow on the ground. It has that build-up on the interior that you only get with hours and hours and hours of usage. It's the same build-up you'll see if you ever look at a really good BBQ restaurant's smoking pit/oven (GorT has visited two such places – one in Austin and one in South Carolina). I quickly followed a number of recommendations to modify the smoker, which included installing a professional thermometer, installing a raised grate for the coals (so their ash doesn't self-smother the coals), and improve the air flow. A few months later, GorT received a digital remote dual-thermometer for his birthday so he could watch NFL and NHL games while the smoker was doing it's thing and only adjusting the fire or checking on the food when needed. Most recently, GorT bent some metal and screwed on three legs to raise the whole unit about 18″ off the ground and installed a better venting system for finer heat control in the lid. It's turning into quite the franken-smoker. GorT is pleased with each modification.
GorT's go-to smoking meat of choice is a boneless pork shoulder (also known as a "pork butt" with is not the butt of the pig at all). While I've smoked a number of bone-in, the local Costco carries an 8-10# boneless pork shoulder which has always turned out great. (GorT has smoked two of these suckers – about 20# of meat – on his smoker for an event at the school…the parents now want me to provide meat for all the class events). Their ribs are solid choices as well, coming in a three-rack pack. In addition to whole chickens and turkeys, GorT has also smoked sausage, onions, and sweet potatoes. The most difficult cut of meat that GorT has smoked has been the brisket, which I'll get to shortly. In most cases, GorT follows the same process: the night before, I prep the meat by seasoning it. The Czar's rub is spot on and very close to the one GorT uses:
Smoked paprika
coarse salt
black pepper
turbinado sugar*
cayenne pepper
onion & garlic powder or flakes
I sometimes play with it a bit, adding cumin, cinnamon, and celery seeds. Many Q-ers out there use yellow mustard on the meat to help the rub take hold – I do that maybe 30% of the time. I haven't noticed a difference either way. The mustard is only a contact agent and doesn't affect the taste of the smoked meat. After applying the rub over all the meat, I use plastic wrap (again, Costco's Kirkland brand plastic wrap is awesome at sticking and sealing) and wrap up the food. To be safe, I put the wrapped meat on a tray and back into the refrigerator. The cut of meat and its weight will dictate when the next steps start: pork shoulders, briskets, and those types need about 90-120min per pound, an 8# chicken usually takes 5-6 hours and a rack of ribs takes me 4-5 hours. The process laid out by my fellow castlemate is great – take the meat out of the refrigerator and let it come up to room temperature while you prep the fire and smoker. I use a chimney as well as they work great. Be real careful what you use as a fuel – many briquettes are pre-soaked with lighter fluid and you can get a acrid, chemical taste as part of your end product. I prefer natural charcoal but it's much harder to manage as it isn't engineered to burn at a constant rate. I also prefer big chunks of real wood** and I don't soak them (wood chips, yes, soak) – the chunks of wood burn with good smoke and add to the heat of the fire, so be careful – generally 2-3 chunks (a little less than two of GorT's metallic fists in volume) are good. GorT also pre-fills the water bowl in the smoker with 2/3 water and then usually adds a beer or the apple juice/apple cider vinegar mixture. Once the smoker reaches 230-250, I put the meat on and let it run. For short smokes, I usually need to tend to the fire once in the middle by adding a chimney-started second batch of charcoal. For longer ones, it can be 4-5 batches. I've tried various methods of adding unlit charcoal to the fire and I tend to get uneven temperatures that cause me to spend more time adjusting various air controls to keep the temperature in range. Also note, the Czar may have a deft hand, as GorT takes the entire top of the vertical smoker off the bottom charcoal grate when changing/tending the fire. The temperature doesn't drop off that much as the rising heat is trapped within the smoker for the 2 minutes I need to add coals and replace the top. But, more importantly, I don't kick up any ash. I have made the mistake and ended up with tiny black ashes all over my ribs. While these wash off, it's better if you don't have to do so.
Finally, I don't use the foil method on ribs. There's nothing wrong with it, many people do. Some in the Q community think that it's not "pure" but whatever. I do use it for briskets and when I need to keep the meat warm in order to time it right for the meal. To do so, I will remove the meat from the grill and place it in a broiling pan, wrap the entire thing in foil and put it in a warm oven (around 170 degrees). There are ways to do a similar thing for transporting the meat – wrap it in foil several times, then in towels and put it in a cooler. It'll stay warm for hours.
A word on briskets: In my opinion, a good, smoked brisket is magic. There are two camps of brisket smokers out there. One prefers slices of the brisket, which I think tends to be the slightly easier result and the other prefers it pulled/chopped. I've done both. The problem is to get a 6-8# brisket to the right temperature is hard and can take hours and hours. It leans towards the 2 hours per pound, so you're looking at an overnight smoke and then maybe keeping it warm. The last time I smoked the brisket, I smoked it for 6 hours the night before, getting it up to about 145 degrees internally and then transferred it to a foil-wrapped broiler pan and placed it in a 225 degree oven. Note that after about 140 degrees, meat stops absorbing the smoke so if you didn't have good smoke before that, your smoke ring and taste will suffer. This smoker-to-oven method worked like a charm. The brisket was dripping, moist, and tasted awesome.
Like the Czar said, it really isn't hard to do, even if you just have a gas grill. It really just takes patience. You can't rush it and you need to follow the basic steps.
As a footnote, GorT is considering upgrading his smoker to one of those barrel types with the side smoker box. I'm not paying the crazy money for the "green egg" but I've tasted meat cooked in those and it's amazing – both in ease and taste.
* Turbinado sugar is the same stuff you'll see at restaurants labeled, "Sugar in the Raw". It's raw sugar, which is a light brown, in a coarse state. It's burning temperature is higher that other sugars so you don't get that bitter, burnt sugar taste, if you do end up burning anything. While not impossible, it is harder to get a thick bark using it versus regular brown sugar.
** Play with the type of wood – Apple wood chunks with pork is hard to beat. Hickory is always good. Mesquite is strong but I really like it with chicken.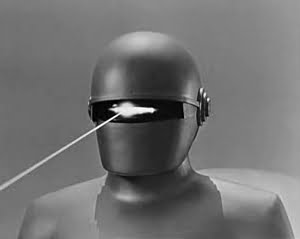 GorT is an eight-foot-tall robot from the 51ˢᵗ Century who routinely time-travels to steal expensive technology from the future and return it to the past for retroinvention. The profits from this pay all the Gormogons' bills, including subsidizing this website. Some of the products he has introduced from the future include oven mitts, the Guinness widget, Oxy-Clean, and Dr. Pepper. Due to his immense cybernetic brain, GorT is able to produce a post in 0.023 seconds and research it in even less time. Only 'Puter spends less time on research. GorT speaks entirely in zeros and ones, but occasionally throws in a ڭ to annoy the Volgi. He is a massive proponent of science, technology, and energy development, and enjoys nothing more than taking the Czar's more interesting scientific theories, going into the past, publishing them as his own, and then returning to take credit for them. He is the only Gormogon who is capable of doing math. Possessed of incredible strength, he understands the awesome responsibility that follows and only uses it to hurt people.