'Puter's Mid-Vacation Delmarva Beach Observations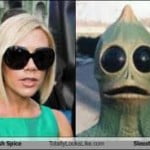 'Puter's had a few embarrassing moments on the Delmarva,
mistaking rich, white, do nothing housewives in their skeletal
glory for Sleestak. Unlike Sleestak, these fragile princesses can't
take a punch. N.B., cops will not accept "I thought she was my
lizard humanoid houseboy" as sufficient justification for a beatdown.
For those few of you who care, 'Puter's been on vacation since last Wednesday, continuing through this coming Sunday. Vacation for 'Puter consists of driving eight or so hours to his undisclosed compound on the Delmarva Peninsula, working remotely for a portion of his mornings, then parking his ample rear end on the beach for the remainder of the day.
During 'Puter's littoral wanderings, he has come to the following conclusions:
People who feed seagulls are asshats who should be destroyed so that their inherent stupidity cannot further damage humanity. 'Puter sat and watched a Mennonite family gleefully feed seagulls, thereby attracting a swarm of the winged rats, which swarm promptly pooped all over 'Puter, Jr.'s beach towel. To make a point, 'Puter fed 'Puter, Jr. Ex-Lax Slurpees then let 'Puter, Jr. poop all over the Mennonites' umbrella, chairs, blanket and towels. Justice is served.
People who stop their cars in the middle of Route 1 to let pedestrians cross in front of them are asshats who should be destroyed so that their inherent stupidity cannot further damage humanity. Morons, usually bordering on the senior citizen side of the equation, frequently will stop their giant Buick Medicare Sleds in the middle of the road without warning causing fender benders and near misses of pedestrians by other drivers swerving to avoid the inappropriately piloted Medicare Land Yachts. No, Silver Haired Sh1thead, 'Puter will not walk in front of you as traffic is whipping around you on your left and on the shoulder in a frantic attempt to avoid hitting you (or 'Puter) as a result of your colossally stupid driving habits. You're not being nice, you're simply proving that many old people shouldn't be permitted to drive.
People who let their children throw sand and water on a crowded beach should be destroyed (along with their chromosomally challenged offspring) so that their inherent stupidity cannot further damage humanity. 'Puter's been dangerously close to turning on a blissfully unaware walking DC suburb late 40s skeletal, botoxed "mothers" who let their kids shower 'Puter with water and sand with a trenching tool. If you cannot or will not control your kids, get the heck off the beach.
If you can't swim, or if you're completely unfamiliar with ocean swimming, don't go in the ocean, especially on days where the "Dangerous Surf" flag is flying from the lifeguard stands. Monday was a dangerous surf day on the Delmarva. 'Puter watched recent rental arrivals run headlong into the surf, pale farmer tanned skin reflecting like mad, only to be pulled from the surf minutes later by the overtaxed lifeguards. If you're too stupid to protect yourself by avoiding an eminently foreseeable dangerous situation, don't expect others to do so for you.
That's all 'Puter's got for now, but he's certain he'll have a few more gems for you in the coming days.
P.S. Suck it, Czar.

Always right, unless he isn't, the infallible Ghettoputer F. X. Gormogons claims to be an in-law of the Volgi, although no one really believes this.
'Puter carefully follows economic and financial trends, legal affairs, and serves as the Gormogons' financial and legal advisor. He successfully defended us against a lawsuit from a liquor distributor worth hundreds of thousands of dollars in unpaid deliveries of bootleg shandies.
The Geep has an IQ so high it is untestable and attempts to measure it have resulted in dangerously unstable results as well as injuries to researchers. Coincidentally, he publishes intelligence tests as a side gig.
His sarcasm is so highly developed it borders on the psychic, and he is often able to insult a person even before meeting them. 'Puter enjoys hunting small game with 000 slugs and punt guns, correcting homilies in real time at Mass, and undermining unions. 'Puter likes to wear a hockey mask and carry an axe into public campgrounds, where he bursts into people's tents and screams. As you might expect, he has been shot several times but remains completely undeterred.
He assures us that his obsessive fawning over news stories involving women teachers sleeping with young students is not Freudian in any way, although he admits something similar once happened to him. Uniquely, 'Puter is unable to speak, read, or write Russian, but he is able to sing it fluently.
Geep joined the order in the mid-1980s. He arrived at the Castle door with dozens of steamer trunks and an inarticulate hissing creature of astonishingly low intelligence he calls "Sleestak." Ghettoputer appears to make his wishes known to Sleestak, although no one is sure whether this is the result of complex sign language, expert body posture reading, or simply beating Sleestak with a rubber mallet.
'Puter suggests the Czar suck it.