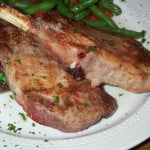 The Czar and the Mandarin went for dinner the other evening with two gentlemen to discuss all manners of things. The Mandarin picked a steak place that tends to cater to a lot of older, professional types looking to score with divorced women with skin made of leather handbags. The food, though, is generally all right.
As we perused the menu, the Czar happened upon grilled pork chops with a cinnamon apple sauce on the side. That sounded really good, and as we did not feel that a 10-ounce steak was really worth $45, we delighted in the thought of the pork chops.
The problem, though, is that ordering pork chops in a restaurant is rather like convincing a duck to bark. The exchange typically goes like this:
Waiter: And for you, sir?
Czar: The pork chops, please.
Waiter: Certainly, and how would you like them prepared?
Czar: Medium well to well.
Waiter: You can have them medium to medium-rare, if you like.
Czar: No, medium well to well, please.
Waiter: (sighing) Pork products are quite safe, these days. We use all domestic sources for our pork products, and traditional fears about trichinosis are completely eliminated. You can quite safely eat pork medium rare.
Czar: Yes. Thank you for that update that every restaurant insists on telling us about. We cannot even go into a freaking Burger King without being told how wonderful raw pork is these days and how people brush their teeth with it. However, as much as it would inconvenience your chef to spend 6 minutes a side properly preparing a pork chop, and as much as chef would prefer to do a half-ass job on it so he can get back to dicing vegetables while he smokes over them, we actually prefer our pork chops consistently white on the inside and seared on the outside. Now. Again. Medium well to well, please.
Actually, all but the last sentence is what we wish to say, and really should. But one gets so damned tired of being wrong about these things that the sheer amount of educating we would unleash upon our waiter is not worth anyone's time.
So generally we never order pork chops in a restaurant that features wood panel walls and fabric table cloths.
Unless…the Czar has an idea. A great idea—how to bypass the entire hassle of ordering pork chops and actually getting them the way we want them! Unfortunately, this is exactly how the conversation fell apart:
Waiter: And for you, sir?
Czar: The pork chops, please.
Waiter: Certainly, and how would you like them prepared?
Czar: Warm, uniformly white center, about 150° to 160°
Waiter: Indeed, sir! [scribbles details on note pad, as well as sketches out storyboard for a critical fight scene in a movie script he is developing]
Two minutes later.
Waiter: Sir, chef says that 160° will dry out the meat and probably be too chewy.
Czar: All right; we have no idea what size these chops are. Closer to 150° then.
Waiter: Indeed, sir. Chef was thinking more like 130° to 140°.
Czar: Those would be blood rare.
Waiter: More like medium rare. (sighing) Pork products are—
Czar: 145° would be more medium rare. 150° is medium well.
Waiter: Indeed, sir. But 150° would be too dry.
Czar: And 140° would not be uniformly white in the center. At 150° the meat would be evenly cooked. 150°, please.
Waiter: (eyes rolling) Indeed, sir.
Says Wikipedia: "New and better breeding techniques for hogs have resulted in the ability to cook pork to a lower temperature, about 145 degrees, and still allow the meat to be consumed safely and remain juicy." For Pete's sake, why the hell does everyone have to keep hammering that? Is it possible to go more than ten minutes in a conversation about pork chops without throwing that into someone' face? Who are you people?
As the waiter pivoted smartly around, continuing his frenetic jotting in his notepad, Mandarin burst out laughing. He asked us if our strategy indeed saved us any time. The Czar, frustrated, lit into him about simply cooking pork to the customer's request. Imagine, we mused, if we ordered a steak medium rare, and the waiter insisted on putting in the order as well done and burnt because that's how he likes it.
Are you freaking eating it? No? Are we? Then do it the way we like it.
Mandarin ordered the chicken pot pie. Not sure that bears any relevance, but whatever.
Anyway, about twenty minutes later, out come the entrées, and lo and behold—there's a decent-sized pork chop beautifully seared on the outside with perfect diamond cross hatching. A slice through the center of it, and we find a perfectly succulent, uniformly white pork chop with an average temperature of, well, let us say somewhere between 149° and 151°. If we had to guess.
Yet despite it being a little too salty from artifically force brining it—you could make a hockey puck moist with that much brining, so what was all that twaddle about drying out the chop?—the pork chop was excellent from one end to the other.
And we told the waiter so. Lesson learned?
Probably not by either of us.

Божію Поспѣшествующею Милостію Мы, Дима Грозный Императоръ и Самодержецъ Всероссiйскiй, цѣсарь Московскiй. The Czar was born in the steppes of Russia in 1267, and was cheated out of total control of all Russia upon the death of Boris Mikhailovich, who replaced Alexander Yaroslav Nevsky in 1263. However, in 1283, our Czar was passed over due to a clerical error and the rule of all Russia went to his second cousin Daniil (Даниил Александрович), whom Czar still resents. As a half-hearted apology, the Czar was awarded control over Muscovy, inconveniently located 5,000 miles away just outside Chicago. He now spends his time seething about this and writing about other stuff that bothers him.