Liberal Stunts Not Winning Voters Over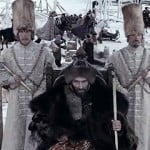 As you know by now, Obamacare is not just failing, it is basically collapsing in on itself—and most of the law has not even been implemented yet.
The Czar used to hold town hall
meetings in his day. Guess
how we handled liberals.
But many liberals are moving to push for its popularity: yes, even liberals who indicate in polls that they don't much like the law, either, are coming out in force to attack detractors of it.
To whit, many GOP Congressfolk are using the summer hiatus to host town hall meetings in their home districts. And a good many are seeing their town halls interrupted by protests and planted questioners providing horror stories about their healthcare, and how Obamacare is saving them.
Naturally, because they are Republicans, these Congressfolk seem to have no clue what to say in response to the boos, jeers, and—when a liberal participant speaks out—riotous applause that lasts for minutes, with the intent of disrupting the town hall meeting.
And yes, as you expect, liberals are all high-fiving each other for this brilliant idea.
The idea is stupid. It isn't even clever.
No doubt you remember 2010, when Democratic Congressfolk were confronted by angry Americans of all walks, wondering how an unpopular bill was rammed through Congress using parliamentary tricks and slights of hand to incredibly embarrassing passage. Meeting after meeting in state after state resulted in outraged Americans blasting the arrogance and deceitfulness of their elected officials. Many of these people prefaced their attacks by saying they never gave a crap about politics before, never cared who their elected representative was, or rarely voted before…but after Obamacare's probably illegal passage, were angry enough to accost the source of their trouble.
And you certainly remember that in November of 2010, the GOP blasted into Congress with a ferocity that had not been seen in decades. Democrats were dumped, as were many Republicans who were seen to be sympathetic. In most cases, Republicans came in and immediately indicated they would seek Obamacare's repeal.
Further, you likely know that 2014 looks to be a particularly bad year for Democrats again. In addition to winning even more seats in the House, Democrats are particularly horrified that they could lose the Senate. While this still seems unlikely to the Czar—the Republicans couldn't even manage a Senate usurpation in 2012—the Democrats are genuinely worried.
How to prevent the GOP from overtaking the Senate? Great idea! Do the same thing they did to us! Flood town hall meetings with bused-in liberals who will disrupt, holler, and shout down the Republican speaker trying to discuss taxes, immigration reform, and employment.
While MSNBC is convinced this is working, the reality is, um, not. Yes, the GOP incumbents are becoming frustrated, embarrassed, and annoyed. Yes, as always, the Republican has no idea what to say to a liberal crowd (as if it mattered). But none of this is going to change the public and private sectors's independent assessments that Obamacare is already a disaster. Nor will it help the polling which has never been more overwhelming: Americans hate the law now, whereas even a couple years ago they might have been undecided.
Week after week reveals another horror in the law, and these liberal protests are little more than spitting against the tide. Obamacare is bad for America, and nothing can disprove that.
Whether or not it can be stopped before implementation—and let us be honest and say that once it is implemented, its tendril-like tax implications will be difficult to remove even if we had a full Republican Congress and Republican President in 2016—is immaterial.
In 2010, the town hall explosion was the result of ordinary Americans thoroughly pissed off at Congress. People were speaking from the heart. Something broke in America, and these people just wanted it fixed. They were not volunteers, bused in from various organizations, given talking points, and practiced in their strategies. They were not organized, speaking against their private feelings.
In 2010, Speaker Nancy Pelosi, to the detriment of her position, dismissed the town hall protests as mere AstroTurf: a fake campaign designed to look like a grass roots movement but sponsored by evil Republican billionaires. History proved her wrong. Americans made her minority speaker.
The liberal disruptions of town hall meetings lately, however, has been nothing but AstroTurf. And these childish ploys, though highly visible and certainly amplified by friendly media, are little more than noise and static certain to pass.
None of these liberals will convince a voter that their paycheck didn't go down, that they really don't have problems with their healthcare providers, that they really are working full-time, and that doctors really aren't leaving regular practice to avoid the impact. Because the voters can see with their own eyes, and that liberals always have a really hard time selling what they themselves, when privately answering poll questions, prove they don't really believe, either.

Божію Поспѣшествующею Милостію Мы, Дима Грозный Императоръ и Самодержецъ Всероссiйскiй, цѣсарь Московскiй. The Czar was born in the steppes of Russia in 1267, and was cheated out of total control of all Russia upon the death of Boris Mikhailovich, who replaced Alexander Yaroslav Nevsky in 1263. However, in 1283, our Czar was passed over due to a clerical error and the rule of all Russia went to his second cousin Daniil (Даниил Александрович), whom Czar still resents. As a half-hearted apology, the Czar was awarded control over Muscovy, inconveniently located 5,000 miles away just outside Chicago. He now spends his time seething about this and writing about other stuff that bothers him.