Island Dweller: It's Not All Of Us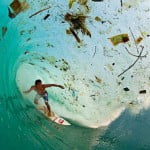 The Czar steps aside to let Island Dweller have a post today. Enjoy!
Surfing the web a day or so ago (no pun intended, in light of the story that follows), I came across a story that appeared on the "Ride the World Surf" blog. Publication date was 7-31-13. Surrounded as I am by the Atlantic Ocean, this story caught my attention right away. The story had to do with a championship surfer and his entourage who were touring the world's best surfing spots (tough work, but someone's gotta do it) shooting tape and stills for various sponsors. The group went to Java to shoot some photos. I quote from the article:
It could be said that the waves were perfect on a recent morning at a remote location in Java, in southern Indonesia.

Perfect, except for the appalling amount of trash and other debris, which transformed the typically amazing experience of getting barreled into one that left both surfer and photographer feeling nauseated.

"It was crazy. I kept seeing noodle packets floating next to me," said Zak Noyle, the photographer. "It was very disgusting to be in there; I kept thinking I would see a dead body of some sort for sure."
I have included two of the photos taken during the trip to illustrate the author's point.
Now, let me get one thing straight. I am not foursquare for polluting anything—I believe human beings have a divinely-given duty to husband and nurture what they have been given, and to use if efficiently and wisely, preserving what can be preserved as long as it does not cost anyone a job or their life. That means, I do not support the activities that have resulted in what you see in the photos.
The second thing—I do not share the viewpoint of one of the party, who provided what is one of the most ridiculous comments I've seen regarding situations like this—and I quote: "The vibe was all the same. The reactions of all the surfers were of shock and disgust at what humans could do to the beautiful ocean," Noyle explained. "No one person or country is to blame—it's all of us."
No, man, it's not, like, all of us. I don't live in Indonesia, and I don't throw my waste into Indonesian waters. It's Indonesia's problem—they very definitely are to blame—and I refuse to be saddled by another restriction on my activities in this country due to the actions of someone in a fishing banca in Indonesia, half a world away, who throws his ramen pack over the side when he's done with it.
Allow me to 'splain. The problem with this line of thought is that, somehow, people who cogitate like this surfer dude somehow wind up in policy-making positions in government—or having that policy-maker's ear, usually through the Sierra Club and its lawyers—and his attitude becomes that policy maker's, this story gets blown out of proportion, new very restrictive laws are proposed to keep this from happening around this country, and the end result is that we eventually get these government reps, plus the Sierra Club and others, trying to ram something like the Kyoto Protocols down our collective throats. Somehow, this pollution is the fault of all humans on this planet, and not squarely the fault of those living in Indonesia. This applies whether the topic is water-borne pollution off Indonesia, or carbon pollutants being produced by industrial powerhouses like mainland China, Japan, or South Korea. Somehow "all of us" (read—"U.S.") are at fault.
As a quick aside—the Senior Executive Service in our government—where you find Cabinet secretaries and agency heads—used to be the domain of grey hair, silver hair, white hair—or no hair at all. Those heads were attached to bodies that were in their 60s and 70s, with a lifetime's worth of experience and healthy skepticism as their world view. Why are we now burdened with Ted Knight's "Amateur Hour," populated by twenty- or thirty-something know-nothings, as regards government service at high levels? But, I digress.
I don't know where this "dude" obtained his powers of thought or reason, but they're seriously out of whack.
—Island Dweller

Божію Поспѣшествующею Милостію Мы, Дима Грозный Императоръ и Самодержецъ Всероссiйскiй, цѣсарь Московскiй. The Czar was born in the steppes of Russia in 1267, and was cheated out of total control of all Russia upon the death of Boris Mikhailovich, who replaced Alexander Yaroslav Nevsky in 1263. However, in 1283, our Czar was passed over due to a clerical error and the rule of all Russia went to his second cousin Daniil (Даниил Александрович), whom Czar still resents. As a half-hearted apology, the Czar was awarded control over Muscovy, inconveniently located 5,000 miles away just outside Chicago. He now spends his time seething about this and writing about other stuff that bothers him.