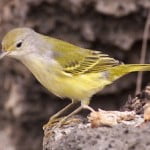 One of Darwin's finches…note the beak…
New Atlantis's Catholic Medical Association chapter is a close knit group of physicians who work at New Atlantic Ivory Tower Medical Center (NAITMC), New Atlantis Papist Medical Center (NAPMC) West, and NAPMC – Midtown (formerly Protestant Country Singer Healing, Baby Delivering and Ortho Medical Center (PCSHBDOMC) until the Sisters of Mercy won the 30 years war and bought them out) and New Atlantis Greek Column Corporate Chain Medical Center and Affiliate Hospitals (NAGC3MC&AH).
One of the chapter's elder statesmen sends out occasional emails with interesting ethics related articles (including his own publications on that boy band, Youth-in-Asia), seasonal prayers and devotions, and other various sundry articles of interest. He does so less than once a month, so it is not as ponderous as Dr. J.'s prattleings in the Gormogons internal listserv.
His most recent email was most interesting to Dr. J. as he, along with his fellow Gormogons and many of you, our readers, have always been fascinated by the 'Faith vs. Reason' false narrative put forward by the academy, the media and the left in general.
The narrative puts forward the idea that you must be a person of faith OR a person of reason. Furthermore, the people of faith are exclusively comprised of bassackwards fools who take the Bible literally and believe that the earth is 5000 years old. Now while there are some fundamentalists that make you want to bang your head against the wall, case in point the Cocke County judge that blocked a mother from naming her child Messiah (Rabbi Mashiach could not be reached for comment), deeming it offensive to Christians, or when anyone attempts to force Creationism to be anything more than a footnote in a school curriculum.
Dr. J.'s made the point multiple times in this forum that faith and reason are not exclusive of each other. One can very readily believe in God and that God gave us senses and intelligence to figure out how the world and universe around us is created. Indeed the vast majority of people of faith are also people of reason and vice versa (Jesuit much?) and indeed, the Vatican has one of the most sophisticated science staffs of any government in the world. If the Pope needs to opine on the impact of scientific discovery on the Church (e.g. in vitro fertilization, cloning, contraception, embryonic vs. non-embryonic stem cell biology, cosmology, etc…) he must first understand the science so that he reflect upon the morality and ethics of the science in the context of the teachings of the Church. The Bible and the Catechism do not inform the Pope as to if the science is real or not, but it does provide a roadmap about its implications.
Indeed, 'People of Reason,' particularly of the atheist stripe tend to worship blindly at the altar of science, writhing in agony in the face of evidence that shifts their scientific model, forgetting the scientific method.
This is why Dr. J. was excited about the 'Pink Planet' story, anything that punctures a hole in the 'global warming debate' most specifically what to do about it, and this article on revising current paleontology theories based on careful sifting and analysis of the brontosaurus fossils available. It is best to use the scientific method and revise flawed hypotheses based on evidence rather than worship blindly at as many on the side of reason ironically do.
Back to Dr. J.'s point.
This article can be found at the Strange Notions blog. The author is the descendant of Charles Darwin and John Maynard Keynes. In it she shares her journey as a person of faith and reason and her challenges with those who are not tolerant of her religious side.
Dr. Laura Keynes
Here are some highlights:
I read central texts on both sides of the debate and found more to convince me in the thoughtful and measured responses of Alister McGrath and John Cornwell, among others, than in the impassioned prose of Hitchens et al. New Atheism seemed to harbor a germ of intolerance and contempt for people of faith that could only undermine secular Humanist claims to liberalism. Moreover, it could not adequately account for the problem of morality, discussed by C.S. Lewis in Mere Christianity, without recourse to an inherently contradictory argument.
Catholicism's emphasis on physical devotions, enjoyed with childish simplicity when I was little, now made perfect sense. Having been "inside" Catholicism as a child I could choose it afresh with a mature and robust understanding of its role and teaching. I was, in fact, more free to choose than if I had been raised to discern faith—as secular Humanists would have it—at an age of reason.
My journey back to faith was as much a movement of the heart as a thoroughgoing intellectual inquiry. It had to be both: if my ancestors' lives trouble faith then as their descendant I couldn't but confront the issues head on. That I freely chose to be a Catholic after much thought and analysis, and wasn't brainwashed into it, baffles my friends and family alike. I overheard one comment: "But she seemed like such an intelligent girl." So when people ask "A Darwin and a Catholic?" what they're saying is that I confound expectations. They expect an understanding of science and philosophy to be incompatible with religious belief. Inevitably, that makes me a target and people want to argue. It can feel unpleasant and unsought but abdicating responsibility for answering those difficult questions is not an option for a baptized Christian.
Be sure to read the entire piece. It nicely captures the thoughts of a self-actualized individual who has embraced both faith and reason perfectly.