Dialogues and Analects, OR Mailbag- cc edition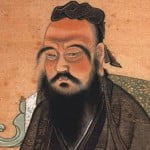 He looks nothing like that in real life.
Mark Spahn, the Lord Ruler of West Seneca, New York and frequent writer took a deep interest in Dr. J.'s Thought for the Day last week, ( 子曰無欲速無見小利欲速則不達 – for anyone who wanted to see it in the original ancient Chinese) sharing it with his Google group friends at not-honyaku (not-honyaku@googlegroups.com):
Anybody know what this means? And one temperature, the left-side chemical, in the presence of Ph3CLi as a catalyst (?), breaks down into 10% chemical A and 90% chemical B, while at a different temperature, it breaks down into 90% chemical A and 10% chemical B. The chemicals A and B differ by where a certain bond is. But what is the on chemicals A and B. And what "catalyst" is Ph3CLi? There doesn't seem to be any chemical element with the symbol Ph, so maybe the 3 in Ph3CLi is an E in "leet-speak", and Ph3CLi is meant to be pronounced phonecally, as "fecally".
Probably some kind of a pun.
— Mark Spahn (West Seneca, NY)
P.S. Click on the "bounteous breast" symbol at the lower right, and you will hear Stephen Hawking's voice (ed. That's GorT's voice, btw…).
Ph is not a chemical element, but rather an organic chemist's shorthand for the "phenyl" group. So the chemical Ph3CLi is triphenylmethyl lithium. I am not sure of the significance of the though. I must have missed that part of Organic Chemistry.
Regards, AS (Carmel, CA)
And look at the alarming pie-chart at that website: it's 100% red, and all of this vital chemical comes from Red China! America is phecally behind! We need to catch up! Our cattle ranchers must get their bulls to produce more! "Organic" chemistry, indeed!
— Mark Spahn (West Seneca, NY)
I found countless creative explanations similar to the above on exam papers by sophomore org chem students who hadn't studied a whit. Brings back memories… I don't believe this is a pun, but rather a comparison of the Confucius saying, "To desire to have things done quickly prevents their being done thoroughly", with the dualism of kinetic vs. thermodynamic behavior in organic reactions.
"Ph" stands for "phenyl".
I wonder if Confucius' original statement is anything like the above rendering. I'd like to see the original Chinese version, but searching on the quoted English string brings up nothing (ed. your wish is our command, please see above). Which is suspicious!
Short answer: The less stable isomer is formed faster (i.e., the one formed most easily, right side), while the more stable isomer (center) is formed more slowly.
In other words, rapidly is less durable, slow and methodical is more durable, related to what Confucius allegedly wrote.
Exegesis: I'll try to keep the following simple and to the point. Despite how crucially important this stuff is, because I did my PhD dissertation on precisely this sort of chemistry !!! The molecule on the left is 2-methylcyclohexanone, the "poster child" for contrasting kinetic vs. thermodynamic enolization methods. I went through gallons of that puppy! The two molecules on the right (or middle and right) are the two regioisomeric enolates, anionic intermediates formed by the action of a base removing an H+ at the alpha position of a carbonyl group. Enolizable unsymmetrical ketones can surrender an H+ to a base to become an enolate- in generally one of two ways. Kinetic enolization means that the base (triphenyllithium in this case) removes the H+ from the most accessible, least hindered, or otherwise unencumbered position, the H-extraction with the lowest energy barrier. This yields the kinetic enolate, which is often (maybe always*) the less stable of the two possible enolates. Kinetic enolization is favored at low temperatures, like -78 deg, because there is less ambient energy available to overcome energy barriers. Thermodynamic (or equilibrium) enolization means that the enolate formed is the more stable of the two. Zaitsev's rule (look it up) dictates that the double bond isomer with relatively more non-hydrogen substituents attached to that double bond is relatively more stable. Today we have more sophisticated quantum mechanical rationalizations for why Zaitzev's rule works, but I promised to keep it simple. Under conditions of equilibration (reaction going both directions freely), even if the kinetic enolate forms first, the reaction will go back and forth until the more stable thermodynamic enolate accumulates and predominates. So, the major regioisomeric enolate at low temperature which is also the minor regioisomeric enolate at room temperature (kinetic product) is the "thing done quickly", and the minor regioisomeric enolate at low temperature which is also the major regioisomeric enolate at room temperature (thermodynamic product) is the "thing … done thoroughly".
HTH
Matthew, PhD
Word Alchemy (Newark, DE)
* My dissertation advisor at Columbia, once told me that he would gladly pay some physical chemist to prepare a mathematical proof showing what he knew intuitively to be true, that the kinetic product is _always_ the less stable, presumably due to some inherent property of thermodynamics, possibly involving the Second Law. This was some 35 years ago – maybe someone has proven it by now?
The picture on teh interwebz most closely resembling Dr. J.'s Orgo notes.
Matthew,
Thank you for this note of yours, which at first seems like a squid-ink cloud of chemical verbiage but which proves to be a meticulous explanation by someone who actually knows what he is talking about. I take the liberty of sending a copy to the "Dr. J" who originally wrote his thought for the day . The chemistry is a metaphor for the contrast between quick-and-sloppy versus slow-and-thorough.
If only Confucius knew more alchemy, he would have expressed this particular analect in a more chemical way. (Your explanation reminded me of evaporation and evolution, in which changes beyond a certain level get "locked in" forever after.)
— Mark Spahn (West Seneca, NY)
Dr. J. just loves our readers, and that they can take a thought for the day and think rather deeply about it just gives him Chris Matthewsesque leg shivers. Given that the Gormogons are quite conservative, there will not be any water carrying for Red China from us, overt, sublimnal or otherwise. 'Puter, BTW loved the 'phecally thought', as he's our scatologist in chief.
Mark's minions AS and Matthew pretty much nailed it.
Dr. J. was having a high level meeting with a low level minion at work. The low level minion, one of our fine residents has a scholarly project to complete and is beginning his final year of training. His problem is that he wanted to do something bigger than is feasible and try to get it done quickly. He's procrastinated for two years because he didn't want to listen to the fact that his original project was impossible for a resident to complete. He's also fixated on working with a specific mentor, who has no interest in mentoring a scholarly project (try to guess which Doctor Pony) despite Dr. J.'s best advice.
The Jedi are pretty lousy mentors when you think about it…
Indeed, Dr. J.'s told him he has to scale down his as yet amorphous and unstarted plan B project as Rome wasn't built in a day (or so say the Volgi and the Czar who were there…), and change research mentors. Unfortunately, it is the 11th hour and it looks like Dr. J. will be filling that role. He is still in denial that his 'clinical mentor' is not qualified nor interested in being her research mentor. Dr. J. is hopeful he will take step one of plan B as his scholarly project. Once step one is complete he can move on as faculty to use the fruits of his labor in future investigation.
The conversation reminded Dr. J. of his days at Ivy University when he was taking organic chemistry and learning about kinetic vs. thermodynamic reactions. Sometimes a chemical reaction can make two or more products. Each one has a different activation (kinetic) barrier, and each product has a different thermodynamic stability. At low temperatures, the kinetic barrier is the rate limiting step. If you add enough energy to the system, the kinetic hurdles are irrelevant and the thermodynamic stability drives the equilibrium.
This metaphor seemed apt for what Dr. J. was feeling at the end of the mentoring session with his resident.
We hope you enjoyed this peek behind the curtain at Castle Gormogon…sometimes a chemical reaction is just a chemical reaction…