Who Am I To Judge The Media?: The Roman Catholic Church's Actual Teaching on Homosexuality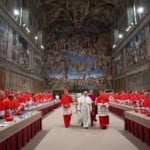 Embarrassingly, Pope Francis forgot it was Red Day
at the Sistine Chapel. More embarrassingly, most media
outlets refused to accurately report Francis' response
regarding the Roman Catholic Church's teachings on
homosexuality.
Near the end of a lengthy press conference aboard the papal jumbo jet winging back to Rome from Brazil, a reporter asked Pope Francis about the Roman Catholic Church and homosexuality. As part of his response, the pontiff uttered five little words heard 'round the world: "…who am I to judge?"
As usual, the media got the story mostly wrong, reporting Francis' words as a sweeping Vatican policy shift on homosexuality. Nearly uniformly,* the media glossed over the subtlety and nuance in Francis' complete answer, exacerbating its misreporting by truncating Francis' full quote.
Francis uttered the five words in response to a question regarding the Vatican's so-called "gay lobby." As correctly and appropriately reported by Catholic News Service, the full context of Francis' five words is as follows:
Addressing the issue of the gay lobby, Pope Francis said it was important to "distinguish between a person who is gay and someone who makes a gay lobby," he said. "A gay lobby isn't good."
"A gay person who is seeking God, who is of good will — well, who am I to judge him?" the pope said. "The Catechism of the Catholic Church explains this very well. It says one must not marginalize these persons, they must be integrated into society. The problem isn't this (homosexual) orientation — we must be like brothers and sisters. The problem is something else, the problem is lobbying either for this orientation or a political lobby or a Masonic lobby."
Note well Francis' important, yet often unreported, reliance on the Catechism of the Catholic Church. Francis' statement is not news. It is an affirmation of the Church's longstanding teachings on homosexuality and nothing more.
Francis states the "Catechism of the Catholic Church explains [the Church's position on homosexuality] very well. Indeed, it does. The media has done itself, the country and Catholics specifically a grave disservice by ignoring the Church's actual teachings and reporting the media's interpretation of what it thinks the Church's teachings must be based on hearsay and conjecture.
It would be most refreshing for the media, particularly the well-disguised (and likely nominal) Catholics among them, to report what the Catholic Church's teachings actually are. As a service to America's lazy media, 'Puter will do media's work for it. To any reporter reading our fine blog, feel free to use this post as a cheat sheet.
The Catechism of the Catholic Church, Part Three, Section Two, Chapter Two, Article 6, Subarticle II, §§ 2357-59 provides:
2357
Homosexuality refers to relations between men or between women who experience an exclusive or predominant sexual attraction toward persons of the same sex. It has taken a great variety of forms through the centuries and in different cultures. Its psychological genesis remains largely unexplained. Basing itself on Sacred Scripture, which presents homosexual acts as acts of grave depravity, tradition has always declared that "homosexual acts are intrinsically disordered." They are contrary to the natural law. They close the sexual act to the gift of life. They do not proceed from a genuine affective and sexual complementarity. Under no circumstances can they be approved.
2358
The number of men and women who have deep-seated homosexual tendencies is not negligible. This inclination, which is objectively disordered, constitutes for most of them a trial. They must be accepted with respect, compassion, and sensitivity. Every sign of unjust discrimination in their regard should be avoided. These persons are called to fulfill God's will in their lives and, if they are Christians, to unite to the sacrifice of the Lord's Cross the difficulties they may encounter from their condition.
2359
Homosexual persons are called to chastity. By the virtues of self-mastery that teach them inner freedom, at times by the support of disinterested friendship, by prayer and sacramental grace, they can and should gradually and resolutely approach Christian perfection
As Francis taught the assembled press corps (which then promptly misreported Francis' teaching), the Catholic Church has a nuanced, tolerant, loving, faithful position on homosexuality. Francis' words were also a timely reminder to Catholics worldwide to reacquaint ourselves with our Church's tenets and to spend time in prayerful contemplation of our core texts.
Catholics understand the Catholic Church's position on homosexuality causes many within and without the Church consternation. We know many Americans believe the Church's teachings on homosexuality and numerous other issues are flat-out wrong. It is your right to believe as you will.
As Catholics, we encounter an American culture at odds with our beliefs each time we open our front door and step outside. We know to near certainty America's liberal media is reflexively hostile to our beliefs. Catholics accept this reality and get on with the business of our faith.
But Catholics do not accept and will not abide media's misrepresentation of our Church's beliefs in furtherance of a hard Left agenda antithetical to our core beliefs.
And it's long past time for us to say so.
*From the credit where credit is due files, the New York Times actually did a decent job of reporting, providing context to Francis' nuanced words, although the headline (usually not written by the reporter himself) is badly misleading.

Always right, unless he isn't, the infallible Ghettoputer F. X. Gormogons claims to be an in-law of the Volgi, although no one really believes this.
'Puter carefully follows economic and financial trends, legal affairs, and serves as the Gormogons' financial and legal advisor. He successfully defended us against a lawsuit from a liquor distributor worth hundreds of thousands of dollars in unpaid deliveries of bootleg shandies.
The Geep has an IQ so high it is untestable and attempts to measure it have resulted in dangerously unstable results as well as injuries to researchers. Coincidentally, he publishes intelligence tests as a side gig.
His sarcasm is so highly developed it borders on the psychic, and he is often able to insult a person even before meeting them. 'Puter enjoys hunting small game with 000 slugs and punt guns, correcting homilies in real time at Mass, and undermining unions. 'Puter likes to wear a hockey mask and carry an axe into public campgrounds, where he bursts into people's tents and screams. As you might expect, he has been shot several times but remains completely undeterred.
He assures us that his obsessive fawning over news stories involving women teachers sleeping with young students is not Freudian in any way, although he admits something similar once happened to him. Uniquely, 'Puter is unable to speak, read, or write Russian, but he is able to sing it fluently.
Geep joined the order in the mid-1980s. He arrived at the Castle door with dozens of steamer trunks and an inarticulate hissing creature of astonishingly low intelligence he calls "Sleestak." Ghettoputer appears to make his wishes known to Sleestak, although no one is sure whether this is the result of complex sign language, expert body posture reading, or simply beating Sleestak with a rubber mallet.
'Puter suggests the Czar suck it.