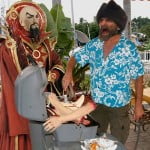 The Czar regrets to inform Dr. J. that using cookies for smores is not an innovation, but in fact has been around for quite a while. Quite a while, indeed.
These desserts might be called s'lesses.
In fact, the Czar—known for his proclivities at grilling—has made smores on a barbecue grill via this method: chocolate chip cookies warmed on the grill, piled high with chocolate pieces and marshmallows. The beauty therein is that the chocolate and marshmallow melt evenly, together, and can simply be sandwiched by another chocolate chip cookie. Or combine both methods.
Tip: use the large monster cookies for a bigger appetite. Simply place two, upside down on a grill going at low. Place the chocolate on one, marshmallow on the other until they both melt. Using your spatula, flip the marshmallow one onto the chocolate one so the flat bottoms lock the two pieces together.
Why a grill? Because it looks awesome to make dessert on a grill (the Czar makes many desserts on his), and you make a great outdoor snack in no time to order. If you use a charcoal grill, smores likes this are a superb way to take advantage of the glowing coals before they die out.
Coincidentally, the Czar might have overlooked mentioning this had he and the family not done this exact thing Friday night.

Божію Поспѣшествующею Милостію Мы, Дима Грозный Императоръ и Самодержецъ Всероссiйскiй, цѣсарь Московскiй. The Czar was born in the steppes of Russia in 1267, and was cheated out of total control of all Russia upon the death of Boris Mikhailovich, who replaced Alexander Yaroslav Nevsky in 1263. However, in 1283, our Czar was passed over due to a clerical error and the rule of all Russia went to his second cousin Daniil (Даниил Александрович), whom Czar still resents. As a half-hearted apology, the Czar was awarded control over Muscovy, inconveniently located 5,000 miles away just outside Chicago. He now spends his time seething about this and writing about other stuff that bothers him.