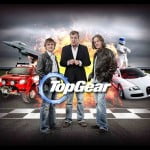 Your Mandarin was watching one of the finest shows on television Monday night. That's right your Mandarin was watching Top Gear on BBC America. While your Mandarin always enjoys the show, this week's episode was really prescient given the Detroit bankruptcy filing this week. The three hosts set out across Spain in an attempt to prove what was the best, and least conspicuous "super-car" on the market today.
This show is watched by 250,000,000 people!
As they drove through Spain it was as if they were driving through the set of some zombie apocalypse movie. Between the blocks of abandoned apartment complexes, the highways with no cars on them during what should have been rush hour, and a regional airport that had gone out of business it was a telling commentary on the failures of socialism and the Socialist state. Yep, Spain had it all, generous government jobs, generous government pensions, generous unemployment benefits, generous social welfare benefits, and an onerous tax structure. As Margaret Thatcher famously said, the problem with socialism is that it eventually runs out of other peoples' money.
What we are witnessing here in cities in the United States such as Detroit is a systemic condition throughout Spain. Your Mandarin also suspects that these same conditions exist in Greece as well. What has your Mandarin concerned is that the many people in this country cannot or will not acknowledge that the canaries in the coal mines are starting to die. Yet the Obama administration on a national level, and Democratic controlled states and municipalities on the local level continue to dig deeper into the mine of debt.
Your Mandarin feels that the United States has already run out of other peoples' money and that there are going to be more bankruptcy filings on the horizon.

The Mandarin, whose real name is 吏恆, joined the order in 1309, and introduced the Gormogons into England during the 18th Century.
The Mandarin enjoys spending time with his pet manticore, Βάρἰκος, or Barry (who can be found in the Bestiary). When not in the Castle…well, frankly, nobody is quite sure where he goes.
The Mandarin popularized the fine art of "gut booting," by which he delivers a powerful kick to the stomach of anyone that annoys him. Although nearly universal today, the act of gut booting or threatening someone or something with a gut boot is solely due to him.