Priorities or NHL Realignment 2014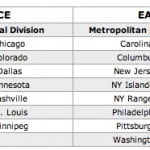 Dr. J.'s opined in the past regarding realignment. And yet, the NHL saw fit to re-realign their teams.
Here are new match-ups:
First and foremost, Dr. J. likes that his beloved Flyers are in the same division as the hated Washington Caps and The Archivist's beloved Penguins, who Dr. J. loves to razz as she live tweets the Pens/Flyers matchups. Furthermore the traditional NY/NJ rivals are added included in the division.
With regard to the playoffs, while he would prefer the top four in each division play for 'division championships' followed by the two division champs playing for the 'conference title', then the Cup, he's ok with the top three in each division plus two wildcards being seeded into a conference tournament of 8 teams. Dr. J.'s way fans the flames of division rivalry.
Dr. J. is disappointed that the Red-Wings and Blackhawks are not only not in the same division, but also in opposing conferences. While it would lend itself to a nifty Stanley Cup final, those geographic rivals should be in the same division. At least there will be frequent matchups between Dr. J.'s adopted Predators and the 'Hawks.
Dr. J. also finds it silly that Florida and Tampa Bay are in the Atlantic division with teams otherwise exclusively north of Lake Erie. WTF, NHL. Someone needs to teach the Gary Bettman the traveling salesman problem.
A better way to have approached the problem would have been to do as follows (Bold denotes new divisions):
Western Conference
Pacific Division – As is
Midwest Division – Buffalo, Chicago, Detroit, Minnesota, Ottawa, Toronto, Winnipeg
Eastern Conference
Southern Division – Carolina, Colorado, Columbus, Dallas, Florida, Nashville, St. Louis, Tampa Bay
Atlantic Division – Boston, Montreal, New Jersey, NY Islanders, NY Rangers, Philadelphia, Pittsburgh, Washington

Furthermore, Dr. J. would not go with these geographic names. He would go with the old Patrick, Norris, Smythe and Adams divisions and the old Prince of Wales and Campbell conferences. The game has history, respect it, man!
Dr. J. is sure our readers and the other Gormogons will have their opinions on this very important matter.