Paradigm shifting #LIFEHACK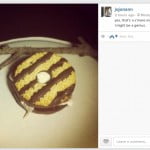 Dr. J.'s kids LOVE smores. Indeed, Mrs. Dr. J. has been lobbying for a replacement fire-pit since we've moved to J. Abbey from Casa de J. almost a year ago, so they've been jonesing for smores for quite some time. Their babysitter melted chocolate in the double boiler last month and made frozen smores with them in an attempt to kill a few hours on a rainy July day.
Today, this image materialized on Dr. J.'s Facebook page much to his shock and awe.
Jojonann is an Instagramer (Instagramador, Instagramaestro?) friend of a friend who made a smore using Keebler's Fudge Stripe Cookies instead of graham crackers and chocolate bars.
This is a brilliant innovation in dessert technology.* First, it streamlines ingredient buying. You don't have to haul graham crackers and chocolate bars to your campsite, and then during the assembly phase you don't have to worry about balancing two crackers chocolate and marshmallow when putting things together.
Secondly, the buttery goodness of the Fudge Stripe shortbreads creates a new and different taste sensation in contrast to the caramelized and gritty notes of the graham cracker. Who likes graham crackers for anything other than pie crusts, and even then? Seriously!
*Recall, an invention is a new, never been done breakthrough that changes the way we do things. The light bulb, internal combustion engine and computer are examples. An innovation is taking an invention or technology and improving upon it, or developing a new use for it. The smore is a culinary invention. This is an innovative version of a smore.