Not One But TWO Reviews of Pacific Rim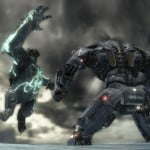 THE FIRST THING YOU NEED TO KNOW ABOUT PACIFIC RIM IS THAT IT'S LOUD. REALLY LOUD. LIKE THE LOUDEST MOVIE YOU HAVE EVER HEARD. Seriously, the Czar has attended rock concerts that had more concern for inner ear sensitivity. Really. This movie is NASCAR race loud, and we do not exaggerate when we advise that if you have little kids who are sensitive to noises, bring shooting muffs. You, um, do have those for your kids, right? When you take them shooting? You do take your kids shooting, do you not?
There is a very good chance that 'Puter and the Czar will re-enact many of the fights from this movie at the Leaping Peacock tonight, with 'Puter playing the robot, Czar portraying the Kaiju, and various tables, chairs, and dinnerware portraying a large, coastal city.
Either way, this movie suffers from incredible volume overload. No, this is not a problem with the theater cranking up the audio system to eleventy; the dialogue and exposition scenes are certainly played at a normal movie level. But God help you, when there's a monster roaring or a giant robot going ¡claaang!, you're gonna hear it.
And another thing: we regret to inform movie goers that Guillermo del Toro has discovered shaky cam. In fact, there is so much abuse of this cliché in Pacific Rim that an entire 30 seconds of monster fight can occur before you realize you have no idea what just happened. Please, Hollywood: shaking camera effects are okay in small doses, but really unpleasant and counter-effective if done more than, say, once per film. Like, say, Rob Schneider.
Now, will you like Pacific Rim? That depends very much on which of two people you are:
Do you hate Godzilla movies from the 1960s and 1970s?
Pacific Rim is an unpleasantly jarring two hours of giant things punching and smashing each other, interspersed with unbelievable characters, cartoonish stereotypes of scientists and fighter pilots, godawful physics, ridiculously implausible situations, and an unending series of largely repetitive fights against funky-looking monsters that seem laughably stupid.
Please skip this movie. This movie merits maybe a half star at best. You develop no affection for the lead characters, roll your eyes at their dialogue, which ranges from comic book schmaltz to cloying purple patches that would cause Shakespeare to spit take. And it does not stop: it jumps around, with annoying fighter pilots flexing their machismo when suddenly a Monster Attack! We get ten minutes of crews prepping and polishing these giant robots, two minutes of air convoys flying these things to the ocean, and five minutes of chop-socky Transformers-grade BS. We beat the monster! Hooray! Back to the crews flexing and posturing when suddenly Another Monster Attack! No surprise this got beat out by Grown Ups 2.
Do you love Godzilla movies from the 1960s and 1970s?
Pacific Rim is a wild, roller-coaster ride of a Kaiju film, and probably the best ever made. The monsters are awesome, realistic, and completely unearthly. Remember when you watched some of those old Godzilla pictures and wondered what they could be like if the cast, crew, and ownership of the franchise took them a bit seriously? This is the result—and it is glorious. There is a genuine sense of desperation as a wave of monster attacks kills thousands of people horribly, wrecking the global economy, and leaving most coastal cities under-populated except by folks with nowhere else to live. The glorious one-world government that takes over at the start of the attacks quickly collapses into a useless, misguided, and ineffectual groupthink cluster of bureaucrats. And the robots move with such grace and power, and you never know which way a fight is going to go, leading to a sense of amazement when you can figure out what the hell it just did.
Of course you can predict the plot all the way through; there are very few surprises, just like any giant monster movie. But what you get here is coherence, something that is otherwise absent in the entire genre. Why do these monsters attack? You actually find out, and no—it isn't some hokey anti-nuclear message. Actually, nuclear technology is well treated in the movie! So the real suspense in this movie is not what will happen next, but how cool will the result be?
You will love this movie. This movie merits maybe three stars at least. The international characters are all the usual types, but improved considerably and not as officiously Japanese as the classic Kaiju fighters: they really do understand what is at stake and are determined to sacrifice to get it. Crunching music thumps the scenes, which show how much damage a monster could really do, and how much work it would take to make a giant robot useful.
Look out for tons of clever Easter eggs: from the Portal 2 computer voice, to clever quotes from Star Wars, Aliens, to visual effects and gadgets borrowed from Alien, Halo, and Iron Man, del Toro knows what kind of movie goer will like this, and knows you will spot each and every one.
And while people are shouting out the very energetic performances of Rinko Kikuchi, Ron Perlman, and the stunning Idris Elba (seriously, Elba is getting like Fred Ward; ya gotta love him in everything he does, no matter how bad the rest of the movie), the Czar's favorite performance was by a little Japanese girl, played by Mana Ashida, who conveyed utter helpless fear as a newly orphaned girl lost on the streets of Tokyo during a particularly brutal attack. What an effective performance as she exhibited pure mortal terror throughout her scene.

Божію Поспѣшествующею Милостію Мы, Дима Грозный Императоръ и Самодержецъ Всероссiйскiй, цѣсарь Московскiй. The Czar was born in the steppes of Russia in 1267, and was cheated out of total control of all Russia upon the death of Boris Mikhailovich, who replaced Alexander Yaroslav Nevsky in 1263. However, in 1283, our Czar was passed over due to a clerical error and the rule of all Russia went to his second cousin Daniil (Даниил Александрович), whom Czar still resents. As a half-hearted apology, the Czar was awarded control over Muscovy, inconveniently located 5,000 miles away just outside Chicago. He now spends his time seething about this and writing about other stuff that bothers him.