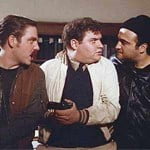 Don't listen to D-Day, you want a balance of small and large caps from both domestic and international companies.
Flounder (yes, we really called him Flounder), Dr. J.'s fraternity brother from his days back at Ivy U. is a partner in an asset/investment management firm. He posted this on his Facebook page:
Looks about right to Dr. J. as well…
He commented that it ain't that far from the truth. Keep that in mind as you diversify your 401K's and 403b's.*
Don't listen to Londo, you want a balance of small caps and large caps from Earth Alliance and interstellar corporations
* Past performance is no guarantee of future results.