G5 – Countdown to the Gormogon's Fifth Anniversary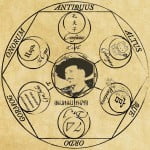 Our Huckleberry, look upon his works and despair!
Gentle Readers, July 24th marks the fifth anniversary of your Gormogons blog site. As you know we've been working behind the scenes in our worldwide conspiracy since long before that storied day in 2008, but we began bragging about it here five years ago next week.
We will be celebrating in the run-up to the big day with a series of featured posts, all of which will have the telltale 'G5' leading the title.
Dr. J. would like to take the opportunity to dispel a few myths. Much to Fred's (@fredwoodbridge)'s chagrin, Dr. J., while the most recent Gormogon to join the ranks, was not unique in that he joined the Gormogons after their inception.
Indeed, originally your Gormogons were an unholy Trinity comprised of those we call 'The Washington Gormogons,' Volgi, 'Puter, and GorT.
The Czar and Mandy joined the fold later. So the revisionist history which puts forth Dr. J. as a Sammy Hagar or Cousin Oliver figure is not the case. Now whether he's a Ted McGinley figure remains to be seen, but Dr. J. digresses. As we're rapidly approaching the day where the Gormogons will have had Dr. J. longer than they haven't it's a moot point.
On that most hallowed day in 2008, Volgi made the inaugural post, followed by GorT lamenting the ubiquity of Senator Obama (remember that guy, whatever happened to him?), and 'Puter commented later that day on the naming of children.
It wasn't until January 20th, 2009 before the Czar made his first guest commentary, and on sci-fi, no less. After writing more using Volgi's account, he was elevated to a Gormogon on February 25th, 2009, and began writing using his own account the very next day.
It wasn't until several months later before Mandy was even mentioned. Within days, and with very little vetting he was installed. In true Mandarin fashion, he made his first post a month later.
Yours truly came along six months after Mandy with his first email to the gut-booter himself. After a year and a half of letters and guest commentaries, the Gormogons got sick of having to format and post Dr. J.'s missives and finally elevated him to Gormogon status, if only as a work saving measure. Dr. J. posted about a week later, as Volgi was waiting for the check to clear. His first non-mailbag post can be found here.
With that you have a history lesson about your Gormogons. We hope you enjoy the remainder of the coming anniversary festivities, all of which will be marked with a 'G5' in the title!