G5 – Best of the Gormogons – The Mandarin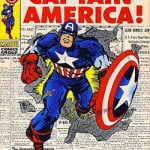 Five years, my your Mandarin wonders where the time has gone, but suspects that GorT has his cold metal hand in it. When your Mandarin's fellow Gormogons asked him to recount his favorite post, your Mandarin immediately asked, "We have a Web site?"
Now that this matter has been cleared up, your Mandarin would like to share with you his post from Monday, May 7th, 2012.
——-
God and Country….
Your Mandarin, unlike two or three of you out there, saw the Avengers movie this weekend. Your Mandarin was truly impressed with the quality of the film and the comedy elements were superb without being campy.
That little review should get the Czar off your Mandarin's back so that he can go back to screaming at paper clips and insisting that he will disembowel them if they continue to be so insolent.
What your Mandarin really wants to focus on is the Captain America character, and two scenes in particular. Again, for the two or three people out there that haven't seen the movie your Mandarin suggests that you stop reading now.
The first scene is when Iron Man and Captain America are going after Loki and Thor. To summarize the dialog, Iron Man tells Captain America to stay put and that he will take care of this since Loki and Thor are gods. Captain America's response as the jumps out of the plane to join the battle is, "Where I come from there is only one God, and I'm pretty sure he doesn't dress like that."
The second scene is where Agent Colson and Captain America are conversing about Captain America's new uniform. Captain America asks whether the costume is a little out of date, and Agent Colson's response is basically that when chaos erupts, people are going to need a familiar symbol to rally behind and take comfort in.
So what we really have in the Captain America character is what your Mandarin feels are the two pillars that strengthen what America is – God and Country. What is so surprising is that this movie actually acknowledges these themes and actually celebrates them. This could have been a movie where Steve Rogers is seen as a relic of the past with outdated ideas that have no place in today's society; and in some scenes you can see that he is a stranger in his own country and that the world has passed him by over the past 70 years. But when the chips are down, it is Captain America's leadership qualities and values that form the Avengers into a cohesive team.
It was also refreshing for a movie to acknowledge that Captain America – like America herself – is willing to sacrifice everything to ensure freedom not just for America, but for the world.

The Mandarin, whose real name is 吏恆, joined the order in 1309, and introduced the Gormogons into England during the 18th Century.
The Mandarin enjoys spending time with his pet manticore, Βάρἰκος, or Barry (who can be found in the Bestiary). When not in the Castle…well, frankly, nobody is quite sure where he goes.
The Mandarin popularized the fine art of "gut booting," by which he delivers a powerful kick to the stomach of anyone that annoys him. Although nearly universal today, the act of gut booting or threatening someone or something with a gut boot is solely due to him.