G5 – Best of the Gormogons – Dr. J. – A Tale of Two Abortions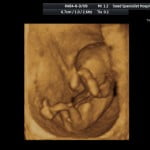 Dr. J. would like to thank the readers for indulging him a runner-up. What started out as a parenthetical evolved into a post. Such is the joy that is blogging.
Dr. J.'s favorite post also happened to resonate with a large number of readers. Indeed, to this day it has a fairly high hit count. Not as high as the LEGO Rorschach Test or its answer key, but for a post of substance it has a darned high hit count usually reserved or something we just posted in a fit of whimsy.
It also helped from a hit standpoint that 'Friend of the Gormogons' Adam Baldwin retweeted the link to his legions of followers. Are you following him at @AdamBaldwin? You better be! He's a tremendous presence on teh Twitterz.
This post has its origins in a trip to DC for a meeting for Institutional Review Board members with regard to regulations and ethics in research. Dr. J. had the pleasure of meeting GorT for a pitcher of Guinness during that conference. Dr. J. was listening to a panel on 'controversial research topics' the thrust of which was that sometimes a research idea sounds like it has the potential to be controversial, but a dialogue with the IRB and a thorough discussion of the safeguards to protect subjects and the importance of the investigation are all that are needed to get a hot button, but otherwise ethical study approved. Apparently all of the controversies were in behavioral science rather than medical science, but nevertheless, the themes were applicable. One of the speakers was a sociologist who was studying faith-based abortion survivors groups. The problem was she had to be present at their meetings in order to observe. She wanted to be an objective observer, but as she had an abortion for which she was allegedly unrepentant, they tried to help her find reconciliation with herself, despite the fact that she was clearly in denial. A woman who made career in sociological research revolving around abortion after having had one is clearly trying to find succor for her pain.
It was in Dr. J.'s sadness and compassion while watching this woman who clearly was in pain and denial that he was reminded of the pain and anger his childhood friend's mother also suffered as both of these women's careers revolved around trying to justify the termination of a life they were carrying that ultimately inspired this post.
—-
A Tale of Two Abortions
Reaction formation – n – (psychiatry) a defense mechanism in which a person unconsciously develops attitudes and behavior that are the opposite of unacceptable repressed desires and impulses and serve to conceal them; "his strict morality is just a reaction formation to hide his sexual drive"
Dr. J. promises that this will be his last post on abortion, hopefully for quite some time. Mailbags willing, of course.
This post has been germinating in the back of Dr. J.'s mind for a couple of weeks, since the anniversary of Roe v. Wade was marked. The Lil Resident had dance practice on MLK day at a nearby Catholic school. Student and parent volunteers were laying out 3600 crosses on the front lawn of the school, commemorating the number of infants lost to abortion every day. Mrs. Dr. J. let it slip that it disgusts her that there are so many women who kill their children when there are so many families who can't have children or wish to adopt.
Since then, Dr. J. has had to have age appropriate conversations with each of his children to explain why grown ups would want to kill their offspring. He suspects that Mrs. Dr. J. has had to do the same. To the Lil Resident, he explained that while he would rather save this conversation for when she is a little older he is willing to say that there are some women who could have their baby, but are simply selfish, but there are others with such a sense of hopelessness about themselves, their situation and their future, that they can't see any other option beyond this. To the Lil Med Student, who would ask, "Why would people want to kill their babies?" he has simply said, there are people out there who make bad choices. Of course his next question, heartbreaking as it was was, "You would never kill me, right?" Dr. J. could do nothing but hug him and say, of course not.
Before Dr. J. gets on with the substance of his post, he would like to make a comment regarding his most recent post.
When Dr. J. was running the numbers on abortion to make the point that Gen X and the Millenial generation are 58 million smaller than they otherwise would have been without the scourge of abortion, and the consequential impact, he neglected to discuss aspects of abortion that make his discussion potentially an overestimation of the economic impact, and that is that abortion is largely a predatory action upon the poor and African-Americans who have a disproportionate number of abortions.
Indeed, The Czar took him to task for this over martini's at the Castle bar this afternoon. Dr. J. told him that NRO's own Jonah Goldberg did far better justice to this subject than he ever could and he should either read that chapter in Liberal Fascism, or just read this editorial, which nicely sums up that aspect of the scourge of abortion. It is not a coincidence that many Planned Parenthood offices are in lousy neighborhoods.
Dr. J. is writing this post because the shrill reaction of many pro-choice women to the Susan G. Komen foundation announcements regarding its funding of Planned Parenthood.
In four decades of life, Dr. J. only knows two women who have had abortions. There may be more, of course, but he doesn't know that they've terminated a pregnancy.
In December, Dr. J. was at a medical research regulations and ethics conference in D.C. (the one at which he enjoyed a pitcher of Guinness with GorT).
There was a woman who was speaking on a panel about how to Institutional Review Boards handle controversial research. This woman was clearly a first wave feminist, with the severe haircut and all.
Her entire sociology/behavioral psychology research was in the area of studying Post Abortion Grief. Recently she wanted to study how faith based support groups functioned to address Post Abortion Grief. She told the audience that 1) she didn't have Post Abortion Grief (denial) 2) she was not a spiritual/religious person. That being said, Dr. J. believes there probably are a small subset of individuals who do not have post abortion grief, but they are a very dark, heartless subset of humanity who have no value for human life. This woman was not one of them.
In order to perform the research, the group told her that she had to be a participant as well as an observer. She spent her entire lecture time talking about her experiences with the group and how she never had Post Abortion Grief, so she didn't want to participate. Dr. J. observed that she respectfully fought tooth-and-nail their attempts to help her cope with her pain that she denied that she had. Given that her entire research career revolved around the subject of abortion, it was clear to Dr. J. that she had guilt about her actions, but her lack of spirituality, and Progressive feminist brainwashing, prevented her from finding a way to forgive herself for her actions. In essence her career was a form of inadequate penance for her actions.

When Dr. J. was in about 7th grade, he had a friend, DB who he went to school with. DB was different than Dr. J. Dr. J. was Roman Catholic; DB, Jewish. Dr. J. was conservative; DB, liberal, Dr. J.'s parents were Silent Generation; DB's Baby Boomer. Dr. J. wanted to be a doctor when he grew up; DB, a comedian/entertainer.
Dr. J. and DB were talking about his upcoming Bar Mitzvah, and Jewish tradition regarding special treatment of the first-born (dating back the the Jacob/Esau deal). Anyway, DB told Dr. J. that he had an older brother, but his parents weren't ready to have children yet, so his mom had an abortion. Even in 7th grade, Dr. J. found it totally messed up that DB knew of his mom's decision to terminate her first pregnancy, but Dr. J. also saw a sadness in DB. A sadness that DB understood that his mother terminated a older brother that he never got to meet, or have a relationship because she wasn't ready to have kids a few years before he was born. He also was saddened because he knew that it stood to reason that if his parents weren't ready when he was conceived, he could have also been on the proverbial chopping block.
Mrs. DB was not just a mom who had an abortion. Since then she spent the rest of her life trying to justify that decision. When Dr. J. was growing up, she was a feminist (in the mold of Gloria Steinem), an activist. She rose to the local NOW chapter President. She raised her son to be a sensitive new-age guy feminist castrati, and her daughter to be equally strident in her views (as evidenced by her recent Facebook posts).She even tried to shake Mama J. down for a few bucks to 'support women's equality through a donation to NOW' despite knowing Mama J.'s conservative Catholic bona fides, preying on Mama J's willing to write a check to keep a friendly acquaintance friendly. Mama J. was smart enough to make a directed gift to preserve the historic homestead of a pro-life feminist that was part of the local chapter's fundraising efforts.
Several years back, the local parish on Main Street of our town would put a banner up across Main Street saying, "Life, what a beautiful choice." Mrs. DB hit the roof, screamed ZOMG!!1!!!!2!!!ELeVENTY!!!!!!!" and stormed the town zoning office about the banner. Apparently the town had an ordinance stating that all banners across Main Street must advertise an event. That was certainly true. In all of Dr. J.'s life, he could not recall a banner that did not advertise an event. The Monsignor took down the banner, added a line advertising a screening of a documentary, and the banner was back up.
Dr. J. in observing Mrs. DB's actions basically saw a woman who, in his opinion was sufficiently wracked with guilt over terminating the life of her first unborn son that she dedicated her entire life to vociferously and passionately championing the cause of abortion as a coping mechanism for the emptiness and pain she suffered as a consequence of a decision she made out of fear.
While President Obama would tell you that he would not want his daughters, "punished with a baby," Dr. J. would tell you that he is completely wrong on this, as he is with pretty much every thing else. As you can see from these two examples, abortion has a painful and damaging effect on the mother. While some find ways to forgive themselves, with the help of the Church or other faith organizations, others who eschew religion double-down on their decision and become champions of the cause because they fear they cannot cope with the realization that they took the life of their unborn child.
This lies in stark contrast to the far larger number of individuals that Dr. J. knows who, when faced with an unplanned pregnancy, chose life. To a one, none of those individuals, who Dr. J. knows personally, regrets the decision to bring that child into the world. One put her child up for adoption, and was happy with that decision. Each and every one of the remaining women who chose to raise their child never regretted that decision and have proudly brought some wonderful young men and women into this world, people with whom the world is clearly a better and brighter place.