Fixing the Student Loan Crisis in Zero Steps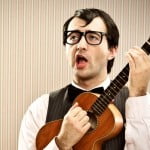 Imagine how things could work if the free market were to handle student loans.
Sorry, Drew. The best interest rate you're getting will be 18.7 percent. Maybe majoring in Klingon Literature at Case Western was a bad idea. Also, bringing the ukulele into the interview with the loan officer was poorly conceived.
A high school graduate and his parents walk into a local bank and ask to speak with the loan officer, who eagerly greets them and offers them seats in her office. The officer is happy to hear the applicant has graduated high school and has been accepted by a couple of schools.
The problem, his dad explains, is that the tuition costs at each are crazy high, and he was interested in co-signing a loan for his son.
The officer asks what sort of grades the student got in high school. Informed of this by the bank's website, the high school grad offers his junior and senior year report cards. Mostly Bs, some As and Cs, but no Ds. Very good.
Now, the officer asks, where are the acceptance letters? The grad digs in his manila folder and finds the two offer letters: one from a local school, one from an out-of-state school offering a nice discount. Excellent, she says.
Now is the time for serious talk, she says, and leans forward. What were you planning as your major? The dad laughs and says when he was in college, he didn't worry about declaring a major until senior year. After all, what does an incoming college freshman know what he wants to do with his life? He chuckles, but the officer remains stone-faced.
The loan officer explains that if he wants a low interest rate, he should have a very clear idea of what he intends to do. Yes, the bank could give a loan to an undeclared major, but the interest rate is in the double digits. If the dad wants single digits, the graduate needs to declare. He can change later, but that could affect his interest rates down the road.
The young man squirms a bit and replies he has always been interested in information technology. The officer nods and says that interest rates for that field are very low, particularly since the two universities who offered him a spot are excellent for post-graduation hiring. She explains that she denied a loan completely to a young woman that wanted to major in fine arts simply because there was little possibility of her getting employed in theater. However, in a panic, the young woman stated she wanted to major in nursing—and that carries the lowest interest rates of all.
The loan officer types on a computer and after a few minutes of background checks, she offers them a $150,000 loan at 4.8 percent interest, provided he finishes in four years or less, and maintains at least a B average all four years. Any deviation, and the interest rate climbs fast. The young man agrees, the parents co-sign, and off he goes to college.
The premise here is simple: treat students like actual investments. Banks and loan companies do this all the time with small businesses: they dictate terms and demand collateral. If you mess that up, you pay for it. If you walk in without the right answers, you leave with nothing minutes later.
Banks and loan companies could easily offer student loans based on where the student has been accepted (party schools have higher interest rates, whereas small, focused schools get lower interest rates because graduation rate is higher). Some community colleges might have the lowest interest rates of all.
Further, these lenders could declare certain majors off limits. Nursing, IT, engineering, and accounting? These offer low interest rates because employment rates are high with less turnover. Education is a break-even at worst. But good luck getting financed if you want a Master's in Gay Literature: no one is hiring, which means no chance of paying your loan back. Sound cruel? Look into what lenders do to small businesses when they owner has no clue how business works.
Additionally, the lender can protect its investment: you need to maintain a B or better average. If you get a B-, your interest rate ticks up. If you decide to smoke weed and drink cheese vodka your sophomore year, you screw yourself for the rest of your life. And the lender will demand proof that you are taking your loan seriously; because the better your grades, the better your résumé.
All right, but what if you cannot meet these requirements? Fundamentally, you should: good grades in school, a clear direction in your life, and a committment to working hard can exist regardless of whether you live in Poshtown, Rhode Island, or in Inner City, California. The student is responsible.
But the Czar knows that times are tough, and maybe dad or mom have some unpaid bills that will hurt the credit report. Couldn't the government, you know, help out?
The government could be a lender of last resort, but as our dear 'Puter reminds us, the rules change. If you want the state to be your lender—not the Federal government, who has no business whatsoever being in education—you will agree to even worse terms:
You have to attend a state school in your state. Naturally, like a casino, they will want you to lose your winnings in their walls. This means you don't get to go to Harvard, Yale, or Princeton. You get a school they pick for you.
You have to pick one of the following X majors. That's right: if industry trends show there will be demand in a certain industry, that's where you're headed. Forget your dreams of Latino Studies or Greek Philosophy: odds are, you will be in nursing for sure. Which, by the way, is a rewarding job with considerable opportunity to earn great pay. Perfect for helping society, paying your bills, and paying off your student loans early.
You need to maintain just about perfect attendence and excellent grades. No more six or eight years of listening to Ravi Shankar CDs in the dorm, barbecuing on the balcony, and showing up to class only to learn you missed the mid-term by 48 hours. You deal with the devil, you better pay attention to the rules.
You want room and board? You are living on campus in a university dorm and eating at the university cafeteria. Sure it blows, but it beats living at home. And if you join a fraternity or sorority, you almost certainly remain on the hook to pay back your room and board even if you choose to live off-campus. Sorry, but no one forced you to join a Greek organization, and the dorm needs its money.
So in short, if you want the state to front you money, expect considerably more restrictions and fewer options. Expect a higher interest rate, but a simpler system of choices. And obey the rules, or the penalties will be pretty bad.
Imagine the end result: in the private sector, the student is rewarded by taking it seriously and by getting better offers. The public loan offers less, but the student graduates with an in-demand job and good grades. Basically, the bar has been raised for both, and the state-loan student could wind up with just as good a career as the private-loan student, if not better.
Whom does this screw? Three groups of people lose with this idea:
The drifters and screw ups who want someone to pay their way through an eight-year party. Sorry, potheads. No money for you. You screwed around in high school and you pay the price. You blow off college, you pay the price.
The oddball majors. Yeah, we picked on Philosophy and Special Interest Studies. But you know who else gets screwed? Sciences like Astronomy (very crowded field), Mathematics and English (unless you convince the lender you have a career trajectory for this), Classical Studies, and all literature majors. Little employment opportunity? Little lending; it is very simple. You will need to seek alternative sources of financial aid—such as begging the department in question for a break on tuition before they have to close their doors. The Sanskrit Department might be willing to deal with you on a hefty tuition discount. These are the odds you play, but the odds are more in your favor than the free market will be after you graduate with a horseshit degree.
The Big Education industry. All those folks that are determined to see the Feds take over education from pre-school to post-graduate suddenly find that their fortunes, created by overly generous student loans, have dried up. All those Progressives who want to see Hector get a free, eight-year ride learning about Gender Studies so that he votes Democrat will need to find a new dream.
Most of you folks familiar with the financial industry will realize that in most respects we are )this( close to having a system like this set up. Many lenders already offer loans under these conditions, and many state loans have considerable restrictions on how the money can be used. All we have to do to make this work is just get out of the way.

Божію Поспѣшествующею Милостію Мы, Дима Грозный Императоръ и Самодержецъ Всероссiйскiй, цѣсарь Московскiй. The Czar was born in the steppes of Russia in 1267, and was cheated out of total control of all Russia upon the death of Boris Mikhailovich, who replaced Alexander Yaroslav Nevsky in 1263. However, in 1283, our Czar was passed over due to a clerical error and the rule of all Russia went to his second cousin Daniil (Даниил Александрович), whom Czar still resents. As a half-hearted apology, the Czar was awarded control over Muscovy, inconveniently located 5,000 miles away just outside Chicago. He now spends his time seething about this and writing about other stuff that bothers him.