Dodd-Frank Action Begets Equal, Opposite Reaction From Banks: Democrats Baffled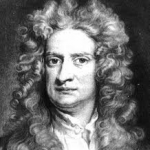 Sir Isaac Newton is not amused with Democrats'
willful ignorance of cause and effect.
Ah, Democrats. In times of complexity, unease and upheaval like these, 'Puter finds himself admiring their simplicity of mind. If ignorance is bliss, the vast majority of Democrats must exist in a perpetually euphoric state. 'Puter would like to visit a liberal's mind one day and enjoy the peace and quiet, luxuriating in the vacuity, admiring the paucity of thought.
Sure, 'Puter's being harsh on Democrats, but every one of 'Puter's words rings true and glows like burning coals, jumping off of every page like it was written on your soul.
Democrats are routinely shocked when an act with an easily foreseen consequence actually results in that easily foreseen consequence.
Take for example this New York Times Dealb%k piece. In it, Jessica Silver-Greenberg* breathlessly reports big, bad Banksters are refusing to open accounts for risky applicants. ZOMG!!1! BCUZ AH IZ TEH BAD RISK BCUZ AH CUMMIT TEH BNK FRAWD, AH CAN HAZ NOE ACKOWNTS 4 TEH CHEKKINGZ!!1!!!eleventy!!!! O NOES!1!!one!! ELEVENTY!!1!!!
Ms. Silver-Greenberg* is aghast that banks routinely report suboptimal borrower and account holder behavior to aggregators who then resell the data to other banks, which data banks utilize as part of their risk management processes in determining whether or not to approve an application.
Why, it's shocking! Banks actually using technology to aggregate data in pursuit of lowering risk to their shareholders and ultimately to the taxpayers who guarantee the banks deposit accounts! Clutch the pearls! Heaven forfend!
No sentient being should be surprised in the least that banks, whether due to increased regulation or increased shareholder pressure resulting from their collective 2008 Economic Near-Death Experience, are focused like laser beams on the heads of sharks on properly assessing and minimizing risk.
Worse, even when an applicant does manage to garner a bank's approval and open a checking account, those accounts are no longer free.
Our intrepid New York Times reporter Ms. Silver-Greenberg* wants us to believe the banks' actions are spontaneous, without any apparent cause. As all true-believing liberals are, we should be shocked when the easily foreseeable consequences of our crappy policy prescriptions come to pass. So Ms. Silver-Greenberg* buries the lede in the 24thparagraph of a 29 paragraph story.
Recent regulations, which rein in the fees that banks can charge — including overdraft protection, a big moneymaker on lower-income customers' accounts — have made lenders more reluctant to take gambles on customers with tarnished records, analysts say. Simply put, it is less economical for banks to provide inexpensive financial services and it is tougher for banks to generate revenue on lower-income customers who typically maintain small account balances. Still, banks say they are committed to provide banking services broadly.
'Puter's glad Ms. Silver-Greenberg* snuck in the truth so late in her story. Most of the Democrats usually drift off and gaze vacantly into space after about three paragraphs of any news story before snapping to, sometimes days later, screaming "BUSHITLERBURTON RETHUGLIKKANZ!!!1!one!!!!" If
a Democrat actually read this far, learning that his most favorite-est liberal policies in the whole wide world caused the damage of which he now complains, his tiny brain would implode from the irreconcilable contradiction. Thankfully, when the mindless Democrat drones roll off the assembly line in Cupertino, California, the Apple engineers install a failsafe logical loop to prevent just such a catastrophe. At great risk to himself,** 'Puter obtained a copy of the programming code, and he shares it with you here:
1.
All liberal beliefs are true.
2.
All conservative beliefs are false.
3.
If new data is consistent with a liberal belief but also false, default to Rule 1 regardless of inherent contradiction.
4.
If new data is consistent with a conservative belief but also true, default to Rule 2 regardless of inherent contradiction.
5.
Whenever Rule 3 or Rule 4 is utilized, immediately reformat any portion of hardware affected by such inconsistency so as to remain blissfully unaware of the systemic error.
But 'Puter digresses. Squirrel!
Look. Banks used to approve risky account applicants because crappy account holders generate a disproportionate amount of fee-based revenue. Bounce a check? Cough up $50.00, sir. Overdraw your account? That's another $75.00, ma'am. You'd be surprised, or maybe not, at the amount of revenue a stupidity surcharge can generate for a bank.
Banks treated credit card applicants similarly. Before 2008, if you could breathe without assistance, ever had or thought about having a job, and weren't currently in bankruptcy, banks had a credit card product for you. Banks hedged their risk by matching a cardholder's interest rate to his risk, and adjusted it as need be throughout the relationship. Better, consumers paid a metric buttload of interest on credit card balances because, for the most part, they are unable to delay gratification, gladly paying insane interest on that new Hello Kitty man-thong they just had to have. Banks were turning a tidy profit before adding on the considerable fee income associated with credit cards (e.g., over limit fees, out of area fees, cash withdrawal fees, etc.).
Prior to 2008, banks were freer about issuing accounts and credit cards to marginal risks because banks could hedge their risk through high fees and interest rates. Not anymore.
Congress, when confronted by The Great ZOMG! The Entire World's Economy Nearly Shat Its Bed On My Watch Crisis of 2008, determined that the situation absolutely required a really futile and stupid gesture be done on somebody's part, and that Congress were just the guys to do it.
Democrats used the crisis to cram down legislation implementing its disproven but favored policy objectives, pretending that the legislation would prevent all future crises, seen and unseen.
As part of its elaborate kabuki, Congress in its infinite wisdom proclaimed banks to be too big, too risky.
So, Congress will make the banks less big and risky, solving the problem. And if Democrats festooned the bill with every liberal wish, hope and dream on its Christmas list and then some, leaving Americans are none the wiser but footing the bill, well, that's just a risk the Democrats were forced to take.
And thus were born the totally well-thought-out Dodd-Frank Act*** and its retarded hobbit offspring, including but not limited to the Consumer Financial Protection Bureau.****
Suffice it to say, both the Dodd-Frank Act and the CFPB imposed strict regulations on banks. Regulations that limited the ability of banks to charge certain fees. Regulations that limited the ability of banks to instantly adjust credit card interest rates for borrowers. Banks were now unable to adequately hedge their risk on borrowing facilities and accounts for marginal borrowers. Faced with a loss of their hedging strategy coupled with rapidly escalating anti-bank sentiment, banks did what all rational business would do. They stopped lending to marginal risks.
After all, why on earth would banks pursue a business line they know will lose money? It's not like banks are the government, accountable to no one and able to help itself to its productive citizens' money at the point of a gun.
So where does this leave us? It leaves us right back where we started, of course, as is usual for a 'Puter post. Democrats' religious faith in the infallibility of liberal doctrines blinds them to eminently foreseeable consequences. In this case Democrats blinded themselves to the near metaphysical certainty that where a law or regulation makes a banking line of business unprofitable, banks will cease that line of business, such as opening accounts for and issuing credit cards to marginal risks. Further, Democrats' congenital inability to admit liberal policies are flawed or failed has a multiplicative effect as Democrats' answer to liberal policy failures is enacting even more liberal policies doomed from inception to failure.
Think about it. Democrats set out to protect consumers from greedy, bad banks.
Instead, Democrats succeeded in screwing consumers worse than the banks ever did. Sure, banks were greedy bastards charging high fees, but consumers had access to money for stuff they wanted regardless of whether or not purchasing the aforementioned stuff was wise from the consumer's perspective. Since Congress acted to help consumers, consumers have been helped right out of access to bank accounts and credit cards, leaving them no money to buy their precious Mrs. Butterworth themed snuff films.
The entire Dodd-Frank Act debacle reminds 'Puter of something a famous Vietnam War veteran once said: "It became necessary to destroy the consumers in order to save them."***** Just as the military true-believer could look at a plainly horrible massacre and delude himself into thinking the war crime was not only defensible but also good, so too Democrats delude themselves into thinking implementing liberal policies no matter how horrible the consequences to America is the highest good such that all horrors can be safely explained away.
Call it what you wish. Willful disbelief of reality. Refusal to face facts. Doing the same thing over and over and expecting a different result. No matter the label you choose for it, liberalism's essence remains unchanged.
*'Puter knows nothing about Ms. Silver-Greenberg. 'Puter, however, harbors a deep distrust for people with hyphenated names. Keep your darned maiden name or don't, but don't saddle the rest of us with extra typing because you're too wishy-washy to make a choice.
**Actually, 'Puter made Sleestak steal the programming for him. But if Sleestak had been caught downloading the contents of Steve Jobs cryogenically preserved brain, 'Puter would've had to make his own M&Ms, and that'd've been horrible. That's Midori and Methamphetamine for those of you who haven't yet attended Make Your Own Hideously Green Melon Flavored Drink With An Alliterative Name night at the Leaping Peacock. It's the seventh Friday of every month, so put it on your calendar and come drink with Czar and 'Puter.
****
Chief Sacagawea Running A Tab Skinner of Fores (D-MA)
, a well-known Indian (feather, not dot) Harvard educated economic super-genius, was slated to head the CFPB. Unfortunately for the good Chief, even the idiots in Congress knew she was (1) an intellectual lightweight and (2) advocated a detached-from-reality left wing agenda far too dangerous to the economy to be trusted with such an important position. But fortunately for
Squaw Eats Only Beaver
, she lived in a jurisdiction every bit as detached from economic reality as she, which jurisdiction's assclown populace promptly elected her to the United States Senate from which post
Sen. Wilma Jobkiller
(D-uMbAss) enchants America with her folksy pre-Columbian era economic theories.
*****'Puter's guessing it was our Secretary of State, that famous Sunshine Patriot, Vietnam veteran and former United States Senator John Kerry (D-uMbAss), as only a liberal cotton-headed ninnymuggins could hold such an obviously internally contradictory thought.

Always right, unless he isn't, the infallible Ghettoputer F. X. Gormogons claims to be an in-law of the Volgi, although no one really believes this.
'Puter carefully follows economic and financial trends, legal affairs, and serves as the Gormogons' financial and legal advisor. He successfully defended us against a lawsuit from a liquor distributor worth hundreds of thousands of dollars in unpaid deliveries of bootleg shandies.
The Geep has an IQ so high it is untestable and attempts to measure it have resulted in dangerously unstable results as well as injuries to researchers. Coincidentally, he publishes intelligence tests as a side gig.
His sarcasm is so highly developed it borders on the psychic, and he is often able to insult a person even before meeting them. 'Puter enjoys hunting small game with 000 slugs and punt guns, correcting homilies in real time at Mass, and undermining unions. 'Puter likes to wear a hockey mask and carry an axe into public campgrounds, where he bursts into people's tents and screams. As you might expect, he has been shot several times but remains completely undeterred.
He assures us that his obsessive fawning over news stories involving women teachers sleeping with young students is not Freudian in any way, although he admits something similar once happened to him. Uniquely, 'Puter is unable to speak, read, or write Russian, but he is able to sing it fluently.
Geep joined the order in the mid-1980s. He arrived at the Castle door with dozens of steamer trunks and an inarticulate hissing creature of astonishingly low intelligence he calls "Sleestak." Ghettoputer appears to make his wishes known to Sleestak, although no one is sure whether this is the result of complex sign language, expert body posture reading, or simply beating Sleestak with a rubber mallet.
'Puter suggests the Czar suck it.