Big Hipster is watching you!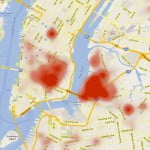 Gentle Readers,
Dr. J. was made hip to this a few weeks ago by one of his hip single urban dwelling (HSUD) classmates from Ivy U.
Apparently Yelp*, a website and app used to find stores, restaurants, bars, and to rate and review them is now offering 'heat-maps' based on search terms in a limited number of hip single urban dwelling (HSUD) cities which include New York, San Francisco, Paris, Seattle, Portland, Austin, Philadelphia and Many Many More™. Tragically, or perhaps not tragically, New Atlantis is not on the list.
So Dr. J went to their site to fool around with their maps. Given his familiarity with Philadelphia, and New York he fooled around with those.
Philadelphia's maps were fairly redundant so he won't show those off here. The big differences were in what beyond Center City was included.
New York, which is a much more socially segregated city (meaning all the separate sections of Manhattan, different neighborhoods in Queens and Brooklyn strike Dr. J. as post Milosevich Yugoslavia), really gives some different heat-maps.
Here There Be Hipsters:
Williamsburg section of, Brooklyn, SoHo and the East Village…shocker. Dr. J. is pleased to see Astoria Queens shaded with a soft blush of hipness. This is likely due to the presence of Gormogon reader @zora, the hippest gastronome we know.
Where to avoid if you don't want to waste money:
The touristy sections include Midtown (duh), Little Italy, Chinatown (it is primarily a food review site), but also includes the South Street Seaport, Brooklyn Bridge, Ground Zero.
Yuppies, the other white folk:
They are the oil to the hipster's vinegar. The yuppies (and yes, New Yorkers still use that word that Dr. J. hasn't used since the release of Out of Time by REM), hang out where hipsters do not. This includes the Upper East Side and Upper West Side, Hell's Kitchen (which is neither hellish, nor kitcheny anymore). They also can be found in great numbers in the SOHO/East Village, so what's that about?
Again, it is amazing how the information we publically share can be pooled with fairly interesting results. Just think of the heat-maps the NSA probably has using all of the metadata they've acquired, and with data that's in the public domain.
Shoot, they probably have a map to the Castle.
Now Yelp*'s wordmaps are limited. One can't do searches on their own, using this word-map feature yet, but you can search for terms like 'hipster' in addition to 'sushi,' 'Korean food' and 'computer repair' in Anytown USA with interesting, albeit limited results, as they are binary, rather than 'heat-maps.'
Perhaps one or two anthropology and/or sociology students (FOOLS!) might leverage this technology into an academic career. Probably not, as they've largely been brainwashed into Sochul Justizes, rather than using their degree in a way to leverage a quasi-useful academic career.