A Very Special 'Puter Rant: "Racist, 'Puter's Fat, White, Hairy Rear End!"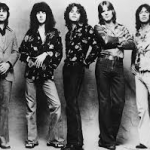 Kevin Cronin and REO Speedwagon secretly
advance the grand plot of the omnipotent White
Male Patriarchy to keep Blacks down through
judicious application of late 1970s rock music.
In the immortal words of REO Speedwagon, 'Puter's had "enough of the falseness of a worn out relation, enough of the jealousy and the intoleration." 'Puter believes it's time for him to fly off the handle.

The Left's race-colored glasses view of the world is unbearable at the best of times. With Saturday night's Zimmerman acquittal, the Left has become positively unhinged seeing racism in all things, no matter how implausible.

President Obama lectured America for the umpteenth time on its patent racism, simultaneously accusing White Americans of bigotry and calling for yet another National Conversation on RaceTM. After all, if Mr. Obama had a son, he'd look exactly like Trayvon Martin. And, lest we simpletons in Flyover Country forget, George Zimmerman was a White guy (regardless of the fact he's half Hispanic).* Therefore, we are to infer from Mr. Obama's statement that a mythological kind-of-but-not-really White guy murdered President Obama's nonexistent son or something. 'Puter's not exactly certain what Mr. Obama's greater point is. 'Puter's only certain that White males are somehow to blame.

Next up, Attorney General Eric Holder picked up the "America's the most racist nation on Earth" mantra at an NAACP gathering in Florida yesterday, smugly stating that expanding the legal right to self-defense is the moral equivalent of resurrecting the Klan's Night Riders to terrorize and murder Blacks under cover of darkness. Mr. Holder, the nation's highest ranking law enforcement officer, would have us believe that Americans, left to their own devices, would embark on a course of conduct with regard to Black people that would make the Katyn Forest Massacrepale in comparison. But mostly White males, because it's a liberal article of faith that all evil is rooted in Whitey T. Mann.

Not to be out-liberaled, Morning Joe hastily shone the Donkey Signal skyward over Upper Northwest D.C./Chevy Chase, calling the Superliberal Friends (including colossal asshat and execrable human being Robert Gibbs) to the Echo Chamber of Justice (a/k/a MSNBC) to broadcast the received wisdom of intellectual lightweights: De Nigris nil nisi bonum. Today's object lesson pour encourager les autres was noted Leftie Washington Post columnist and undeniable White guy Richard Cohen. Mr. Cohen's unforgivable crime was to write the obvious in his column, stating simply "the public knows young black males commit a disproportionate amount of crime." You'd have thought Mr. Cohen had advocated reinstitution of Jim Crow laws across the nation, or at a minimum questioned the wisdom of Mayor Bloomberg's Big Gulp ban.

Andrea Mitchell was so upset, 'Puter caught the faintest indication of a furrow on her overly-botoxed, expressionless brow.

In a brave display of tolerance for the First Amendment rights of others, Sen. Chuck Schumer called for Mr. Cohen to withdraw his column immediately and apologize to Black America, whatever the Hell that is.**

Mika Brzezinski was so flustered she forgot to make the obvious link between Trayvon Martin's death and childhood obesity caused by bodegas selling stale Skittles and three year old Arizona Iced Tea to Black youths in hoodies.