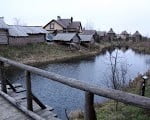 It gets exhausting trying to list the many ways liberals, Democrats, and progressives annoy the Czar and make life difficult for normal folks. The Czar thought he would perhaps take a break from exposing stupid people and spend some time with you, the readership, over the next several days.
Muscovy welcomes you.
The Czar is surprisingly a personable fellow, as you can see from this site. Yes, we may rule with a bloody hand in our dacha back in Muscovy, and we do spend an inordinate amount of time living in a Castle with various wizards, psychopaths, time traveling weaponized robots, and whatever the hell Dr. J. is supposed to be, but we certainly tie our гашника over our порты just as you do.
Like you, the Czar worries about paying bills, maintaining the dacha grounds, forcing serfs to run for their lives against aggressive borzois in the pit, and polishing our crowns. He likes to eat a variety of foods from different lands, often at the same time. Like you, he has an extensive collection of axes and firearms and is always ready to use them for mundane puposes such as door-to-door poll takers, aphids, and changing the television channel.
Over the next few days, you can get to know us even better!

Божію Поспѣшествующею Милостію Мы, Дима Грозный Императоръ и Самодержецъ Всероссiйскiй, цѣсарь Московскiй. The Czar was born in the steppes of Russia in 1267, and was cheated out of total control of all Russia upon the death of Boris Mikhailovich, who replaced Alexander Yaroslav Nevsky in 1263. However, in 1283, our Czar was passed over due to a clerical error and the rule of all Russia went to his second cousin Daniil (Даниил Александрович), whom Czar still resents. As a half-hearted apology, the Czar was awarded control over Muscovy, inconveniently located 5,000 miles away just outside Chicago. He now spends his time seething about this and writing about other stuff that bothers him.