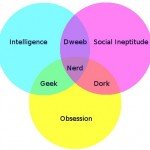 Several friends pointed me at this excellent article that differentiates the terms "nerd" and "geek", as I circulated it among various nerds and geeks, I got this picture in response:
Let me first pull a few salient points from the article and provide my thoughts, and then give some examples. I fully agree with the author's opening hypothesis:
In my mind, "geek" and "nerd" are related, but capture different dimensions of an intense dedication to a subject:

geek – An enthusiast of a particular topic or field. Geeks are "collection" oriented, gathering facts and mementos related to their subject of interest. They are obsessed with the newest, coolest, trendiest things that their subject has to offer.
nerd – A studious intellectual, although again of a particular topic or field. Nerds are "achievement" oriented, and focus their efforts on acquiring knowledge and skill over trivia and memorabilia

…

The distinction is that geeks are fans of their subjects, and nerds are practitioners of them.
The author goes on to use actual empirical data (one could argue his sources might taint the results…maybe) from Twitter and pumped it through some analyses resulting in a well correlated scatter plot (shown below, but all credit to burrsettles):
I think he's absolutely dead-on and it doesn't restrict the application of those terms to the typical domains typically associated the two terms like Science Fiction, Star Trek, video games, etc. One could be a sports nerd (into the nuance ideas / theories in sports) or a music geek (collector of one or more genres with boxset, bootlegs, and rare cuts).
So without further delay, I give you your Gormogons:
| Geek Side | Gormogon | Nerd Side |
| --- | --- | --- |
| Computer Geek – GorT loves him some IT hardware and software. Could be the latest linux distro, some old Atari 800 video game emulated, or his dual-boot Mac Book Pro Air. It's a dangerous combination since Mrs. GorT likes the high tech video and audio technology. Budgets must be watched. | GorT | Computer Nerd – While collecting all that cool tech, GorT likes to figure out how to make it obey his every command. Programming languages? Pfft, like drinking water. Networking? Yep, a non-standard, multi-layered network in the house. Did anyone notice that GorT has Knuth's Art of Computer Programming and four of his Fascicles? |
| Language Geek – the Volgi's got racks and racks of all things language – books, charts, software, pictures. If you could wrwap your panj fingers around it, he's got it. | Volgi | Gun (Weapon) Nerd – you have a question about the SVD Dragunov rifle or the latest H&K handgun, the Volgi's your man. He'll give you the details, history, size, weight, round capacity, muzzle velocity, bra size, and any other intimate detail about a weapon that may cross your mind. |
| Gun Geek – 'Puter loves him some guns. And not in a crazy, psychopathic way, but rather in a serious and respectful way. He still enjoys his grenade fishing, however, and has his eye on mounting an M203 on one of his rifles. | 'Puter | Law Nerd – look, given some of the things the Gormogons get into, it's helpful to have a good lawyer around. 'Puter's one of the best. Great at beating down his opponents (sometimes with the Czar's help) and a top notch researcher that can take apart a legal precedent like it is no one's business – like why it's illegal to serve butter substitutes in Wisconsin jails. Seriously. |
| Luxury Car Geek – we had to add two more garage levels just to fit his latest round of additions. Masseratis, Lotus, Ferrari, he's got them all. And you better not touch them. He knows the mileage on each and they'll be no joy-riding in them. | Mandy | Action Hero Movie Nerd – Mandy's seen them all. Three times at least. He'll spin you around in circles with which Batman movie was the best and why Superman sorely needed a "reboot". His entertainment room was decorated by Stan Lee – who occasionally makes guest appearances in the room…surprising even the Mandarin. |
| Chicago Culinary Food Geek – yep, not nerd, geek. Mandy collects this stuff. Really. Have you seen his beard? It started out innocently with a dribble here and there and 'Puter or Volgi would gently point it out. But the defiant Czar would only claim that he was saving it for later. Well, careless hygiene morphed into geeky practices. Now you can find Portello's italian beef remnants stored in little jars in his room. | The Czar | Pop Culture Nerd – you want the latest on the new tween heartthrob? or why Justin Bieber isn't dating Selena Gomez anymore? Or why they haven't redone the Hardy Boys since Parker Stevenson and Shaun Cassidy? The Czar knows it all….and more. We don't ask how (or why) he gets this information. We suspect it has somethign to do with his belief that the main media outlets are like teenage girls…but who really knows? |
| Star Wars Geek – is this any surprise? You walk into the Doc's room at the castle and he's got everything from the 5,335,200 Lego brick X-Wing Fighter to every single Kenner Star Wars action figures (and no one better think that there are any better Star Wars figures than these or he'll use some of his spare medical equipment on you and toss you on the Czar's grill). | Dr. J | Dr. Who Nerd – if you have Dr. Who questions, fire them the Doc's way, he'll know them or scrape and crawl until he does know it. He can tell you the proper telephone booth, all about the Daleks, and probably name a multitude of spin-offs, spoofs and other references. |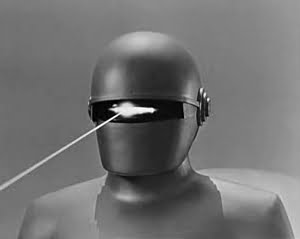 GorT is an eight-foot-tall robot from the 51ˢᵗ Century who routinely time-travels to steal expensive technology from the future and return it to the past for retroinvention. The profits from this pay all the Gormogons' bills, including subsidizing this website. Some of the products he has introduced from the future include oven mitts, the Guinness widget, Oxy-Clean, and Dr. Pepper. Due to his immense cybernetic brain, GorT is able to produce a post in 0.023 seconds and research it in even less time. Only 'Puter spends less time on research. GorT speaks entirely in zeros and ones, but occasionally throws in a ڭ to annoy the Volgi. He is a massive proponent of science, technology, and energy development, and enjoys nothing more than taking the Czar's more interesting scientific theories, going into the past, publishing them as his own, and then returning to take credit for them. He is the only Gormogon who is capable of doing math. Possessed of incredible strength, he understands the awesome responsibility that follows and only uses it to hurt people.